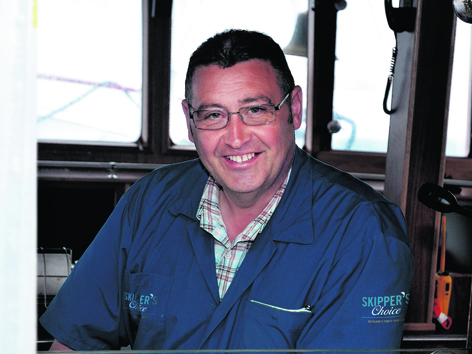 North Sea cod stocks are healthier than they have been in years and this is great news for all of us who love our fish.
I've been landing catches at my native Peterhead for more than 40 years now, and nothing is giving me more pleasure than being able to bring cod ashore knowing that it's no longer as vulnerable as it was only a few years ago.
And now I'm not just catching cod and the other species that make the Blue Toon Europe's biggest white fish port – I'm also spreading the word through my new online fish box shop, Skipper's Choice. We are delivering our wild caught fish, vacuum-packed and in chill boxes, to homes across the UK.
Along with cod, we also sell top-quality fresh and smoked haddock, sole, our renowned Langoustines, and lots more. All Skipper's Choice fish is either landed from my own boat, the Amity II, or carefully selected at Peterhead market.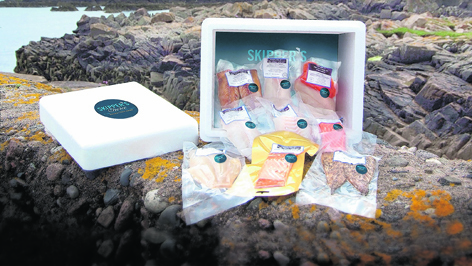 The processing is all done locally, and we're already getting great feedback from our customers.
We also love sharing our great fish recipes — here is a tasty dish sure to be a hit as the days get shorter and colder! You'll find more at www.skipperschoice.net
Easy to prepare and quick to cook, fish truly is the ultimate fast food …
SKIPPER'S CHOICE COD FISHCAKES WITH A TARTAR STYLE SAUCE
SERVES 4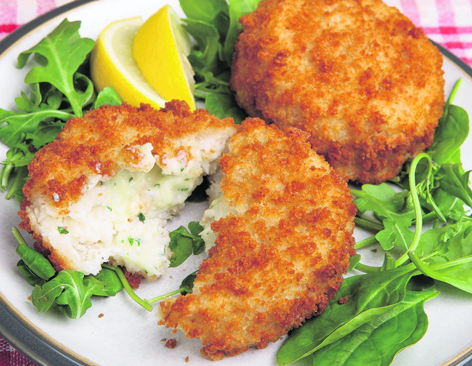 Preparation time: 30 minutes
Moderately easy
TARTARE-STYLE SAUCE
125ml mayonnaise
1 rounded tbsp capers, roughly chopped (rinsed and drained if salted)
1 rounded tsp creamed horseradish
1 rounded tsp Dijon mustard
1 small shallot, very finely chopped
1tsp flat leaf parsley, finely chopped
FISH CAKES
450g Skipper's Choice skinless and boneless cod fillet
2 bay leaves
150ml milk
350g Maris Piper potatoes
Half tsp finely grated lemon zest
1tbsp fresh flat leaf parsley, chopped
1 tbsp freshly snipped chives
1 tbsp chopped fresh dill
Salt and freshly ground pepper
1 egg
Flour, for shaping
90g fresh white breadcrumbs, preferably a day or two old
4 tbsp vegetable or sunflower oil, for shallow frying
Lemon wedges, rocket and watercress to serve
For the Tartar Sauce – simply mix all the ingredients together and chill until required.
Put the potatoes in a pan of cold water and bring to the boil. Reduce the heat slightly and simmer for 15 minutes or until the potatoes are soft but not falling apart.
While the potatoes are cooking, put the cod fillets in a large saucepan, placing any thicker fillets on the bottom of the pan. Cover with the milk and add the bay leaf. Put a tight-fitting lid on the pan and gently bring to a simmer, then immediately take the pan off the heat. Leave the fish to stand for five minutes.
Drain the potatoes well in a colander, tip them back into the pan and mash them until smooth or pass them through a potato ricer (if you have one). Put the mash in a large bowl and season with salt and black pepper.
Drain the fish in a colander and break it into large chunks. Put the fish in the same bowl as the mashed potato and stir in the lemon zest and chopped herbs with a large spoon, trying not to break up the fish too much.
On the floured board, and with floured hands, carefully shape into four cakes, about 3cm thick. If the mixture is too soft to shape, cover and leave it to cool for a while. The potato will stiffen up as it cools.
Beat the egg in a shallow bowl. Place the breadcrumbs in a large bowl. Dip each fishcake into the egg, coating it on all sides. Allow any excess egg to drip off the fishcake and then place it in the breadcrumbs, turning it and pressing firmly to get an even coating of crumbs on all sides. Place the fishcakes on a tray and then leave them to chill in the fridge until you're ready to cook, but use them within 24 hours.
Heat the oil in a large frying pan. To test when ready, drop a small piece of dry bread into the pan – if it sizzles and quickly turns golden brown, it is ready to use. Fry the fish cakes over a medium heat for about five minutes on each side or until crisp and golden. Drain on paper towel.
Serve with the tartare style sauce, rocket and watercress salad and lemon wedges for squeezing.