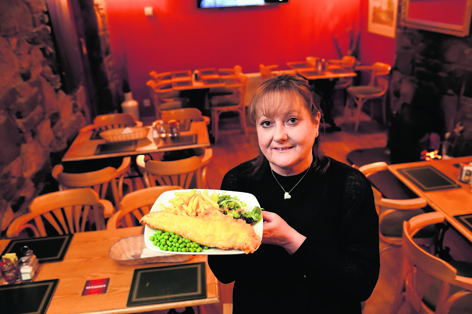 Gertrude was still being a pain in the proverbial as we sought shelter at The Neuk in Old Portlethen, a traditional pub which has been providing a warm welcome to generations of locals and visitors alike for more years than I can remember.
Until the late 70s, the Neuk was a Porter and Ale house which meant customers could only buy bottled beer and stouts. At that time, it was one of only three establishments in the country with that type of licence. In 1978 the pub was bought by Bill Main and thereafter became a fully fledged pub.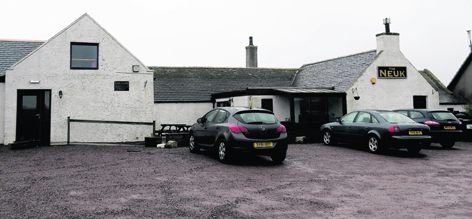 As soon as we stepped through the doors, the storm became a distant memory as aromas of nice food and the crackle of the open fire enveloped us. As a former resident of the coastal village, I was an occasional visitor to the pub, but since leaving for pastures new, it has changed hands and is now owned and run by May and Gerry and family. They've worked hard to offer good, friendly service and in terms of fare, punch above their weight.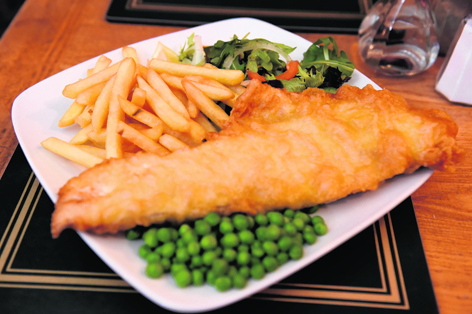 All the dishes are made in the purpose-built kitchen at the back of the bar, and they use as much local produce as possible. And because it's all made on-site, they are happy to meet the needs of those with special dietary requirements and have a nice vegetarian menu, while a simple call in advance can see gluten-free and vegan dishes on the menu alongside classic pub favourites.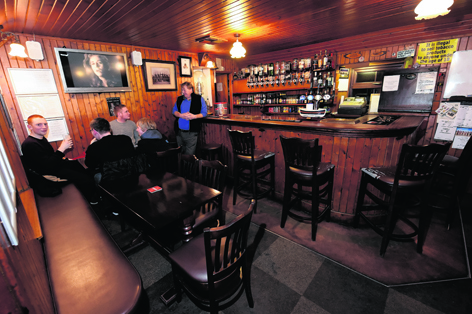 We settled down in the lounge which was, on the night we called, not too busy. A cheery bunch of lads were propping up the bar at one end and judging by the good-natured banter between them and the staff, were regulars here.
The rest of the regulars could be found next door in the cosy bar, which is housed in the oldest part of the building and still features the original wooden walls and bar top. It too has an open fireplace which is lit on cold winter nights. It's the sort of country pub that you don't really find any more, so something of a hidden gem.
But back to the food which is available from noon-2pm and in the evenings from 5.30pm. On Thursday nights they offer a set-price two-course menu with a choice of drink for £13.99, and I'm told the Sunday all-day breakfast will leave you feeling full until Tuesday!
From a nice selection of starters I chose black pudding bon bons with a honey mustard dressing while my daughter opted for filo-coated prawns with a chilli dip. Each of my three fat bon bons were packed to the gunnels with spicy, moist black pudding, while the coating was light and crisp.
Served with a mixed leaf salad and warming dressing, it was a lovely and filling start to dinner. My daughter's prawns also got the thumbs up as they were fat and juicy and the filo pastry was golden with just the right amount of crispiness.
Although strongly tempted by the home-made beef stovies, fish and chips, and vegetarian lentil, spinach and butternut squash curry, I took the traditional route and ordered the home-made steak pie, while my daughter plumped for a grilled rib eye steak with all the trimmings.
There's always a great debate in our household as to what constitutes a pie. For me a pie should have pastry on at least three sides, four ideally, but most eateries serve meat or chicken topped with a separate piece of puff pastry. Such was the case here.
What I got was a lovely warming stew, with big chunks of tender meat in a flavour-packed gravy, served with light-as-a-feather buttery pastry that probably contained a day's calories in itself, but was delicious. It came with a generous portion of smooth mashed potatoes and broccoli, cauliflower and carrots.
A blue steak can be tricky; leave it in the pan a minute too long and it will start to bleed, cook it just right and it should be bloodless but soft as butter. The chef here got it just right with a good caramelisation on the outside and nice juicy steak, perfectly seasoned, inside. It came with a pile of veg and mini-mountain of chips.
As the portion sizes were generous we skipped dessert and instead enjoyed the relaxed atmosphere of the pub before heading back out to face the storm which thankfully had abated and as a result, brought a wee bonus.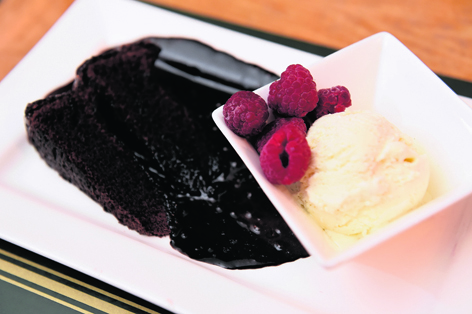 As the Neuk is in the country, there's little light pollution so we were able to enjoy the sight of thousands of stars shimmering like diamonds in the dark skies above. Now that's a special memory to take away from a pub.
FOOD: 4/5
ATMOSPHERE: 4/5
SERVICE: 5/5