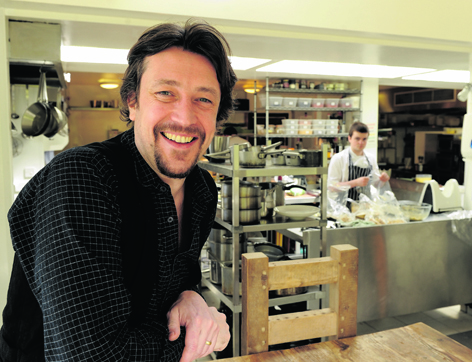 For several years, our readers have not only enjoyed reading about rising star of the food world, Inverness-born chef Michael Smith, but via his regular column in this magazine, been able to recreate his delicious recipes at home.
His first step on the culinary ladder began in his home town when, as a teenager, he began working as a kitchen porter at a local hotel. The combination of a love of the lively camaraderie in the kitchen and a natural talent and passion for creating innovative dishes saw him quickly rise through the ranks.
He moved to Skye in 2004 when he replaced head chef and patron of the prestigious Three Chimneys, Shirley Spear. For a decade he continued to grow and enhance the reputation of the restaurant which was named one of the top five destinations in the world.
Over the years he's won numerous awards and become an International Ambassador of Scottish gastronomy. In 2014 the restaurant was awarded a Michelin star so it came as a surprise to many when he parted company with it the following year.
He may have disappeared off the scene for a while but now the Michelin star chef is back, this time with his own place, Loch Bay Restaurant in the community of Stein on the Waternish peninsula in Skye.
And what a bonnie part of the world it is. The restaurant is housed at the end of a row of white-washed buildings just a few yards from the palm-tree fringed beach and overlooking spectacular and rugged Loch Bay. It's the sort of landscape that postcard makers love to take photographs of, but never quite capture the real beauty of the place.
The restaurant is small, offering just 20 covers, and is very much a family affair with Michael and long-standing chef and forager Issy in the kitchen, while his French wife Lauren and a former Chimneys colleague run front of house.
It's simple but elegantly styled, with one dark grey wall covered in assorted gleaming mirrors, teamed with white walls, and wooden tables and menus covered in Harris tweed. A lovely old stove throws out plenty of warmth and there are fine views to be enjoyed from the windows.
The place had only just opened but lunchtime trade was brisk – with the chance to enjoy a two-course lunch at £21 or three-course at £25 made by a Michelin star chef, it was not surprising. Once word gets out I suspect you may have to book weeks in advance in order to secure a table here.
We had a selection of three starters to choose from while nibbling on some rather tasty buttermilk rolls spread with a lovely crowdie and kipper mousse – they were baked salsify with dressed winter salad, mussel and oatmeal soup or crisp ox tongue with black pudding with celeriac remoulade and pickles. I chose the latter, my lunchtime companion, the soup.
The ox tongue, two triangles of meat in a crisp breadcrumb served with a moist and spicy black pudding, was a delight while the accompanying salad with crisp apples and gently pickled cabbage had a good mixture of textures and flavours.
The soup, really creamy with a slightly nutty flavour, was a mussel feast – we counted at least 20 of these beauties. The soup also had teeny cubed potatoes which made it almost a meal in itself and was both unusual and filling.
There were three main courses to choose from. Roast hake with cabbie claw and a beetroot and horseradish relish for my guest, Glendale venison with red cabbage, creamed potatoes, cep and cocoa gravy for myself. The venison was perfectly cooked medium/rare as I'd requested and had good caramelisation on the outside. The potatoes were deliciously creamy and the gravy rich and strong, perhaps due to the unusual addition of a hint of cocoa.
The hake, a good two-inch thick pure white fillet, was perfectly seasoned while the cabbie claw, a type of fishy soup, was wonderful.
As we were on holiday, we pushed the boat out and plumped for desserts, having formed a plan to walk off our lunch later on. Clootie dumpling with whisky cream for me and an assiette de desserts for my chum. The dumpling was delicious, and dare I say, even nicer than mum's traditional Christmas offering. Very light with lots of warming spices.
The trio of desserts included a zingy lemon syllabub with Crabbies ginger jelly, a wonderfully buttery dark chocolate ganache and a ginger, poached rhubarb and almond tart. Something to suit all tastes.
After leaving the Three Chimneys, Michael was offered a chance to work in Monaco. He declined and chose to stay in Skye instead. I for one am awfully glad he did and I suspect other lovers of world-class food, who already consider Skye a must-visit destination, are too.
Look out for Michael's new food column starting in YL magazine soon.