Nothing beats homemade pasta.
I don't think every pasta meal should be homemade – dried pasta is such a useful, easy ingredient for regular bologneses and tomato sauces, but once in a while, it's really worth making your own for a special meal.
For today's recipe, I've coloured this batch with fresh spinach, which is a good way of getting extra vitamins, it's also quite fun to do, and looks great. Then I've just whipped up a fresh sauce using Scottish clams, and a parsley vinaigrette with lemon. Simple, a little bit summery, and just delicious.
Scottish scallops are also delicious and one of the best ingredients in the world – and very easy to cook. They go brilliantly with the second recipe – sweet, aromatic slow-cooked pork. This recipe does require some prep, as the pork cheeks need to marinate overnight. But it's worth it, and even though there are a lot of ingredients, most of them are just for flavouring the marinade, so it's not actually a complicated recipe.
Great for a special starter (or light main), as everything but the scallops and salad can be done ahead.
Homemade Spinach Pasta with Clam and Parsley Vinaigrette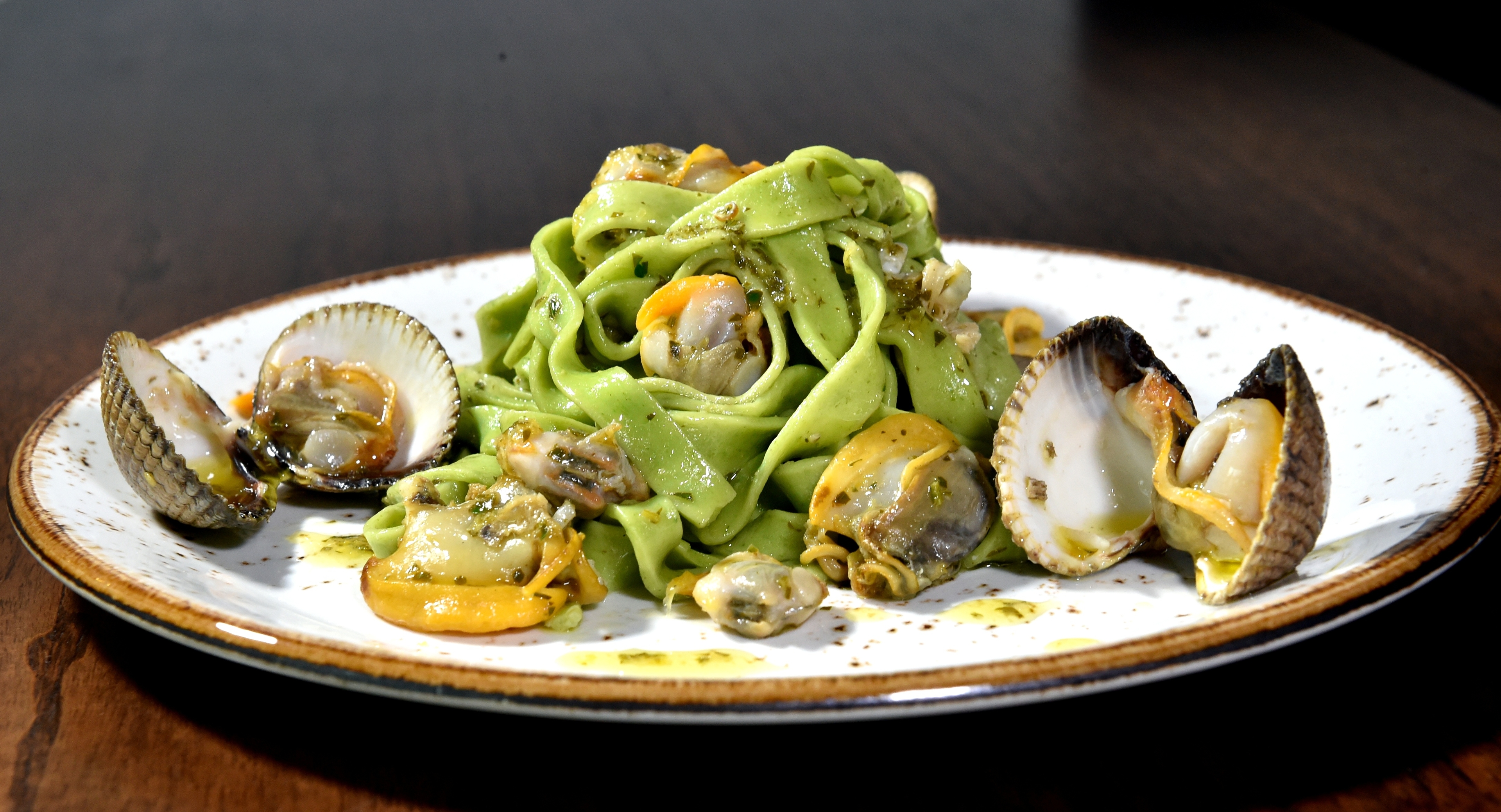 SERVES 4
FOR THE PASTA:
200g plain flour, plus extra as needed
1 whole egg
3 egg yolks
250g fresh spinach
Semolina flour for dusting
FOR THE VINAIGRETTE:
800g fresh clams, cleaned
1 tbsp olive oil
2 shallots, chopped
200ml white wine
Zest and juice of a lemon
150ml olive oil
A bunch of flatleaf parsley, finely chopped
To make the pasta: First steam the spinach for a few minutes until wilted, remove and drain, and squeeze out the excess moisture, then puree until smooth. Set aside.
Place the flour in a clean food processor. Start giving it a whizz round. Add the whole egg plus 2 yolks, and the spinach and keep whizzing. What you're looking for here is a mixture that resembles fine breadcrumbs or couscous – it shouldn't be dusty, nor should it be a big, gooey ball.
Because you've added spinach, you'll need to adjust the mix with more flour than in a usual pasta recipe, until you get the couscous texture. Then, if necessary, add the final yolk, plus more flour or a few drops of water until it just comes together. Don't rush this stage.
The more you run the machine the more you will activate the gluten in the flour, and the better the dough will be.
Tip out onto a clean work surface and form into a ball. Knead briskly for one minute.
Wrap in cling film and rest for one hour before using (or up to 3-4 hours). At this stage, the dough can be frozen (this mix serves 4 people). Wrap in cling film and place in a tub. Freeze for up to three months.
To make tagliatelli: Begin to roll out the dough, then start putting it through a pasta machine until you have smooth lasagne-style sheets. Then put it through the tagliatelli setting to cut it. Use semolina flour to stop the pasta from sticking.
For the clams: Take a large pan with a lid, add a tablespoon of olive oil and sauté the chopped shallot until softened but not coloured. Turn the heat to medium-high, add the clean clams, pour over the wine and put the lid on. Once they've opened, after a few minutes, they're done. Strain the liquid into a new pan, then strain once more in case there's any grit. Take of the clams out of their shells, but leave a few in.
For the dressing: Whisk the olive oil, lemon juice, zest, and a spoonful or two of the cooking liquor, plus a little pepper. To cook the pasta, have a large pot of boiling, salted water ready. Cook for just 2-3 minutes, then drain.
To serve: Mix the hot pasta with the shelled clams and most of the dressing. Sprinkle over the parsley. Serve in hot shallow bowls, and drizzle over the last of the dressing, and top with the clams in their shells. Eat immediately.
Slow Braised Pork Cheeks, Seared Scallops and Thai Pea Puree with Asian Salad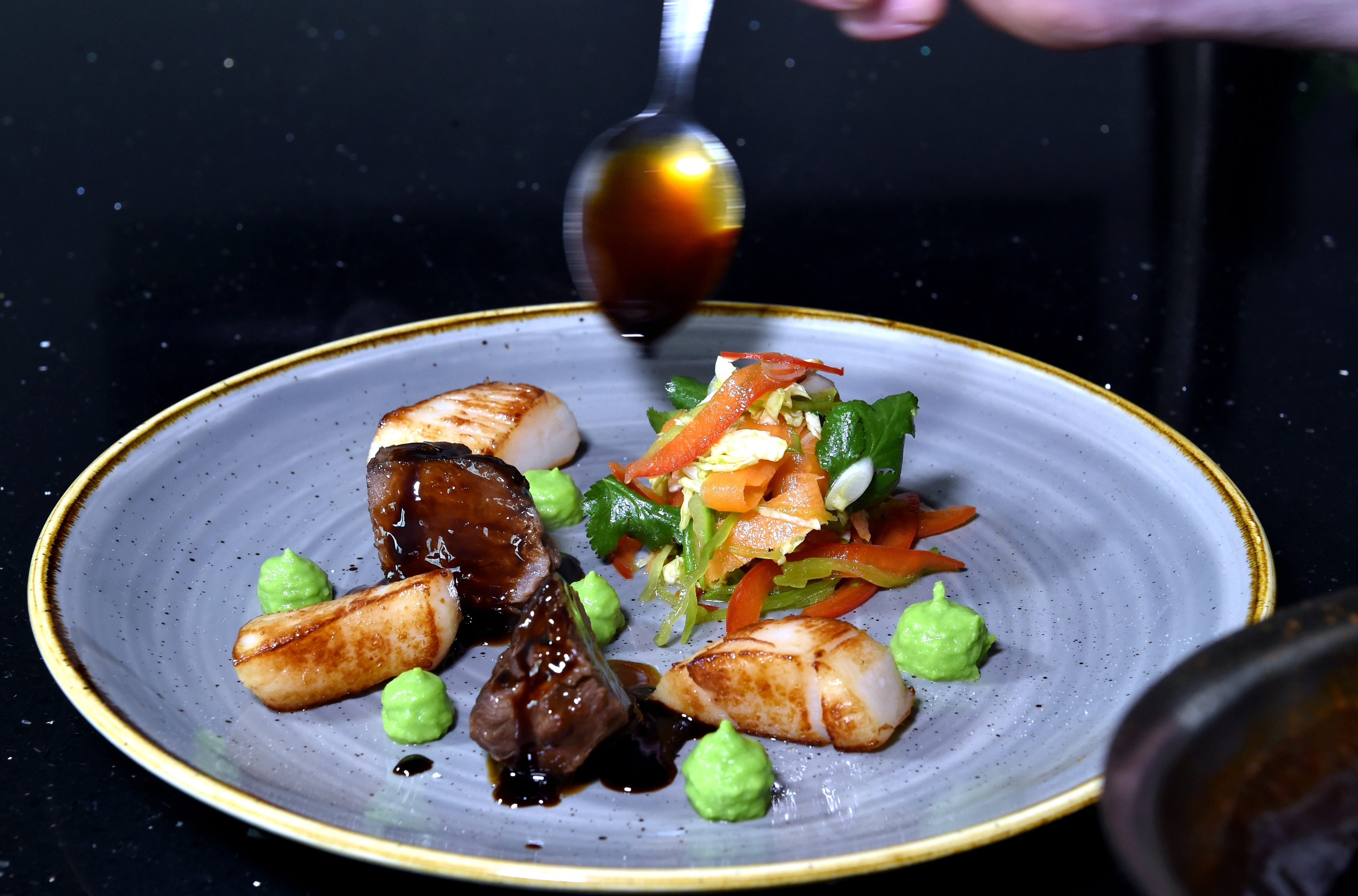 SERVES 2
FOR THE PORK & MARINADE:
2 pigs cheeks
1 clove garlic, peeled and bruised
10g celery, roughly diced
20g carrot, roughly diced
1 medium shallot
1 sprig thyme
250ml chicken and beef jus
50ml Chinese rice wine (or sherry)
50ml light soy sauce
25ml dark soy sauce
40g light brown sugar
2 star anise
1 tsp coriander seeds
2 bay leaves
Half a tsp black peppercorns
2cm ginger, peeled and roughly chopped
Maldon salt
freshly ground black pepper
1 tbsp olive oil
FOR THE SCALLOPS & PUREE:
4 hand-dived scallops
2 tbsp olive oil
100g garden peas
20g Thai green curry paste (buy a good quality jar)
30g butter
Salt & pepper
FOR THE SALAD:
3 spring onions, thinly sliced
1 small carrot, in strips done with a peeler
1 red chilli, thinly sliced (seeds removed)
30g Chinese leaf, thinly sliced
Half a green pepper, thinly sliced
10g coriander leaves
1 tsp sugar
20ml fish sauce
Juice of 1 lime
The pork cheeks need to be marinated overnight. Place in a dish covered with all the marinade ingredients listed above (apart from olive oil, salt and pepper). Cover and refrigerate.
The next day, preheat the oven to 150C. Heat a little olive oil in a thick casserole on the hob, and brown the cheeks on their own, carefully. Once browned, add the marinade liquid and ingredients back in. Place a lid on and pop in the oven for about 90 mins. Check half way through to make sure the liquid isn't evaporating too much.
Once the cheeks are cooked and tender: Remove the casserole from the oven. Lift out the cheeks from the liquid and set aside. Use a chinois or sieve to strain the braising liquid into a clean saucepan. Bring the liquid to a simmer and skim off any fat or scum that comes to the surface. Simmer without a lid to reduce the liquid by about half, then taste and adjust the seasoning if necessary.
For the Thai pea puree: Boil a pan of water, add the peas and return to the boil for 30 seconds to set the colour, then quickly drain and cool. Put them in the blender along with the Thai green curry paste, butter and a pinch of Maldon salt and blend till smooth. Scrape down the sides of the blender a few times, so it is all well-mixed. We use a squeezy bottle to decorate the plate with the puree.
For the scallops: Warm a frying pan then add a little olive oil. Slice the scallops in half, season with salt then add to the frying pan. Allow to colour for 60 seconds then turn over. Cook for a further 30 seconds then remove and keep warm.
For the salad: Place all the sliced veg in a bowl and mix gently. Mix the fish sauce, lime juice and sugar thoroughly and lightly dress the salad. Toss with your hands.
To serve: Place the pork cheeks and scallops on a plate, around the salad, and use a squeezy bottle (or teaspoon) to drop Thai pea puree around. Spoon the reduced braising liquid over the pork and a little more around the plate.