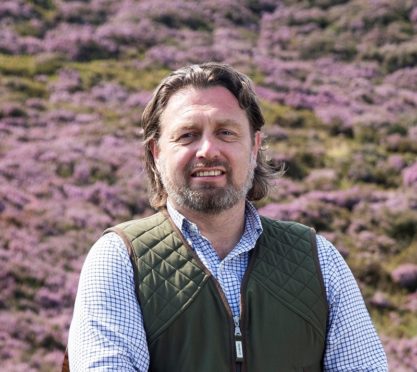 Michelin starred chef Shaun Rankin tells us more about his favourite ways to serve Scottish salmon.
Chef and restaurateur Shaun Rankin has enjoyed a varied career since first training at The Mayfair Hotel in London.
As well as gaining a Michelin star in 2005, he launched the successful Ormer restaurant in Jersey, followed later by the Ormer Mayfair. You might also recognise him from TV appearances including Masterchef in 2017 and Great British Menu in 2009, during which his now renowned treacle tart won the dessert course.
But whilst he won acclaim for this one dish, there's so much more to his restaurants.
"We tend to formulate the food around the ingredients, and that's what inspires us really," Shaun says of his current project, Grantley Hall in Yorkshire.
The area is famous for its dairy stock, but he also forages and grows vegetables in a specially created kitchen garden. At the moment, they are fermenting garden produce to last during the winter months, as part of their focus on sourcing as much as possible from a 30-mile radius.
He has to look further afield for some things, of course, like Scotland for its salmon, scallops and langoustines. For Shaun, this Scottish produce (much like the other local produce he loves) is "all about the locality, it's all about the people, the stories and their passions behind it".
Access to fresh Scottish salmon is important, too. "Salmon's always been taken from rivers and the estuary. Now being able to farm salmon and have the ability to have salmon available to tables worldwide is a really important thing because it's a really good source of protein, it's very healthy for you," he says.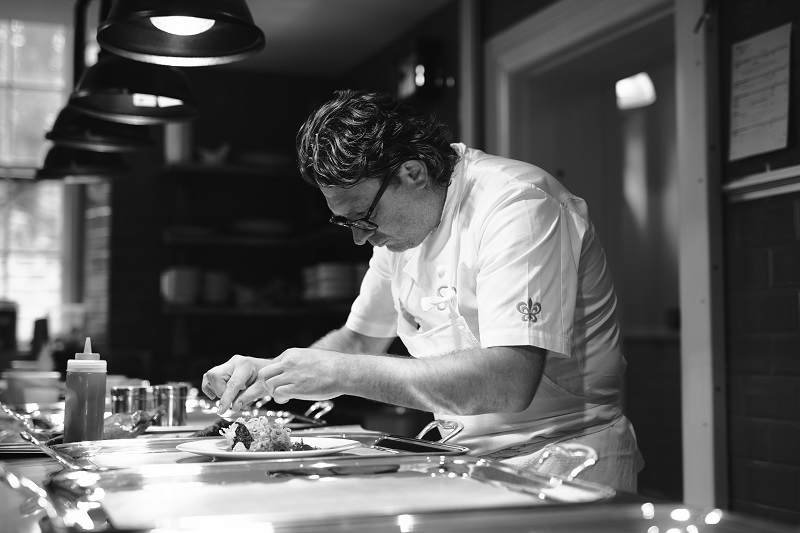 Scottish salmon farmers produce their salmon in the cold waters of the Highlands and Islands for the UK and international export markets.  They ensure that supermarkets, fishmongers and chefs have a constant supply of fresh Scottish salmon.
That freshness is something to keep an eye out for when buying salmon. "It's all about when the salmon's been caught," explains Shaun.
"If you're buying a whole fish, then the gills need to be nice and red and the eyes need to be nice and glossy, and not sunken in.
"If you're buying a piece of salmon then obviously it's the date really that matters. If it's coming from a fishmonger, then you can ask the fishmonger exactly how old the salmon is and you've got to feel it, touch it, press it – it's got to be firm, it can't be soft."
Once you've got a good bit of salmon, the options for serving it are endless.
Shaun utilises it all the way through his restaurants, whether it's smoked, cured, roasted, grilled or served as tartare with cucumber and dill. But how does he best enjoy salmon? "One of my favourite things is a good flaked, poached salmon sandwich on brown bread with hollandaise – that's absolutely to die for," says Shaun, who also loves making salmon sushi at home.
Looking for more salmon inspiration? He's also very kindly shared a recipe for smoked salmon terrine, below – happy cooking!
Shuan Rankin's smoked salmon terrine
Served with cucumber and quail's eggs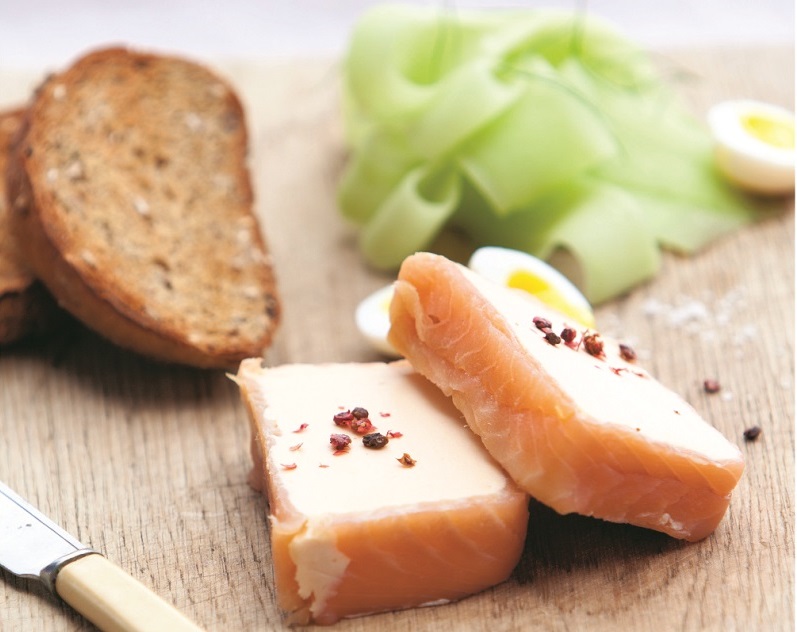 Ingredients
400g of smoked salmon
125g of unsalted butter
125ml of whipping cream
Crushed pink peppercorns
To serve:
1 cucumber
4 slices of bread
4 quail eggs
Method
Prepare for the terrine by making the clarified butter. Melt the butter completely in a saucepan. Once it has separated, use a spoon to carefully remove the milky residue on top and discard. Pour the golden liquid butter left slowly into another pan, leaving the milky water behind.
Weigh out 150g smoked salmon. Slice and lay the slices across the inside of a terrine mould, ensuring they overlap and are long enough to reach up the sides of the terrine and cover the top when filled. Place the remaining salmon in a food processor and blend until smooth.
In separate pans, warm the cream and clarified butter. Slowly add the cream and then the butter to the processed smoked salmon and blend until smooth. Season with crushed pink peppercorns.
Pour the salmon mixture into the terrine mould and fold over the overhanging salmon slices to cover the top. Cover the whole terrine with cling film and place in the fridge to chill for at least 4 hours, preferably 6-8 hours.
Just prior to serving, peel the cucumber and then, with a peeler, create cucumber ribbons. Set aside.
Bring a saucepan of water to the boil. Carefully add the quail eggs and cook for 2 minutes 45 seconds. Remove the eggs from the saucepan and leave them in ice water before peeling and slicing in half.
Serve by adding a slice of terrine to 4 serving plates, accompanied with a swirl of cucumber ribbons, half of a quail's egg and slices of bread.
---
You can find out more about Scottish salmon farming, its importance to rural communities, the Scottish economy and how it can contribute to the green recovery – as well as the health benefits of eating fresh farmed salmon – online here.