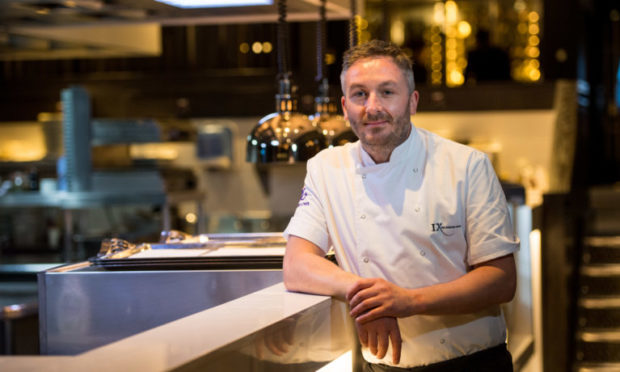 Head Chef at The Chester Hotel in Aberdeen, Kevin Dalgleish, shares the meals that have marked the milestones in his life and career.
One of Aberdeen's most prominent chefs of the moment is Kevin Dalgleish. Having moved to London to work at world-famous The Savoy Hotel at the age of 19, since earning a triple AA rosette, he is modest about his success.
A supporter of local and seasonal produce and a champion of his home country's larder, the restaurant at The Chester Hotel has arguably become what it is because of his culinary craftsmanship since he joined the team when it opened its doors in 2014.
Here Kevin, 47, talks us through the role that food has played throughout his life and even reveals his former guilty pleasure – Bolognese pizza.
Childhood – potato soup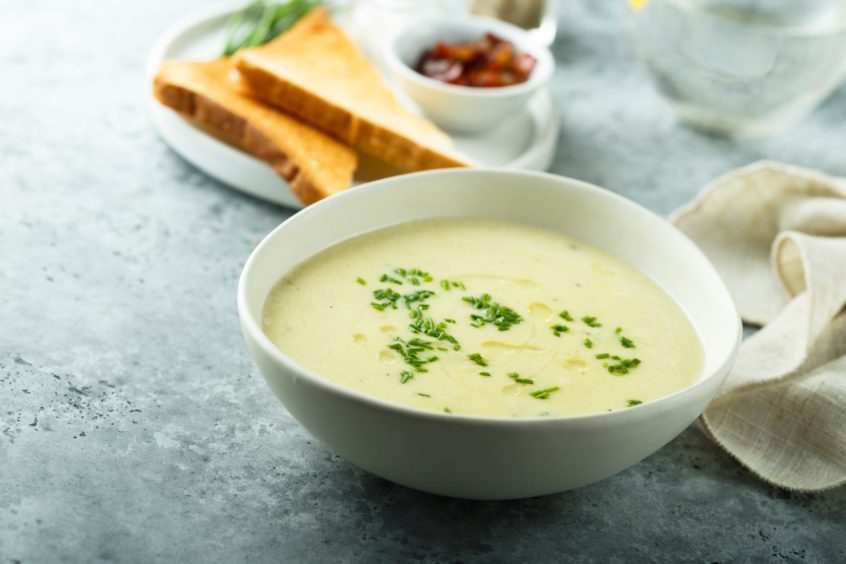 "Aberdeen is my home now but I grew up in Hawick, in the Borders, with a brother who is about seven years younger than me.
"There were a couple of things I remember being brought up on. Obviously fish and chips was one of them but my mum used to make this potato soup which was great. I'd come home from school at lunctime and she'd have a big bowl of potato soup ready for us, with a well-fired roll. That always sticks in my memory.
"It wasn't just potato soup but soups was always the key thing I can remember from when I was younger.
"I always try to recreate that, even for my own kids, who are 18 and 9. I'm actually doing a cookbook just now, for the lockdown, and so that I can pass it on to my kids. It's just stuff I've been doing over the past two or three weeks like potato soup and cock-a-leekie soups and chicken broths."
Teens – Bolognese pizza
"In my teens I started working at a French bistro in Hawick. There was an Italian guy called Urano, who was a friend of the first chef I worked for at the bistro.
"Urano owned an Italian restaurant nearby and they used to take me to watch him make these pizzas. And the best pizza he'd ever make with us would be a Bolognese pizza and it was fantastic – it had meatballs and mushrooms in it. I used to get them a lot after work, it was great!
"It was something where, 30 years ago, you were thinking, 'My God, what is this?', and it's fantastic.
"I then went to work up in Wick and he would send me a Bolognese pizza up from Hawick. This was like 20 years later. He'd send a pizza up for me because he knew that when I was 15 I always enjoyed them.
"But when I was about 16 or 17 I started culinary school. Then when I was 19 I moved to London to work at The Savoy, which was quite good".
20s – roast beef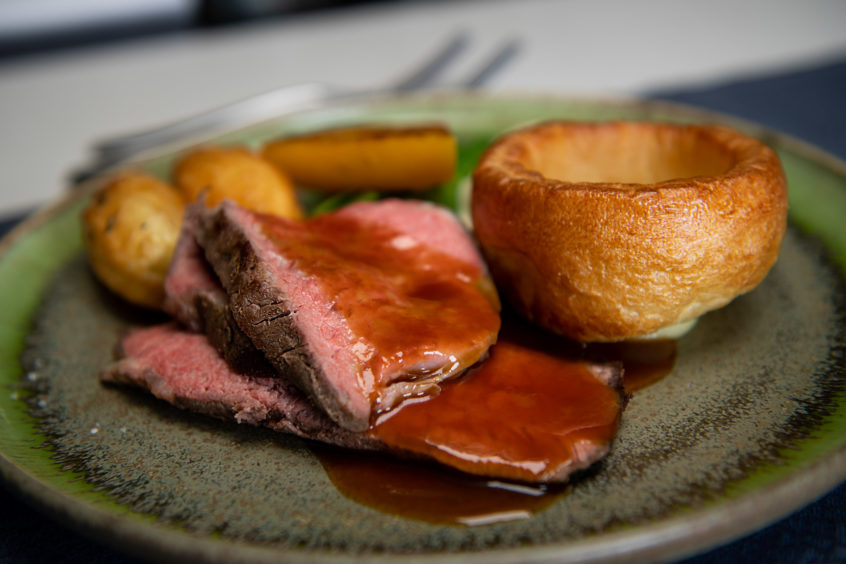 Despite his job at one of the most prestigious hotels in London, Kevin's memories of his 20s are dominated by his mum's home cooking.
"I moved to London when I was 19, but I used to come home every few months to see my family and for my mum's cooking.
"And every time I went home, my mum would cook a roast beef dinner with all the trimmings for us before I went and got the train back to London.
"I've always remembered the rich, deep beef smell wafting through the house and the fat off the rib filling the kitchen. There were always homemade Yorkshire puddings too and my mum would use the fat from the beef to do the potatoes.
"The Savoy's beef was world class but home is where the heart is and there was nothing like sitting around the table with the family and sharing the wonderful roast she had specially made for us all.
"I think when you're younger it's always memories of traditional home-cooked food you have until you grow up and find your own palette and taste.
30s – smoked salmon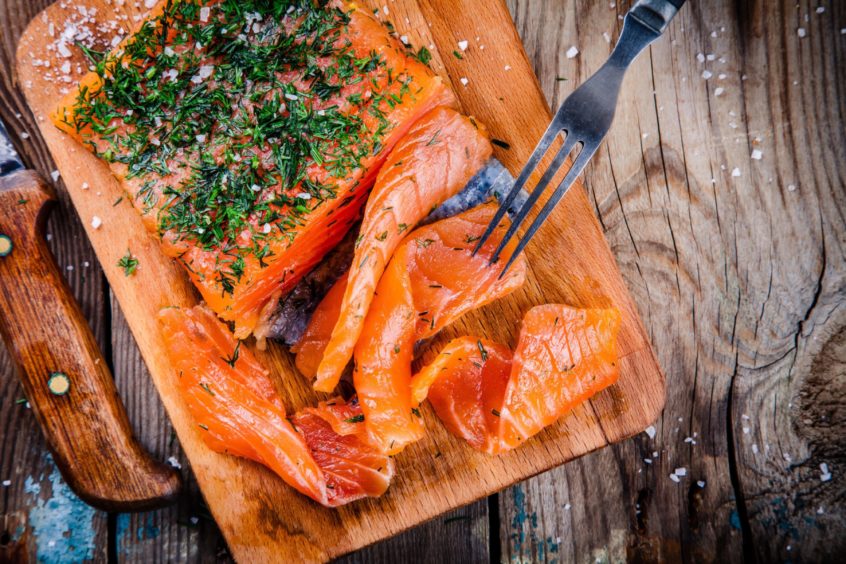 "In my 30s I moved from London up to the north of Scotland. I think smoked salmon would best represent this decade of my life.
"I'd noticed smoked salmon a lot when I was in London. In fact, I remember all this fantastic produce that was coming down from Scotland and I used to imagine how many sides of salmon would be made in Scotland.
"We used to get about 70 sides of salmon at The Savoy a week almost, and then when I moved up to Ackergill, outside Wick, to work at the Ackergill Tower (then a luxurious private hire venue), we smoked our own.
"Smoked salmon has always had a big role in my life because I'd always seen it everywhere I'd worked and I'd always be really proud because I am Scottish.
"I always think smoked salmon should be kept really classical. We used to make blinis with crème fraiche and a bit of lemon and just keep it dead simple. I've found that, with the best ingredients, you don't want to do a lot with them, especially a really quality piece of smoked salmon. A bit of crème fraiche on a blini with some lemon is fantastic, and – if you can afford it – a nice piece of caviar. The more expensive the better!
"I got married in my 30s, in 2009, and we had a smoked salmon dish at my wedding. We got married in Ackergill, but we had the reception at a hotel in Thurso and I just decided on my own menu, without asking the chef if it was ok first. There was a lot of seafood involved, including salmon and crab."
40s – shellfish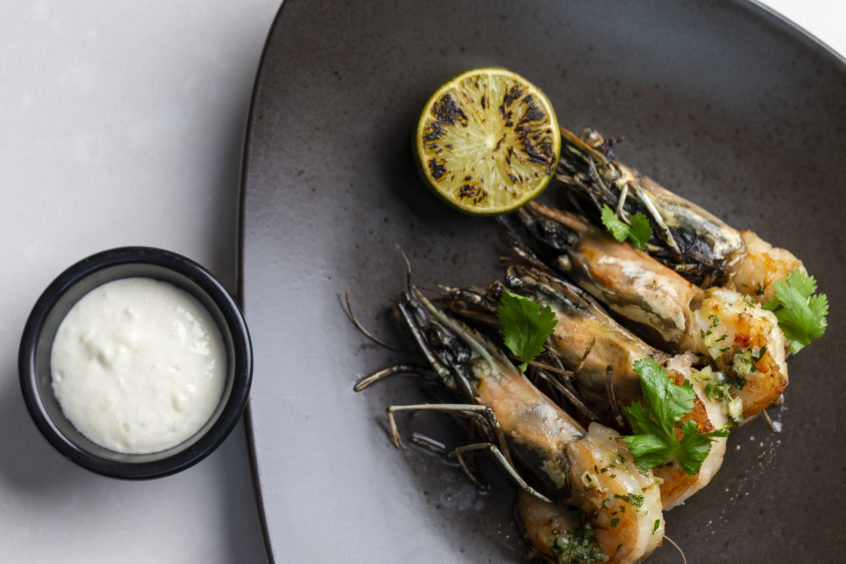 "The thing I like mostly now is shellfish, like crab, lobster and langoustines. Again, when I was in London I used to see a lot of Scottish seafood coming down. It's kind of followed me throughout my career, because when I worked in Ackergill, the owner used to have a boat and we used to go out and get the crabs and lobsters and bring them in. I'd just have it with mayonnaise.
"And when I moved to Aberdeen we were getting a lot of crab, a lot of lobsters and a lot of langoustines and we've still got a lot on the menu.
"So seafood has always been around me. Crab is probably my favourite but I also like langoustines. I think because it's on our doorstep it's fantastic.
"Seafood has tied my life together quite well, especially my 30s and 40s."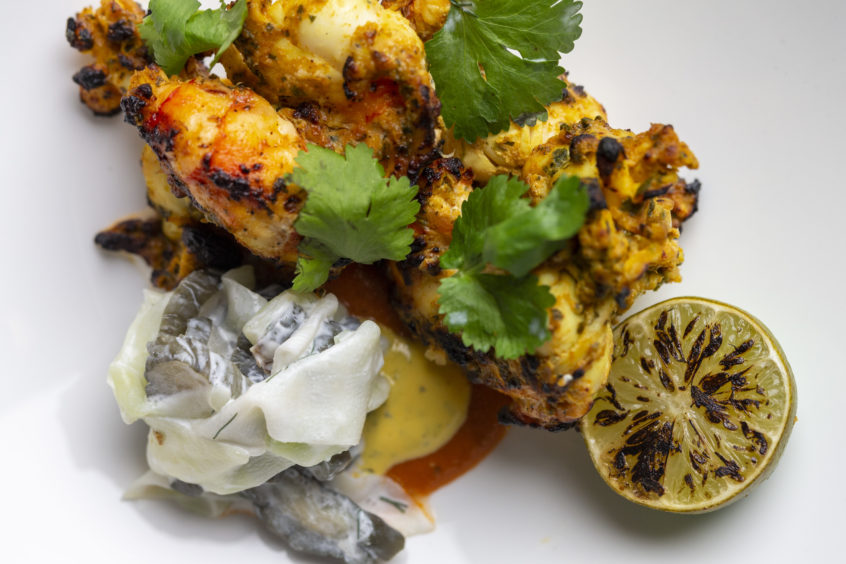 "I've been doing a lot of curries just now and a lot of dishes with Indian spices and local produce while in lockdown. Again, with shellfish and lamb racks and things like that.
"I stole some spices off a chef friend the other day as he has all the right spices. I'm doing a prawn curry tonight but I think my wife must be sick of curry. It's not a heavy curry, it's with things like roasted lamb, vegetables and spices and seafood when I can.
"I love cooking like that now. It's weird how your palette changes as your life changes."
---
Recipes
Urano's Bolognese sauce
Ingredients 
Olive oil
1 medium onion, finely chopped
1 carrot, diced
2 celery sticks
2 cloves of garlic
500g steak mince
1 Italian sausage
1 kg chopped tomatoes
100g tomato puree
½ tsp salt
1/3 tbsp pepper
½ tsp nutmeg
½ tsp oregano
Basil
Method 
Sauté the mince with some oil on a high heat until coloured. With half the salt, add in the sausage.
Transfer into colander place the pan back in the heat add the remaining oil. Sweat off the onion then garlic for two minutes. Add the remaining vegetables and sweat for a further two minutes.
Add the tomato puree and cook for five minutes. Add the mince back in. Add the chopped tomatoes.
Cook slowly for around 40 minutes. Add in the aromatics and cook for a further 20 minutes. Check seasoning and serve.
---
Kevin's smoked salmon and potato pancakes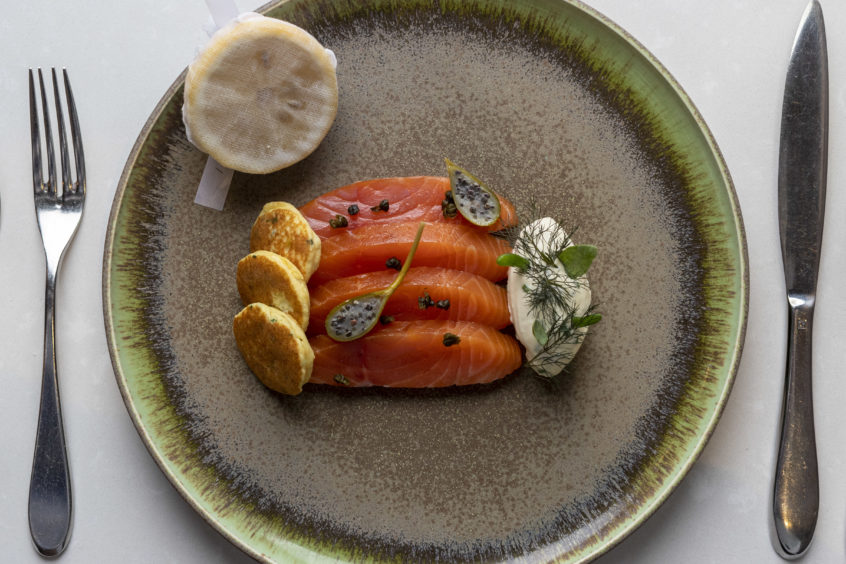 Ingredients
250g good quality smoked salmon
For the Russian salad:
½ onion, chopped
1 carrot, diced
Handful of green beans, sliced
Handful fresh peas
Good quality salad cream
10g tarragon and chives, chopped
1 cooked beetroot, diced
For the potato pancakes:
2 large potatoes (120g)
70g plain flour
30ml milk
1 tbsp horseradish sauce
2 eggs, separated
Fresh nutmeg
10g chopped chives
50g oil
To serve:
100g mixed herb salad (chervil, dill, tarragon, pea shoots)
1 lemon for dressing leaves
Method
To make the Russian salad:
Cook the carrots for five minutes in boiling salted water add the green beans after one minute add the peas.
Boil for 30 seconds then strain into iced water.
Place the oniond and herbs into a bowl.
Add in the carrots, beans and peas. Fold in the salad cream and keep to one side.
To make the potato pancakes:
Bake the potatoes until cooked, around one hour.
Half the potatoes and scoop them out of the skin and into the bowl. There should be around 120g potatoes.
Add the flour, egg yolks and the milk to the potato and whisk. Add in the horseradish sauce.
In a separate bowl, whisk the egg whites until a soft peak. Then fold them into the potato mix.
Add the chives.
Heat a non-stick pan with some oil. Spoon the potato mix into the hot pan.
Cook for 30 seconds then gently turn like a pancake. They should turn golden and start to rise slightly.
Cook for a further 30 seconds.
Place on a wire rack.
To place:
Cut the salmon into nice finger sized slices.
Place a nice spoonful of the Russian salad to one side.
Place the warm pancakes to the other side.
Dress the herbs with lemon juice and scatter around the plate.
Place the cooled beetroot around the dish at the last mintue so the colour doesn't run on the plate.
---
Read more in this series…
My Memories in Meals: Failing the cooking exam for his catering GCSE didn't hamper the spirits of this chef