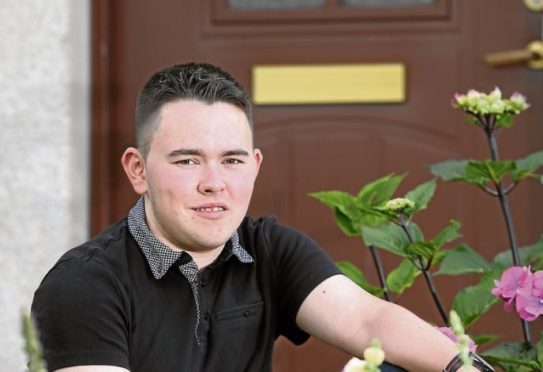 An Inverness teenager has made a remarkably rapid recovery from life-changing surgery.
Connor Mackenzie, 19, who was previously called Catriona, had a double mastectomy at a hospital in the north of England on Friday – the latest step in his female to male transgender journey.
The operation, which also included chest reconstruction, lasted for a total of six hours.
Connor had expected to be allowed to leave the Northern General Hospital in Manchester yesterday before being allowed to travel back to Inverness today.
But on Saturday morning, his mum, Kristine, received a surprise phone call.
Mrs Mackenzie said: "Connor's sister Jaimie and I came down with him and we stayed at a hotel near the hospital.
"My phone rang at 10am on Saturday morning and it was Connor. He said: 'Come and get me as soon as you can, they are letting me out'.
"I knew he would have one night at the hotel as we thought he would be getting out of hospital yesterday.
"When we got there, we were told he had managed to get up himself during the night and put on his pyjamas.
"As he could manage to walk about, they said we could take him to the hotel and bring him back this morning when he will be discharged.
"He is doing very well as it is a big operation. The person who had the same surgery before him was kept in."
Connor added: "I was taken down to theatre at 1.30pm and was back up in the ward at 8.30pm.
"I'm taking painkillers and when they wear off I'm a bit sore, but other than that I feel OK.
"I'm going back to the hospital this morning to get the chest drains out, then I'll be able to go back to Inverness."
Connor – who is a full-time supervisor in a local supermarket – will be off work for between eight to 10 weeks.
He is determined to raise awareness of people who are transgender and hopes that a support group can be established in the Highlands.
Connor said "There is a LGBT group in Inverness, but there are none in the area specifically for transgender people.
"I think it would be good if one could be formed as it would really help to raise awareness."
A Scottish government spokesman said: "Due to the specialist nature of gender reassignment surgery, services are provided on a UK basis in England."