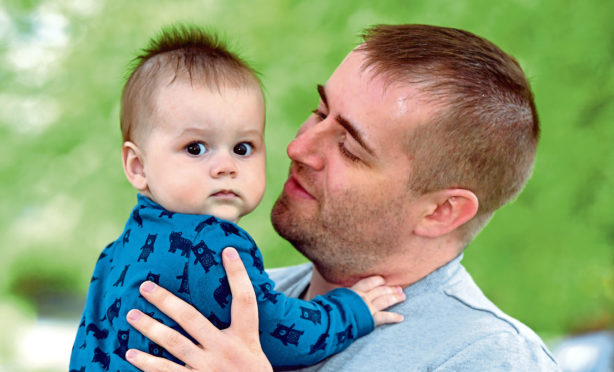 It's almost lunchtime when Andi Ramsay orders his second coffee of the day, black with no sugar.
The cup sits untouched on the table as he gently sways from side to side, weariness etched on his face.
His wife Sharon won't be home from her job as a teacher for several hours, so the trip to a local cafe is a welcome break.
As Andi rocks to and fro, his six-month-old son slowly settles into sleep.
Callen's head nestles against his father's arm before Andi lowers him into his pram and gratefully sinks into a chair.
There are plenty of fellow parents attempting to wrestle their offspring into high-chairs, but they are all overwhelmingly female.
Mothers and doting grandmothers, it would seem that child rearing is still presided over by women.
Andi is part of a growing trend which has seen dads left holding the baby, willingly might we add.
Mothers are choosing to return to work after a short maternity leave, while their partners swap the office for soft play.
Career progression, finances or the desire to spend more time with their children are all reasons why dads are choosing to stay at home.
What does the world look like for the dads of today? Here, four stay-at-home dads tell their story.
Andi Ramsay
father to six-month-old Callen. The family live in Ellon
"You could say I have been a stay-at-home dad from the very beginning.
"I spoke about it to my wife before Callen arrived.
"We had numerous conversations about the kind of parents we wanted to be.
"Childcare came into that.
"I have been a self-employed photographer for more than a decade, whereas Sharon is a teacher.
"As her maternity pay dwindled it became clear that it would make more sense for her to return to work.
"The big difference for me is that I can no longer take the day at my own pace. Everything is done on Callen's schedule; it can be draining.
"I have a lot of female friends and they would talk about how isolating and lonely parenting can be.
"It's only since becoming a stay-at-home dad that I well and truly get it.
"Popping out to a cafe can be the difference between not talking to another adult all day.
"I've been really welcomed by other mums at baby groups.
"I haven't been treated any differently and we chat and compare notes on our children.
"We go to a baby class on a Friday and it honestly gets me through the week, it anchors me.
"When Sharon is at home at the weekend, it can be a little disruptive in the nicest possible way.
"Me and Callen have our own groove and then you're bringing someone else into your routine, your way of doing things.
"My career has taken a back seat entirely and I'm OK about that.
"I consider it a privilege to see my son grow up.
"I have been lucky in that my male friends have been very encouraging.
"I think a few of them are even a bit jealous as they would like to have the option to stay at home.
"There needs to be more encouragement and support for stay-at-home dads.
"The paternity provision is pretty awful, you shouldn't have to choose between working and seeing your kids.
"I am actually thinking of launching my own YouTube channel, talking about what it's like to be a stay-at-home dad."
Jamie Conner
father to two-year-old Ruben. The family live in Inverness
"I spent 13 years working for VisitScotland.
"I was regional manager for the information centres in the Highlands and Islands.
"It was full-on and well paid, I enjoyed my job. My wife Heather also works for VisitScotland, she deals with the corporate side of things.
"She took the full year of maternity leave before returning to work and I continued to work full-time as well.
"I always told her that she didn't have to go back, it was entirely up to her.
"It soon became clear that we were struggling with the reality of working and juggling childcare.
"I thought long and hard before taking voluntary redundancy from my job, because the financial implications were obviously huge.
"I left my job in March, so I am still finding my feet and finding my new routine.
"I've gone from creating strategies and managing a couple of hundred staff to watching Hey Duggee.
"There are days when I don't speak to anyone and that has been a massive change.
"We have been lucky in that we have turned our large home into an airbnb called Secret Highlands.
"I've just started running day trips for guests and Ruben comes with me.
"He's very attached to me and the set-up makes sense to us.
"Heather recently attended an international conference in Frankfurt whilst I managed things at home.
"There is a network of stay-at-home dads in the area, it seems to be quite common in this pocket of Inverness.
"I sometimes try and play down my job as a stay-at-home dad and play up the fact that I work from home instead.
"That's down to my own perceptions maybe, I feel I need to justify it.
"I think lots of people are looking at ways to earn money where they can achieve a better work/life balance.
"I'd rather be poor and happy but we did a lot of number crunching before taking the plunge.
"Heather is expecting our second baby in October and we'll have to look at our set-up again.
"I don't judge other parents but I don't understand why you would pay someone else to raise your child.
"I get to see Ruben growing up and all those little moments are priceless."
Leo Dee
father to Lily, 11, and Michael, 9. The family live in Portknockie
"I have been a stay-at-home dad for 10 and a half years.
"I started at a time when it wasn't as common as it is today.
"Even now I don't actually know any stay-at-home dads.
"Lily was six months old when my wife Laura went back to work.
"Out of the two of us she is the more educated one.
"She has a degree in biochemistry and is currently a project manager at Aberdeen University.
"I worked in logistics which took me away from home, it wasn't family friendly.
"We knew we could run the house on one salary and it made more sense for me to stay at home.
"It took me a while to gain confidence and I felt self-conscious.
"It reached a stage where I didn't want to go out because at the time my decision to be a stay-at-home dad wasn't seen as the done thing.
"It was the mum who stayed at home and the man went out to work.
"I went to baby groups but found it nerve-wracking as the only man there.
"All the mums were polite though.
"It can be lonely, exhausting and frustrating to be a stay-at-home dad, especially when there is no decent adult conversation.
"So, I did miss the office atmosphere.
"We have reversed the traditional roles as I do all the housework and I enjoy cooking.
"I'm also renovating our house.
"The initial response from my friends was to ask what I do all day.
"Once I put them straight and said I am the person who does everything in the house, they appreciated my decision a lot more.
"It used to frustrate me when I took Lily to the doctors, for example.
"I would be asked if I was looking after her that day.
"I'd say no, I'm just parenting.
"Or at playgroup I would be asked if I had done her hair, like it was a big deal.
"There was this expectation that her clothes would be mismatched and everything would be disorganised.
"I am perfectly capable of taking care of my kids.
"Opinions are changing for the better.
"My children once asked why I didn't work.
"I told them my job was taking care of them.
"That's what they tell other people and they have never been teased because of it."
Sarahel Perez
father to 18-month-old Jules. The family live in Aberdeen
"It was never really my plan to become a stay-at-home dad.
"When Jules arrived, I realised I didn't want to leave him in nursery.
"I couldn't bring myself to do it, so I quit my job at a petroleum company.
"My wife went back to work after six months of maternity leave.
"Now he is a little older, I am considering going back to work when he starts nursery in October.
"He is very attached to me and we have a fantastic relationship.
"I would recommend the experience to anyone. The way I see it, children grow up so fast. I would do it again because it has honestly been fantastic."
It would seem that fatherhood has drastically changed in the past 50 years alone, many would argue for the better.
Will stay-at-home dads alter the world of work for both sexes and soon become the norm?
Only time will tell.