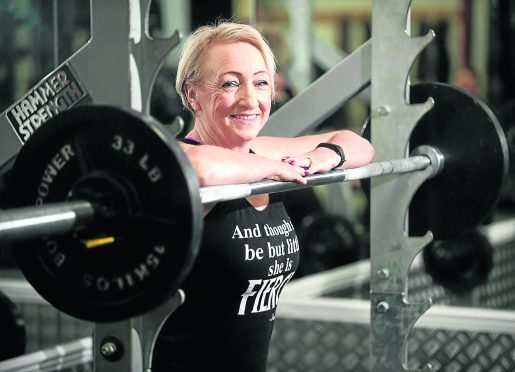 A powerlifting grandmother is hoping to win gold at the Commonwealth Games – just four months after suffering a stroke that left her paralysed down one side.
And Sam Devlin, 52, said the only reason she is alive today is because she was lifting 120kg weights – more than twice her bodyweight – in the gym when it happened.
Her surgeon told her that the stroke would have killed her had she not been working out at the time because the strenuous exercise helped to keep open a blocked artery.
Mrs Devlin, a mother-of-four and grandmother-of-six from Inverness, said: "He said the pressure of lifting the weights was keeping the artery in my neck open, otherwise blood wouldn't have got through that day and I would have died. It's an absolutely terrifying thought – I only took up powerlifting a year ago."
In that time, Mrs Devlin, who is just 4ft 11in and weighs under eight-and-a-half stone, has already set four new Scottish records and is a British champion.
She feared her competition days were over when the stroke left her unable to move her right arm and leg.
But when she received the letter confirming her place on the Scottish team going to South Africa on September 10 she was determined nothing was going to stand in her way.
Mrs Devlin said: "I was still in hospital when I got the letter and it gave me something to aim for.
"I was in a ward where nearly everyone left hospital in a wheelchair and I was determined I wasn't going home in one.
"So I asked for extra physiotherapy and they gave it to me. The hospital has been fantastic, I can't fault them."
Her ordeal began on May 6 when Mrs Devlin, who only took up the sport last year after she was given personal training sessions as a gift, was working out in the gym in Inverness.
For almost a week she was left paralysed down her right side.
Following intense physiotherapy, however, she slowly regained feeling and strength in her limbs and was home within six weeks.
Mrs Devlin has launched a fundraising drive to help pay for her flights and accommodation for the week-long competition. She has already raised £750 of the £3,000 needed and she said any money left over will be donated to Chest Heart and Stroke.
To support her, visit www.gofundme.com/commonwealth-power-lifting-champion