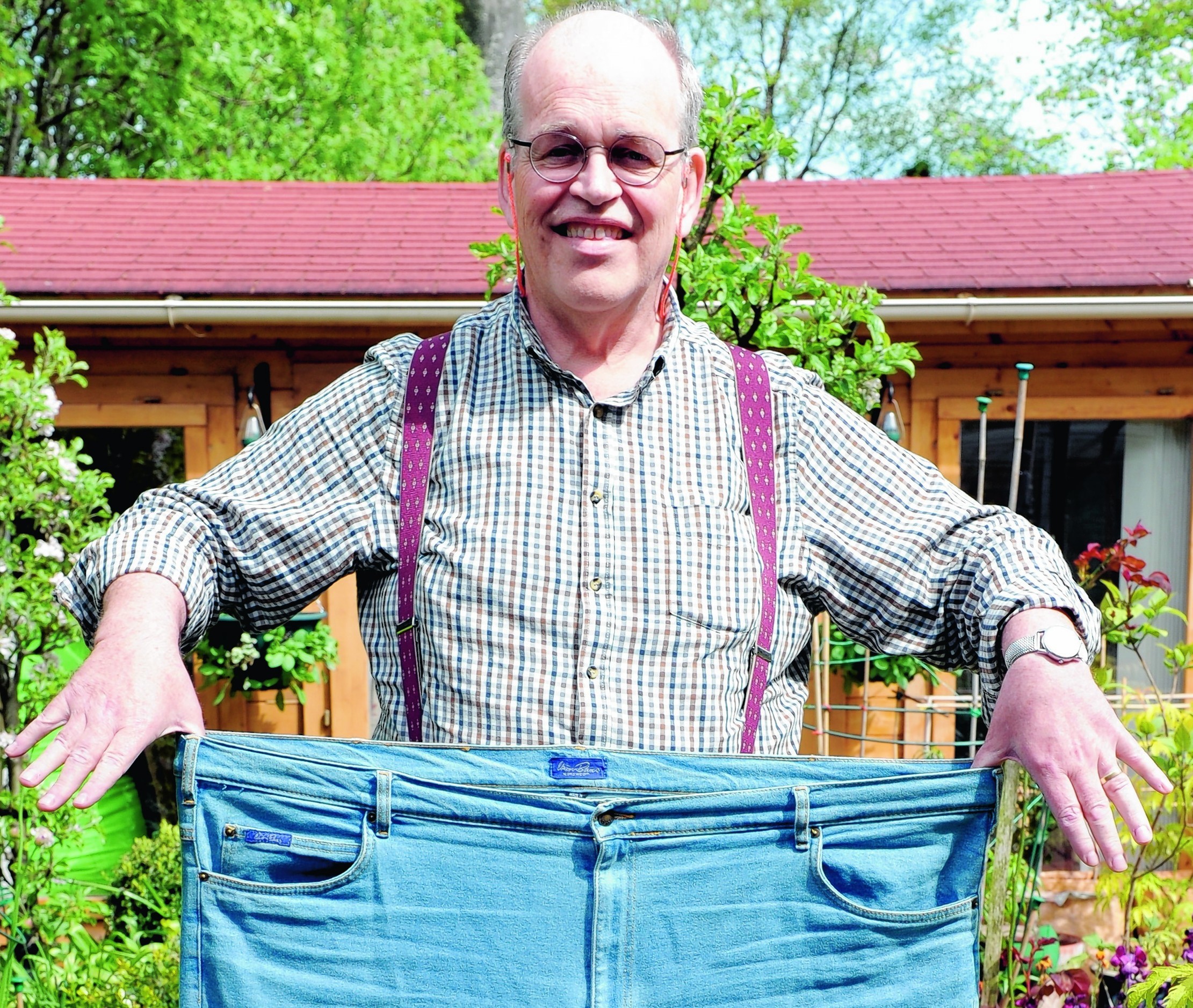 Seven months ago Chris Stewart was 22 stone and exhausted just walking to the fridge. Now having lost more than seven stone he has been given a new lease of life.
For more than half his life, Chris Stewart was a fit, healthy man who loved hill walking and bird watching and spent his days going up and down stairs as a rig medic offshore.
But after discovering his child had Autism 20 years ago, the family ended up spending a lot of their time indoors.
"Hiding away and stuffing your face goes hand in hand really," he told me.
Add into the mix a change of job and quitting smoking and Chris found himself gradually putting on weight until he was 22 stone.
Far from his days of hill walking, Chris said he even struggled to walk to the fridge without becoming breathless.
He even moved the fridge to the bottom of the garden to try and get more exercise into his life.
It was his family, and more specifically his son Jack, that finally persuaded him to shed the weight.
Chris, 62, of Bridge of Don, Aberdeen, said: "My son is very persistent about things and he has been on at me for ages to lose weight.
"We use photographs to communicate sometimes and he had got a photograph of me from around 10 years ago where I was a lot thinner and Jack wanted me to get back to that.
"I then discovered he had sent photos of me, ones of me at my heaviest, to his uncle. And when I saw what he sent I was really peeved. I said 'oh my god, you could have sent any other photo than that', and I was really angry about it.
"But he wasn't making any value judgements about my size, he was just sending a picture of his dad to his uncle. And the more I thought about it, the more I thought I need to do something about it."
It was at this time that Chris discovered juicing, firstly through a documentary by Joe Cross and then a programme created by Jason Vale.
"All of us have seen dietary claims before that have proven to be absolutely useless so I looked into it a wee bit more and there was a lot of stuff on the internet about people really losing a lot of weight quickly through juice dieting," he said.
"I found Jason Vale's website; he sells recipes of different juices. So I bought an app for my phone called Seven Pounds in Seven Days. I thought, 'I have worked offshore, I can put up with any rubbish for a week' so I thought I'd give it a bash. And I have been astonished since the first week that I started."
The 62-year-old retired manager lost a staggering stone in the first week and since October has lost another six. He now weighs an impressive 14 stone 12lb and is determined to get down to his target weight of 12 stone.
"The programme I was on, you had five juices during the day as well as water and tea and I was genuinely not hungry, that was one thing that surprised me. It was virtually painless, I was just staggered.
"I am the most unlikeliest person to be doing this. Any of my former friends or colleagues would probably be astonished."
Chris explained that the programme offers lots of recipes for the juices, which all use around 80% of vegetables and 20% of fruit. Other ingredients including yoghurts can be added to ensure you are getting all the essential vitamins."
With his weight decreasing, Chris has found that he has been able to get back to his active life with walking regularly. He is even planning to take on Bennachie today, with son Jack.
"I've got oodles more energy and during all this I've kept in touch with my GP practice. My blood pressure is down and my cholesterol having been too high is normal.
"Through this I have also rediscovered what being hungry actually is. I think a lot of the times before I was mistaking just fancying having something for being actually hungry. So that's changed.
"After I get to a sensible weight, I want to maintain it and a healthy lifestyle. I think I'll always have a juice once a day because they make you feel great.
"One of the places I was well known was McDonald's and Burger King so I've ruined their profits since I took up juicing.
"That desire for instant fast food is gone now. I just feel back in control rather than being dragged around by my belly. It's a fantastic feeling, it's really empowering.
"I can't tell you how delighted I am with the results. It's been so inspirational to go through. I never thought I would reach this weight, never in a million years, it's been astonishing."