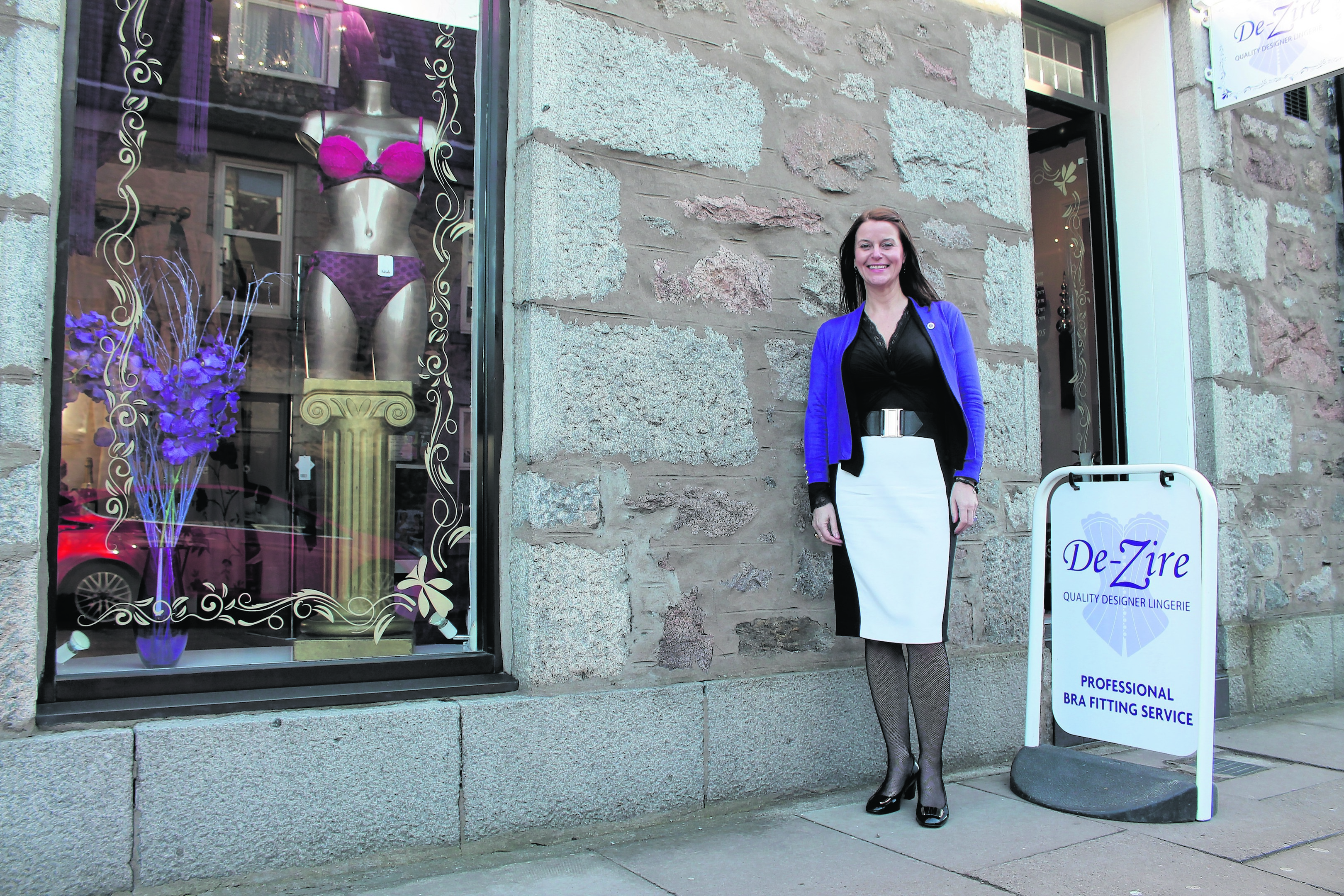 Every year nearly 55,000 people in the UK are diagnosed with breast cancer, highlighting just how important it is for women to take care of their bodies.
Ladies spend time and money having regular hair and beauty treatments, and Breast Cancer Awareness month, which runs until the end of this month, demonstrates just how important it is for them to pay the same amount of attention to their breasts.
For the last seven years, Susan Evans, owner of Aberdeen-based independent lingerie boutique, De-Zire, has been educating women in the north-east about the importance of caring for their bodies by wearing the correct bra size.
Susan, a qualified bra fitter, established De-Zire in 2008 when she set up shop in Inverurie, and her vast knowledge and experience in the lingerie sector soon saw her becoming known to her customers as the 'Lingerie Queen'.
She said: "When I launched the business my vision was to provide women across the north-east with correctly fitting underwear to suit their individual build, shape and size.
"Today is no different as I aim to educate about the benefits of wearing a correctly fitting bra and change the attitudes of women and young girls towards lingerie shopping."
In 2015, Susan made the decision to relocate the lingerie boutique to Aberdeen, and her Thistle Street shop has continued to be popular with old and new customers looking for Susan's expertise and personal touch.
Susan is inviting women to the store on Saturday, October 24, to help raise funds for its chosen charity, CoppaFeel! The charity was established to educate and remind young people about the importance of checking themselves – instilling a healthy habit that could one day save their life.
During the special fitting day, Susan will be on hand to fit women for bras to suit their shape and size, and educate customers about the benefits of wearing correctly fitting underwear. A representative from CoppaFeel! will also be giving advice on how to check for signs of breast cancer.
"While most women are aware of breast cancer, many forget to take the steps to have a plan to detect the disease in its early stages and encourage others to do the same. I hope that the fitting days demonstrate the importance of women caring for themselves, while raising money for such a worthy cause."
Here, Susan shares her tips on finding the perfect fit:
Take time to look at yourself in the mirror – this is the easiest way to determine if you are wearing the wrong size of bra, and is also good for helping you when you check your breasts for any changes or lumps.
If you have excess skin bulging over your bra, or your cup is coming away from your breast, then you are definitely wearing the wrong size.
CHOOSING THE PERFECT FIT:
Just like clothes, bra sizes vary from one brand to the next, so it is important to remember that your size may need to go up or down – making it vital to be fitted properly and try on underwear before taking it home.
When your bra is perfectly suited to your body shape it is easy to forget you are wearing one. Remember that weight gain or loss and hormonal fluctuations can cause an increase or decrease in breast size, and should take this into account when you are buying new underwear.
If the back of your bra is riding up, you need a smaller back size. If your bra is leaving red marks, you may need a bigger cup size – bras with padded or wider bra straps can help if you find your shoulders getting sore.
Your bust should sit above your rib cage – any lower and this could cause back and shoulder pain.
GET DRESSED FOR THE OCCASION:
Shopping for a new bra shouldn't only happen if you've got a special night out. Your underwear drawer should have at least one bra for every occasion – think comfort for work, high impact for sport, and luxury for special occasions.