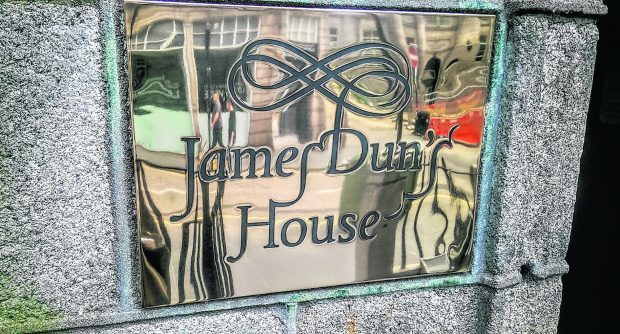 An offer to review a spa treatment brings out a queue of willing volunteers in the P&J office but this time I managed to fight to the front to experience an Aveda Body Wise treatment at James Dun's House in Aberdeen city centre.
A little bit of self-care and relaxation was promised with a brand-new treatment that will focus on recovery of the body, mind and skin from the negative effects of stress; can this really happen within an hour?
My friendly therapist Carly welcomed me to the spa and led me to the basement of this beautiful historic house. Spread over four floors, this hair and beauty salon is like a Tardis, housing a hairdresser, nail salon and four treatment rooms all under the one roof.
The minute you step down the stone steps to the spa area you are cocooned into a Zen-like haven with walls adorned with ornate Moroccan style lanterns flickering with tea lights as the sweet scent of essential oils fill the air.
My treatment begun with a warming foot bath, scrub and reflexology as Carly explained what lay ahead and the choices on offer. The new treatments are individually designed to meet the client's needs and I was offered a choice of the aroma body polish, body wrap or back treatment. She also enquired about my lifestyle, my stress levels and the condition of my skin.
Then there was the choice of aromas and the opportunity to smell the scented oils that were going to be used for my treatment. I inhaled the miniature bottles of lavender, lemon, peppermint and bergamot before plumping for the beautifying composition. Carly explained that my choice would be intensely nourishing, infused with essences of lavender, rosemary and bergamot.
Choices made, I lay face down on the heated bed (nice touch), closed my eyes and relaxed. Soft, soothing music was played in the background and the lights dimmed to create the calming atmosphere.
My back was cleansed and exfoliated while hot towels were used to remove products after each delicious layer of this 45-minute treatment.
Sometimes it is hard to totally switch off especially with such busy lives that we all lead but I somehow managed to push work and home matters to the side.
One tiny criticism was because the spa is situated within the basement, footsteps can be heard from the floor above but this didn't spoil my overall enjoyment.
The neck and shoulders are where most people hold their tension and Carly worked her magic on my tired old joints, manipulating the oils around with great skill and expertise.
While my natural seaweed masque was soaking into my back, I was swaddled in warm towels and given a scalp massage … could life get any better?
All too soon Carly informed me that was the end of the treatment and advised me to take my time getting ready; reluctantly I had to move!
Afterwards as I sat with a glass of water, she said that I did have a few knots on my neck, probably due to poor posture … maybe sitting at a desk all day with a telephone under my neck doesn't help…
And what about that earlier promise of recovery of the body, mind and skin from the negative effects of stress?
I didn't so much as walk but float out of the door, feeling much calmer than when I arrived. My back felt as smooth as silk, and even days afterwards it still does.
So no promises were broken with this treat and if you fancy some first-class pampering for yourself or a friend, I guarantee this treatment will surpass any expectations.
For more information visit www.jdhlifestyle.co.uk or call 01224 648480.