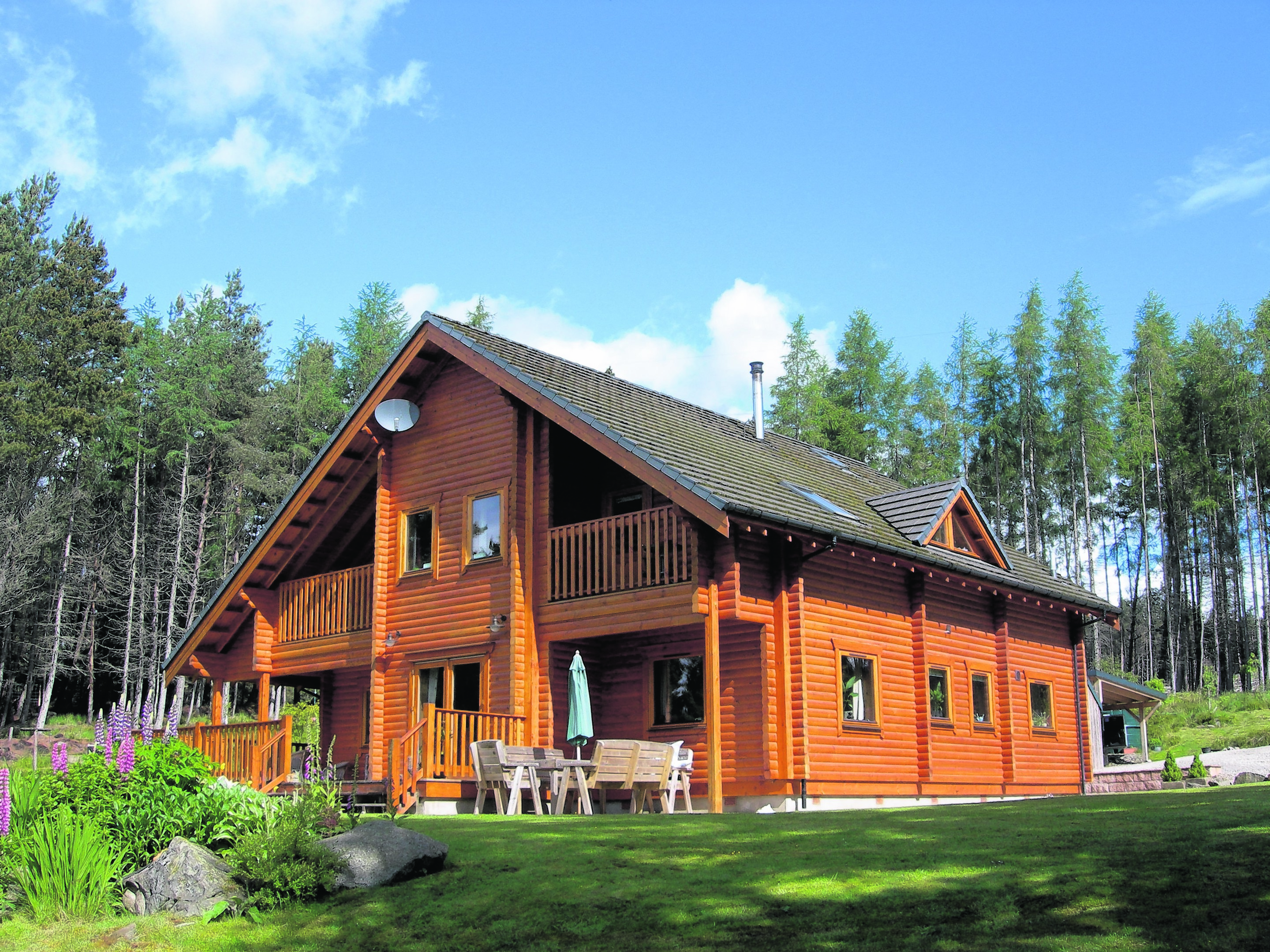 Everybody likes to get their hands on a good deal in January, including house hunters, who can make a massive half-a-million-pound saving on one special Highland property, writes Susan Welsh
History books often tell of the days when thousands of Scots left these shores to start a new life in Canada, where settlers had to cut down trees and work hard to clear the land before building a log home for themselves.
Laurna and David Brown tell a similar story, but their tale is very much set in 21st-century Scotland.
Home for them is Mellness House, a superb house made from enormous logs, built in 2008 and surrounded by an exceptional forest estate in Glen Urquhart, which is around 25 miles from Inverness.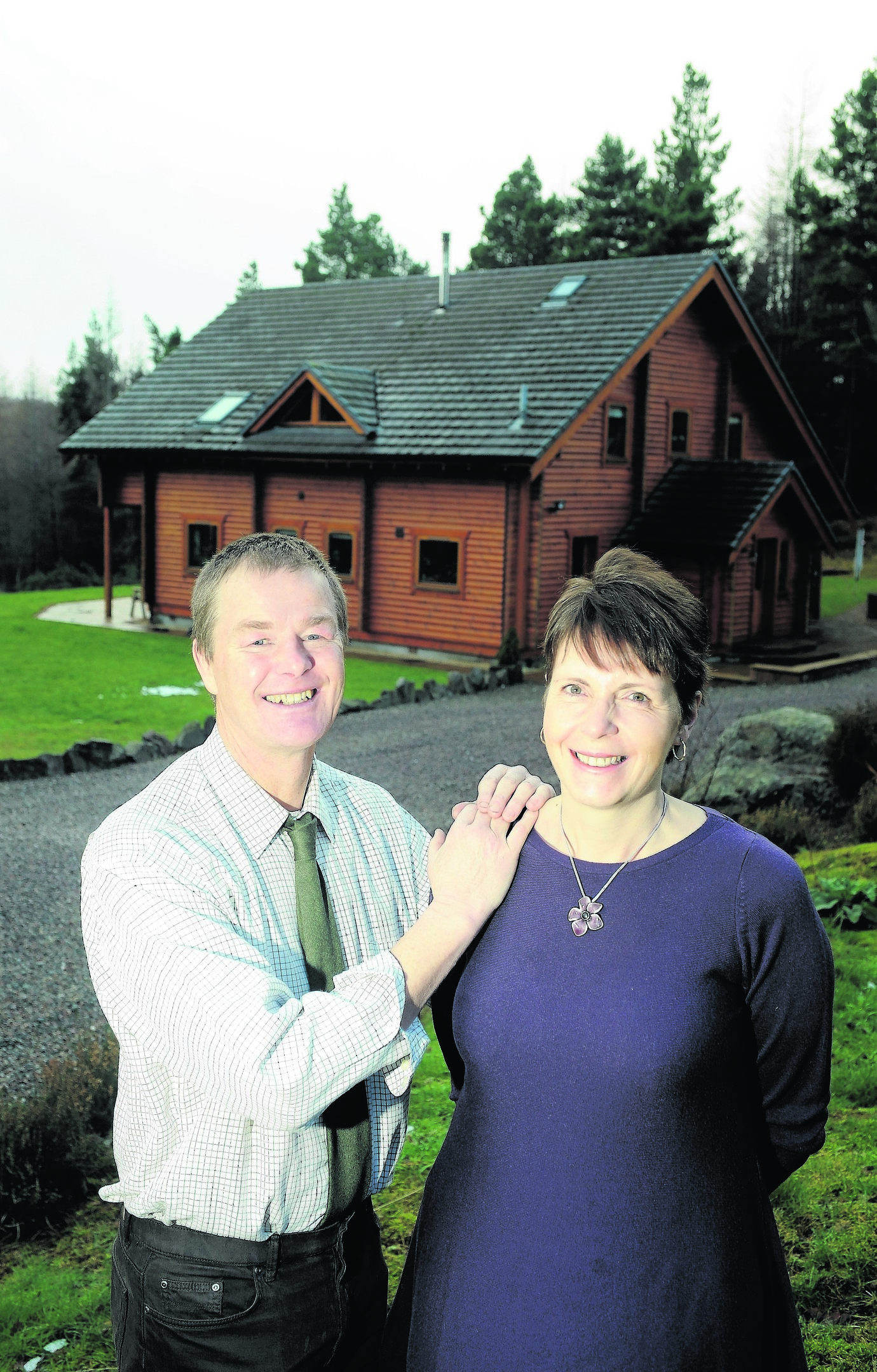 It's the second log home they've built, the first being a good-sized lodge which is also available for sale along with the 400-acre residential and sporting estate which, since first going on the market last year, has had £500,000 knocked off the original £1.5m asking price, a reduction which the owners hope will entice viewers to come and see their much-loved home and one which could offer the right buyer, a new way of life.
"We are originally from the Borders and regularly came on holiday to Glen Urquhart to enjoy the wonderful scenery. We bought Mellness Estate 11 years ago and decided to build a holiday home," said Laurna, 48.
The lodge, built in 2004, lies to the north of the main house in an open glade amongst the woodland and has views over Lochan nan Gealaidh. It has an open-plan sitting/dining/kitchen with a dramatic cathedral roof, two main bedrooms and an attic with two further rooms. It is currently used as a successful self-catering property.
"We wanted to build something sympathetic to the environment so it seemed right to build a wooden home," said Laurna.
"My uncle had a wooden bothy in his garden at Coylumbridge which we liked, then we looked at the holiday houses at Loch Insch, then contacted the same supplier who had provided those, Sylvan Stuart Limited, from Insch in Aberdeenshire, to see if they'd build a house for us. Both houses are built using individual logs so you can design your own plans, then have the logs cut to fit them.
"Once the lodge was built, we'd come up for holidays but loved it so much that seven years ago we decided to have a total lifestyle change, pack in our jobs as vets and move here. David then managed the forest while I began working from home as a book keeper/accountant which allowed me to spend time with our son, Angus, who is now 13. That meant building a bigger home, Mellness House, which is a good-sized five-bedroom house."
Creating their dream home involved felling trees and clearing land first. From start to finish it took around a year to build the house, with a further six months for it to fully settle.
The colour of the wood inside the house creates a warm atmosphere and the first impression for many visitors is "wow."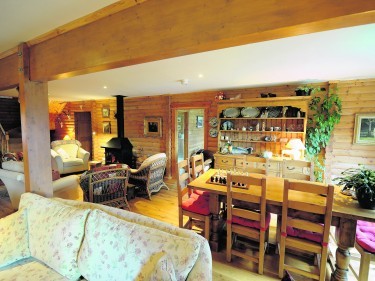 The ground floor has a spacious open-plan layout with an entrance vestibule leading into a large open-plan living/dining area which has a 23 kW log-burning stove.
The high-spec kitchen has custom-designed units, a double-oven electric Aga, a centre island, double sink and integrated appliances.
An adjacent utility room has plenty of space for outdoor clothing and boots.
This floor also has a large double bedroom with en-suite shower room.
Upstairs, there are four bedrooms and a large bathroom with a corner bath. The two larger bedrooms each have a useable covered balcony with beautiful views.
"The house feels as though it is alive – the smell of fir trees as you come in combined with the colours and textures of the natural wood make it warm and welcoming," said Laurna.
Keeping it warm and cosy is an environmentally friendly heating system with all the heat and hot water being supplied by a wood-burning stove fuelled from the natural thinnings of the forest.
The house sits within four acres of deer-proof fenced garden with extensive decking, paving/patios, attractive lawns, shrubberies, a vegetable garden with greenhouse, large workshop, a store for garden machinery and equipment, lean-to, double car port, log store and diesel fuel pumping station (capacity 2,500 litres).
This is lot one, and priced at offers over £400,000.
Lot two, at offers over £600,000 includes the lodge, and around 390 acres of predominantly coniferous woodland consisting of mixed conifers including Sitka Spruce, Scot's Pine, Lodgepole Pine and Douglas Fir.
A long-term forest plan, covering the years 2012-22, was approved by the Forestry Commission and a copy of which is available on request from the selling agents.
Some of the work has commenced and certain areas of the woodland are now approaching or within the second thinning and felling stage which could provide immediate income-earning potential.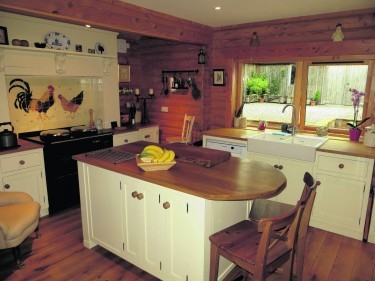 The estate is a haven for wildlife and regular visitors include ospreys, waxwings, golden eagles, kites, pine marten, red squirrels, several colonies of slowworm and Palmate newts in the wetland pools.
There are four hill lochans all containing brown trout and the largest lochan (Lochan Plowt) has a purpose-built boat-launching site and has also been officially registered as a fishery.
There are woodcock present from early November in the wetland areas of the forest which provides exciting shooting.
One of the lochans benefits from the requisite infrastructure for duck-flighting which has been a terrific addition to the property.
A further potential house site has been identified close to existing services and there may be some potential to develop a hydro-electric scheme (all subject to gaining the necessary consents). Mellness Estate has considerable sporting opportunities and the owners have undertaken extensive work to improve this.
"It's been fantastic living here, as there's great views, privacy, superb neighbours, plus a choice of two primary schools and an excellent secondary school.
"We're selling now because our parents are getting older and we'd like to live closer to them. We would love to see someone buying the whole estate, which has been reduced from £1.5m to offers over £1m. Whoever gets it is getting an amazing property and an absolute bargain."
Contact: Strutt and Parker on 01463 719171.