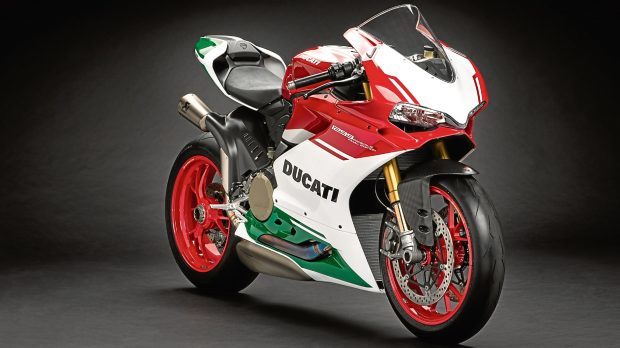 Ducati is celebrating the final chapter of its two-cylinder Superbike engine.
The 1299 Panigale R Final Edition is the last hurrah for Ducati's V-Twin engine, which has been a success story in the World Superbike Championship since the contest's inception in 1988, and a hit on the roads since 1971.
The superbike is powered by a new version of the 1299 Superleggera engine, the Final Edition Superquadro. It produces 206bhp, and is paired with an ultra-compact Ducati Corse-developed monocoque chassis. With a dry weight of just 179kg, the 1299 Panigale R Final Edition makes an impressive 1,168bhp per tonne.
The Final Edition bares a unique tricolour livery, which was also present on the Aruba.it Ducatis of Marco Melandri and Chaz Davies recently at the Laguna Seca World Superbike event. The Final Edition was given its world preview at the legendary circuit in Monterey, California, while Davies achieved a race victory aboard his Panigale R race bike.
The twin-cylinder Ducati motor will be replaced by a MotoGP-inspired V4 from 2018, marking the end of an era spanning more than 40 years.
Ducati CEO Claudio Domenicali said: "No other motorcycle manufacturer has bound its name so tightly to an engine as Ducati has to its sports twin-cylinder. Today, we're here to celebrate its history, just as we stand on the cusp of a new era. But that's the future. Today, we want to pay homage to a twin-cylinder engine that, thanks to incredible torque and compactness, has seen Ducati win races in every World Superbike season it has ever participated in."