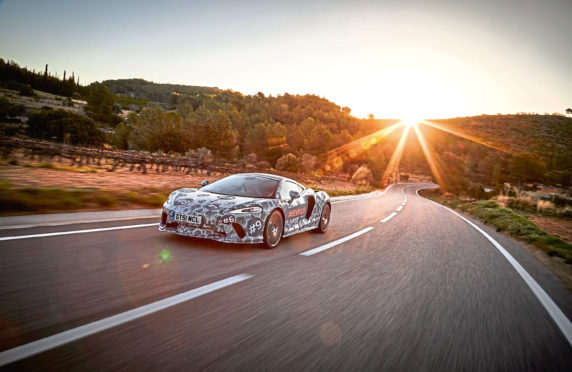 McLaren has given a glimpse of what to expect from its yet-to-be-unveiled grand tourer by releasing several images of a heavily camouflaged version.
The as-yet unnamed car is due to be revealed in full next month and is the fourth model to be released as part of McLaren's Track25 business plan.
According to the British manufacturer, the car is undergoing the final stages of its development programme, having been extensively tested in extreme environments around the globe.
However, the firm's development team still isn't finished with it – and will be completing a 1,000-mile drive from the development base near Barcelona to its Technology Centre in Woking.
Despite the long distance, McLaren says the trip will be completed in one stint, with two drivers and a full set of luggage to ensure that the car can deliver on its grand touring promises.
Although details surrounding the car are limited, we do know that it will be powered by a twin-turbocharged V8 engine and won't be part of any of the company's existing model series, instead being pitched as a unique model.
However, the company has stated that it will share some of its DNA with the Speedtail supercar, although the specifics are as yet undisclosed.
The grand tourer's price and availability are also still to be announced.