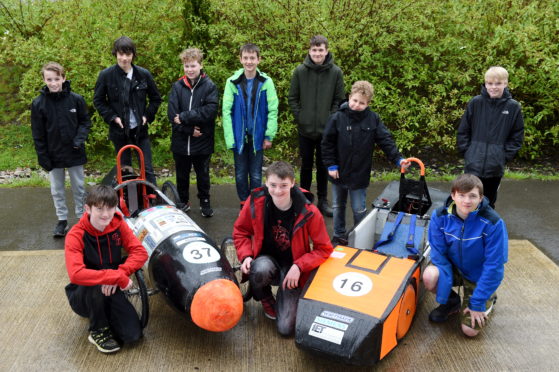 While most children spend their Saturday mornings watching cartoons or playing computer games, Adam Collie is hard at work.
Raking about in a red metal tool box which comes up to his waist, the 16-year-old squints at the contents before selecting a couple of Allen keys.
Taking them back to his workstation, he sets about loosening some bolts from their hexagonal sockets.
His project doesn't look like much at the moment, it's just a long box shape, but soon it will have four wheels and handlebars, not to mention two 12-volt batteries which will see it reach top speeds of nearly 30mph.
The large garage is noisy; at one end someone is slicing some sheet metal with a shrill-sounding power tool, while at the other groups of boys crowd around strange looking machines in twos and threes.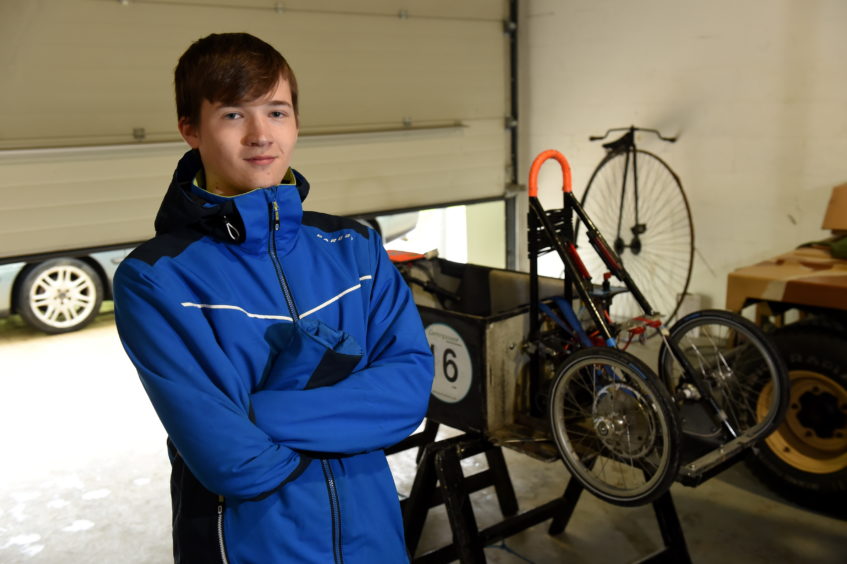 With tools in hand, they talk animatedly about the pros and cons of combustion engines, despite the fact none are yet old enough to drive one.
But their enthusiasm is both engaging and endearing. Together they form the Grampian Transport Museum's Young Engineers Club, a group of young lads from around the north-east interested in anything and everything under the bonnet.
Each week they meet to design and build electric race cars under the supervision of a couple of experienced engineers, and when completed, race at both a regional and national level in the Greenpower Formula 24 Challenge for 11 to 16-year-olds.
And they've had success too, with a trophy cabinet full of prizes and the accolade of being the best team in Scotland making the boys stand a little taller.
"The competition is based around how far can you go in 90 minutes on two 12-volt batteries," explained Paul Lawson, who set up the club some 15 years ago when his own son began showing an interest in cars.
"Each car starts with exactly the same batteries and it's up to the teams how they build and customise them," he said.
"Initially it was just my son and a couple of his friends, but when we won first place in our first heats and went down to Goodwood for the second round, we attracted a bit more attention.
"We were one of the first Scottish teams to form – I think there are about 15 altogether now.
"We're still the best though," he laughed, "and have been for the last 10 years at least."
Each year, they compete in local Scottish heats before hopefully progressing to the world finals, held usually in Goodwood, Rockingham or Silverstone.
"We finished 12th in the world final a couple of years ago," said Paul.
"I think that was our highest placing to date; it's extremely competitive on the world stage and the kids love it."
Currently the team has 13 members from around the city and shire.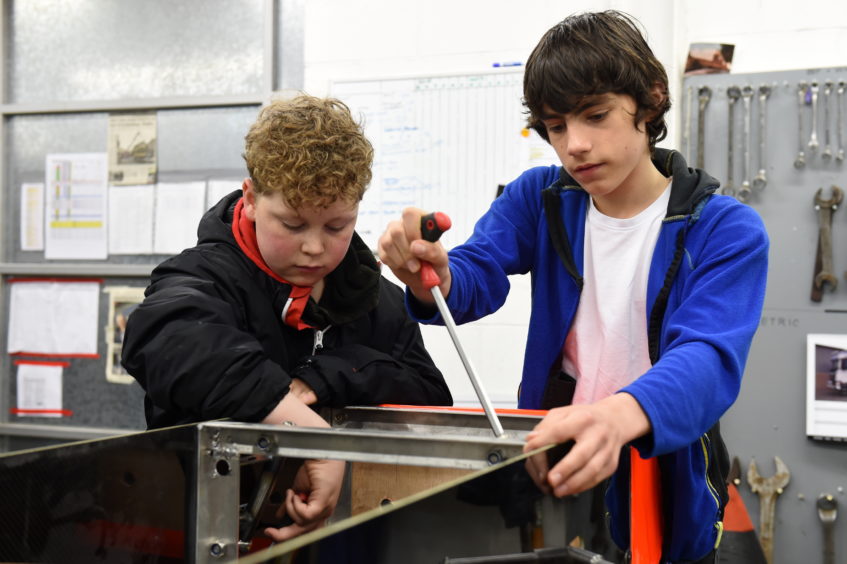 They are all boys, though the team has welcomed several female members in the past, and Paul makes a wry comment that they make better drivers under pressure.
Adam, meanwhile, is still working away on the new car.
"It's the third one that the team have come up with," he said, "but the first one I've got to work on from scratch.
"I joined in 2015 when the previous car had just been completed, so I was mostly involved in things like safety checks, harness fittings, tyre changes and checking the bulkheads.
"It's good this time to get to see the project right from the beginning.
"I didn't know really anything about engineering before I started, I just liked the idea of racing.
"I've driven both of the other cars, we call them Bullet and Spider.
"It's exciting to be behind the wheel and they are both very different to drive."
Speeds of up to 30 mph are not to be sniffed at, especially in an open-topped car hurtling around some of the world's most famous race tracks.
It makes it all the more extraordinary then, when you notice that Adam's right arm stops at his elbow, meaning he is driving one handed.
But it doesn't stop him and he shrugs when I mention it, simply saying "driving is the best part and it feels a lot faster than it actually is, my arm doesn't stop me.
"I used to want to join the Army, but this has inspired me to look at engineering and I think I might become a welder."
Working at the other end of the car are new members Lewis Dunbar, 13, and Damien Lee, 12, who joined the club at the end of last year.
Best friends, the two are inseparable as they fiddle about screwing and unscrewing some bolts.
"The new car doesn't have an official name yet but we've nicknamed it The Coffin," mused Lewis.
"Not for anything sinister, just because of the long boxy shape."
It's far from being finished, but the pair have high hopes for it out on the track.
"The other two are quite uncomfortable in the driving seat so we are hoping this one will be better," said Damien.
"You need to be in exactly the right position and have your feet in the right place because the steering rod runs right through the middle.
"There are no pedals or anything, so it's not too complicated, just a throttle on the handle and you twist and go."
The morning has passed quickly and as parents begin to arrive, the older engineers, who are volunteers, begin to round up the young boys and point to a sign on the wall which states "Your mother doesn't work here, clean up your own mess".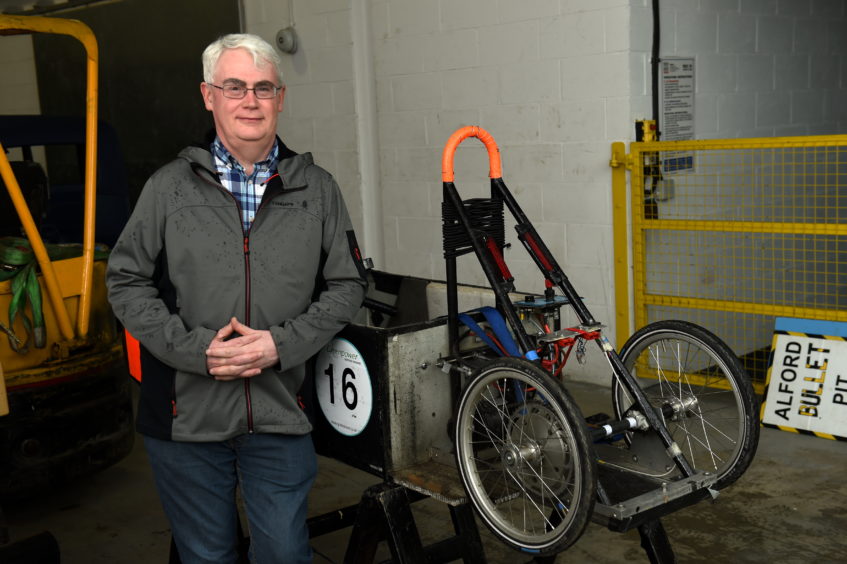 In the chaos of kids milling about, a young lad approaches me shyly before showing me an electronic dice he made all by himself.
Powered by standard batteries, he fashioned the miniature circuit board alone, installing six tiny light bulbs which randomly illuminate on command.
It's impressive, and a prime example of how the engineering club has given him the confidence to think outside of the box.
As they wave goodbye, it's probably the last time I'll see any of the boys, until perhaps I catch a glimpse of them either in the driving seat or in the pit lane of some of the world's biggest races .
I'll be on the lookout, that's for sure.
l The first heats of the Scottish Greenpower 24 competition take place on June 14 at the Grampian Transport Museum in Alford from 10am.
For more information on the museum's engineering club email youngengineers@gtm.org.uk