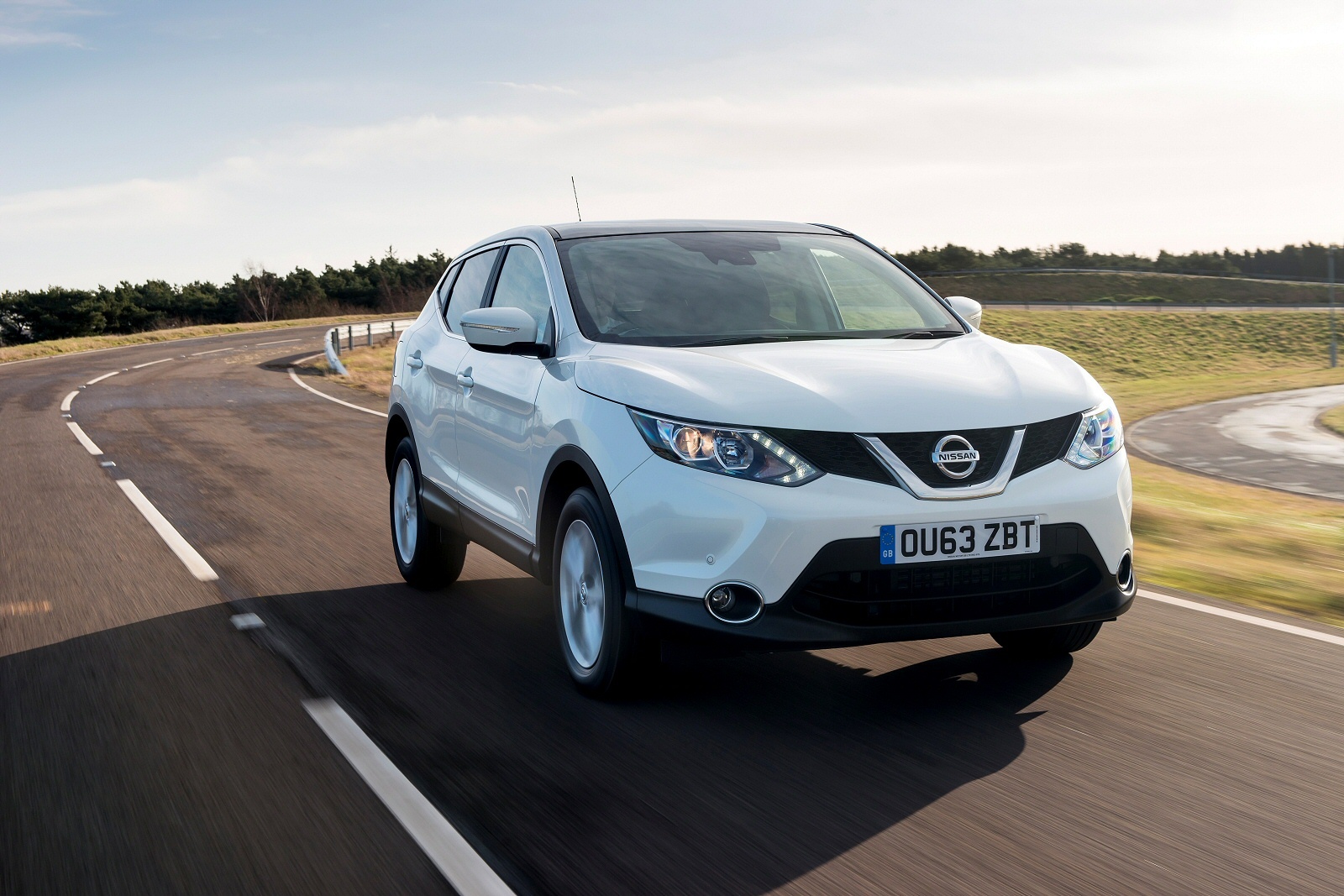 Nissan's second generation Qashqai is at its most popular in 1.5-litre dCi diesel form.
Commit to a corner and this Qashqai doesn't feel appreciably different to a Golf or a Focus. You expect it to. You anticipate a certain tippiness, a laziness on its springs that's the hallmark of a higher-riding vehicle, but it's really not there. Body control is excellent, the steering is light and accurate and there's nothing cumbersome about it at all, helped in no small part by an engine that weighs next to nothing.
Ride comfort is possibly a tad sportier than the class norm, and it can feel a little chattery on really bad surfaces but most of the time it just feels agreeably taut and direct. The suspension is a fairly straightforward setup of MacPherson struts up front and a torsion beam at the back. There's no 4WD offered on this 1.5-litre dCi model and most buyers won't want it anyway. What they will want is reasonable performance and, with 108bhp on tap, this variant obliges – to a point – getting to 62mph in a leisurely 12.4 seconds.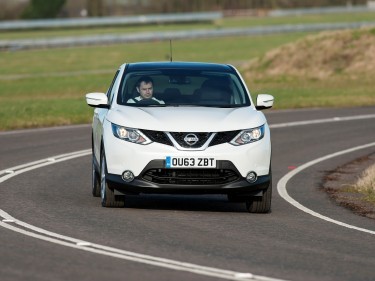 Perhaps stung a little by criticisms from journalists that this Qashqai looked quite a lot like its predecessor, one of Nissan's senior suits was heard to ask "Well how different is the new Golf?" And, when you think about it, he has a point. Geese that lay golden eggs don't need to look like swans. It's undoubtedly a more mature, assured looking thing, clearly well-engineered without having to adopt try-hard tactics to attract your attention. The front end gets a corporate Nissan V-grille and a bonnet that's all curves and swag lines.
And inside? Well this time round, Nissan has wisely concentrated on improving material quality and also offering a more expressive style to the cabin. The main instrument panel is a major element of this MK2 design. Visually, it expands the width of the cockpit and flows into the door design. This creates a focus point at the centre for all the important displays and Nissan claims it makes passengers feel protected by the car. In the back, there's more legroom on offer which may placate customers disappointed by the fact that there's no 7-seater '+2' bodystyle offered this time around. There's a bigger 439-litre boot too, extendable to 1585 litres with the rear bench folded.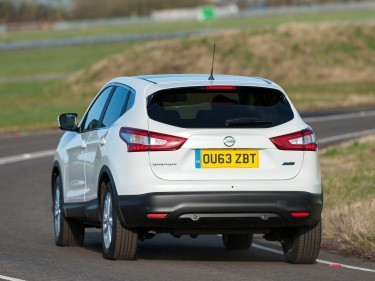 Pricing for this MK2 Qashqai in 1.5 dCi form sits in the same £20,000 to £25,000 bracket common to other like-minded family-sized crossover models. Unfortunately, you can't get the slick Xtronic automatic gearbox at this level. And there's no 7-seat option across the range: Nissan wants buyers looking for that to opt for its latest X-Trail SUV.
The old Qashqai model's diesel engines were always extremely economical, but the units fitted in this MK2 version are that little bit better again. Choose a 1.5-litre diesel and you'll see 74.3mpg and emissions of just 99g/km. We're used to manufacturers like Nissan introducing more spacious, quicker, safer and better-built cars which somehow seem to improve on the fuel economy of the predecessors but how exactly do they do this? Weight saving is the current engineering solution and despite being a bigger car than before, this Qashqai weighs around 80kg less model for model, thanks to Nissan's latest CMF chassis. The aerodynamics are better, frictional losses in the drivetrain have been reduced and the rolling resistance of the tyres is lower.
With this second generation Qashqai model, Nissan has worked its socks off to keep buyers loyal. As a result, this classic crossover is genuinely hard to fault. It's practical, safe, well-priced and well-finished. It's got a great chassis, you get plenty of standard equipment for your money and the running costs in 1.5-litre dCi diesel form brook no arguments whatsoever. It's become the quintessential car for small families.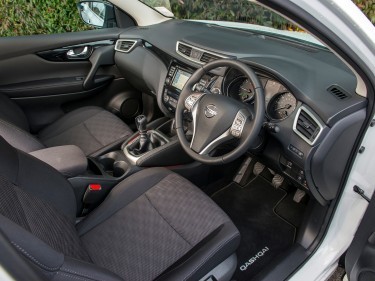 Of course, it has a huge array of rivals, but in the price bracket this car competes in it's as clear a class leader as any I've seen. You could choose a Hyundai ix35, a Kia Sportage or a Suzuki SX-4 S-Cross and you'd be buying different but don't delude yourself that you're buying better. In this sector only the classy but much pricier Mazda CX-5 holds a candle to the Qashqai.
It all means that this Nissan, a car that once appealed on the basis of style, has now become the biggest advocate of substance over style. Quite a change. Something tells us though that its appeal will remain undiminished.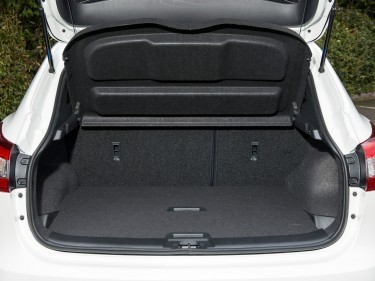 Facts and figures
Model: Nissan Qashqai 1.5 dCi
Price: From £20,000 to £25,000
Engine: 1.5-litre dCi model
Performance: 0-62mph in 12.4 seconds.
Economy: 74.3mpg
CO2 rating: 99g/km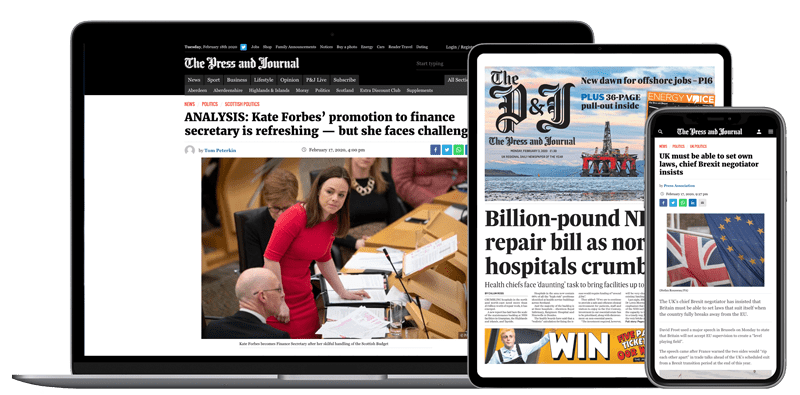 Help support quality local journalism … become a digital subscriber to The Press and Journal
For as little as £5.99 a month you can access all of our content, including Premium articles.
Subscribe