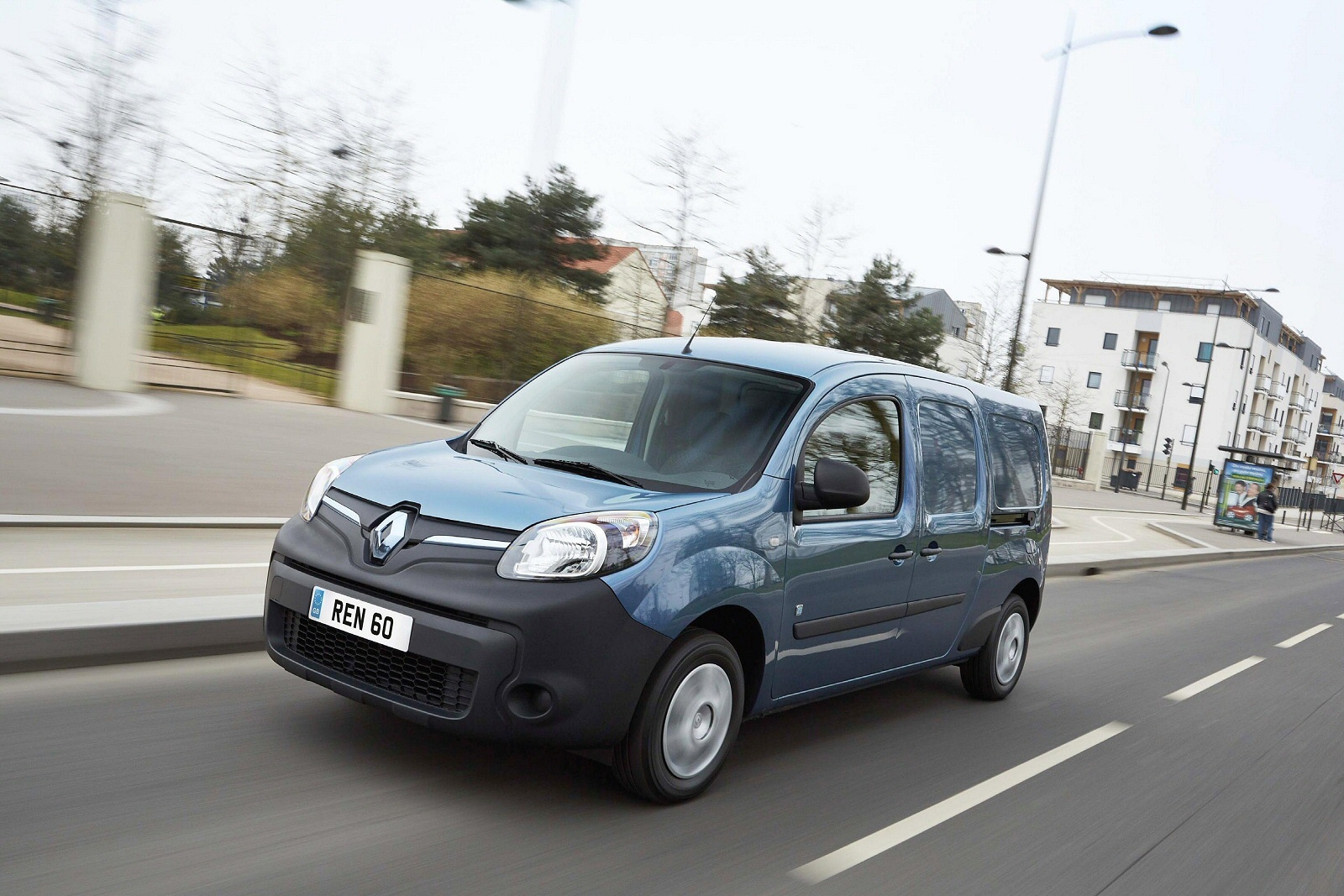 Does Renault's Kangoo van still make sense with electric power? Jonathan Crouch checks out the improved Phase II version of the all-electric Z.E. version
So what's it going to be like to drive? Pretty quiet is the answer. Press the throttle pedal and you move off in near total silence, so much so that you may find yourself startling dozy pedestrians and in need of the optional audio warning system that would alert them to your presence.
That might be a useful thing to have because, from rest, you'll find yourself coming upon them rather quickly thanks to the fact that 100% of this Kangoo's 167lb/ft of torque is generated from standstill.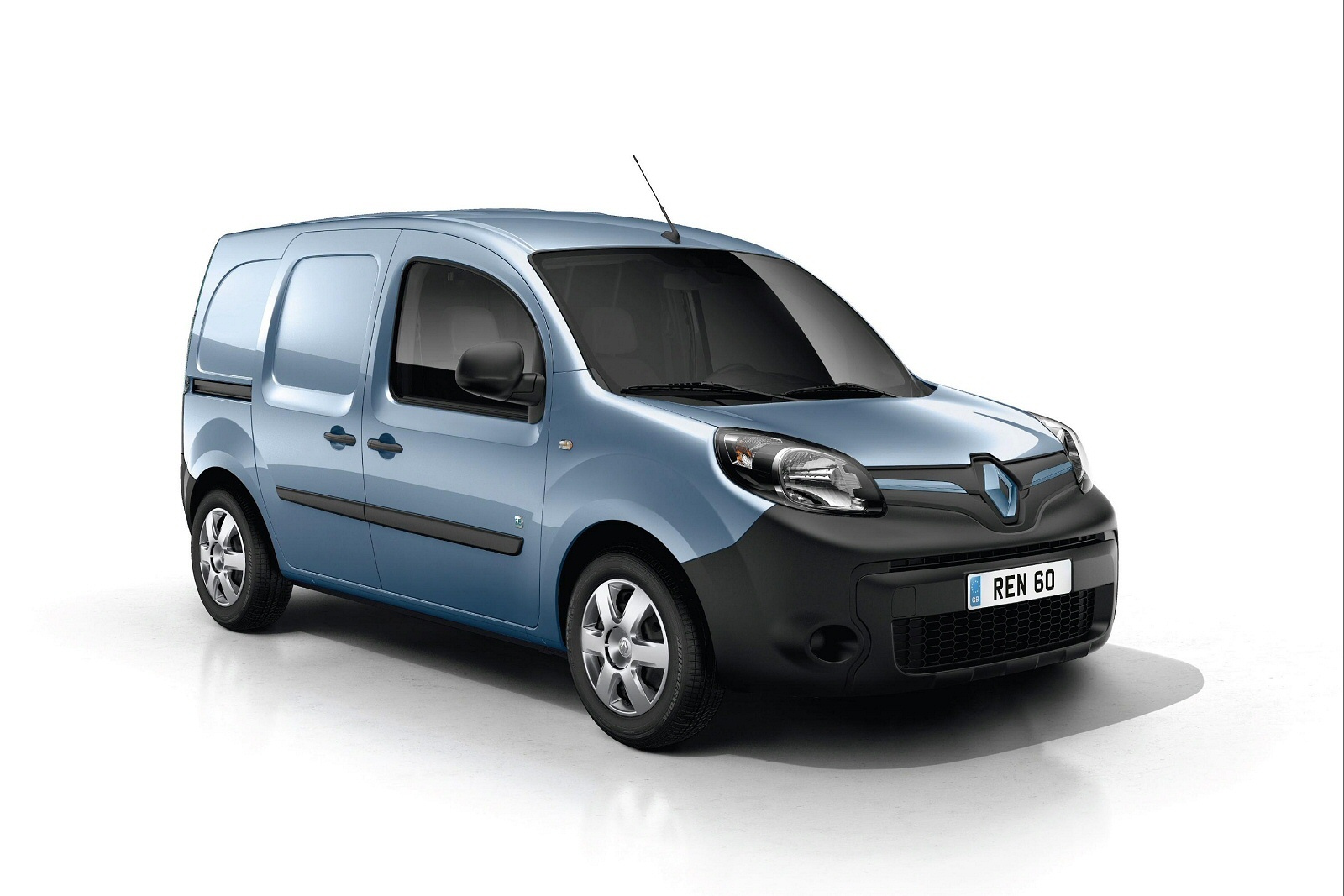 Once under way, it is true that, because of the heavy 260kg weight of all those batteries, the power surge does tail off rapidly after 30mph, resulting in a total 0-60mph time of nearly 22 seconds. But if you've an urban-based business, how often are you going to be driving at or near 60mph? Exactly.
At more likely delivery speeds, the 44KW electric motor (which puts out the equivalent of 60bhp) feels crisp and remarkably responsive, plus of course, as with all electric models, you've the equivalent of an automatic gearbox, so there are no gear changes to worry about.
It's exactly the same mechanical set-up you'll find in Renault's Fluence Z.E mid-range electric car. And here, as with that model, there's just one issue that'll dominate your thinking in day-to-day use of this vehicle: operating range.
Renault says this will not be an issue, quoting research suggesting that 70% of van drivers cover a daily distance of less than 62 miles. On that basis, this Kangoo Z.E's quoted range of 106 miles between recharge fill-ups should be quite sufficient.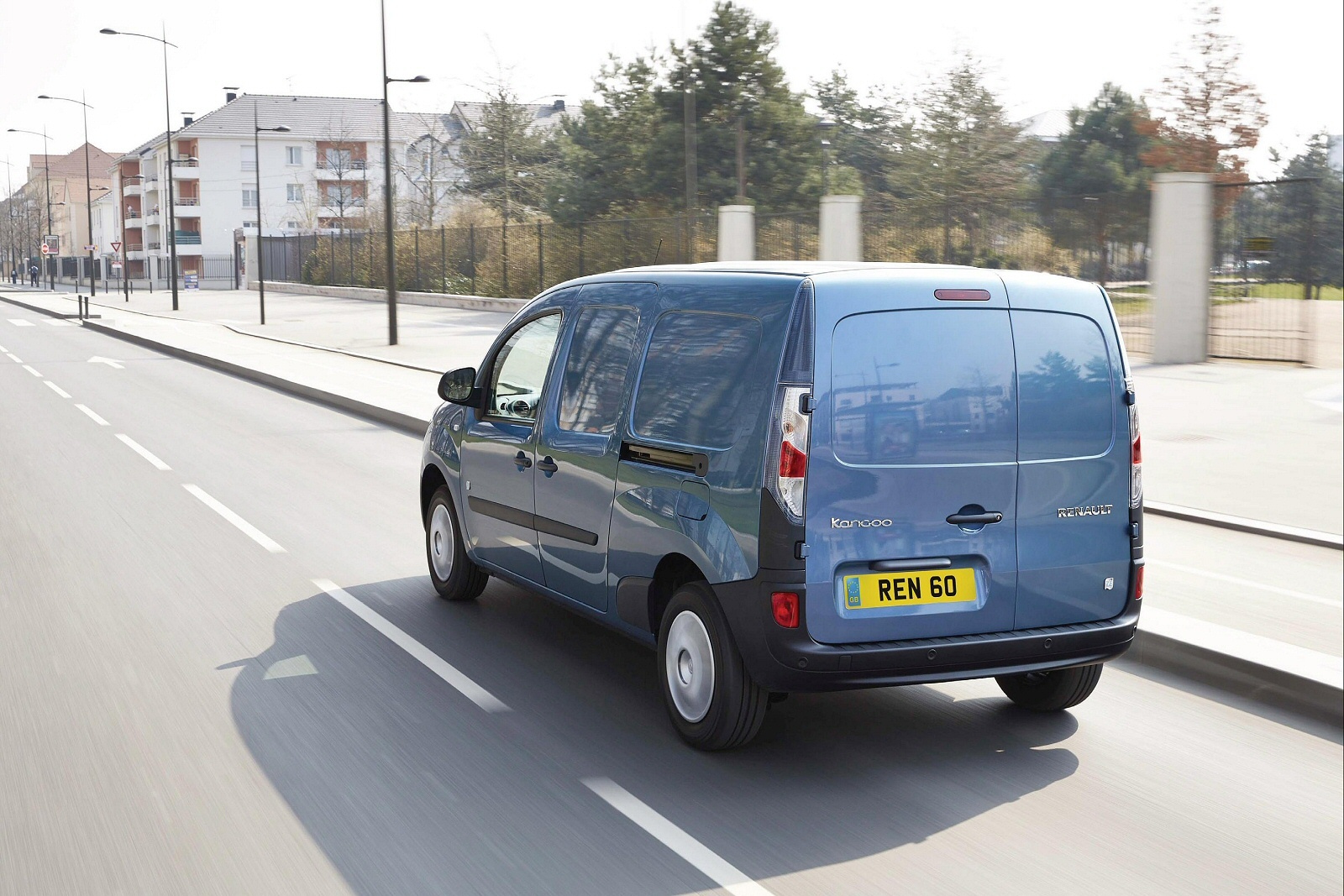 List pricing is where most all-electric vehicles fall down. They're usually so expensive that they make sense only with the asking figure spread out over long leases. But refreshingly, things are different here.
At first glance, asking prices in the £17,000 to £19,000 bracket excluding the dreaded VAT look quite high, but that's before you take the government's Plug-in Van grant into account. This lops a full £3,398 off the asking figure, bringing the resulting price span of £14,000 to £16,000 to the point that there's hardly any premium at all for this electric vehicle over its ordinary combustion-engined counterparts.
The first thing you need to know here is that building in the electric propulsion system has had no impact on carriage capacity, all of the batteries and so on being housed out of the way under the floor. So yes, we're talking here of exactly the same dimensions and carrying capacity as the internal combustion-engined model.
In the standard version, that means an overall vehicle length of 4.2m, which means that, upon opening the asymmetric rear doors, you'll find a total load volume ranging from 3m3 to 3.5m3, also accessible via a sliding side door. The payload is 650kg and the flat floor permits a maximum load length of 2.5m (assuming you're using the fold-flat front passenger seat) and the width between the wheel arches is 1.21m, which enables a euro pallet to be loaded.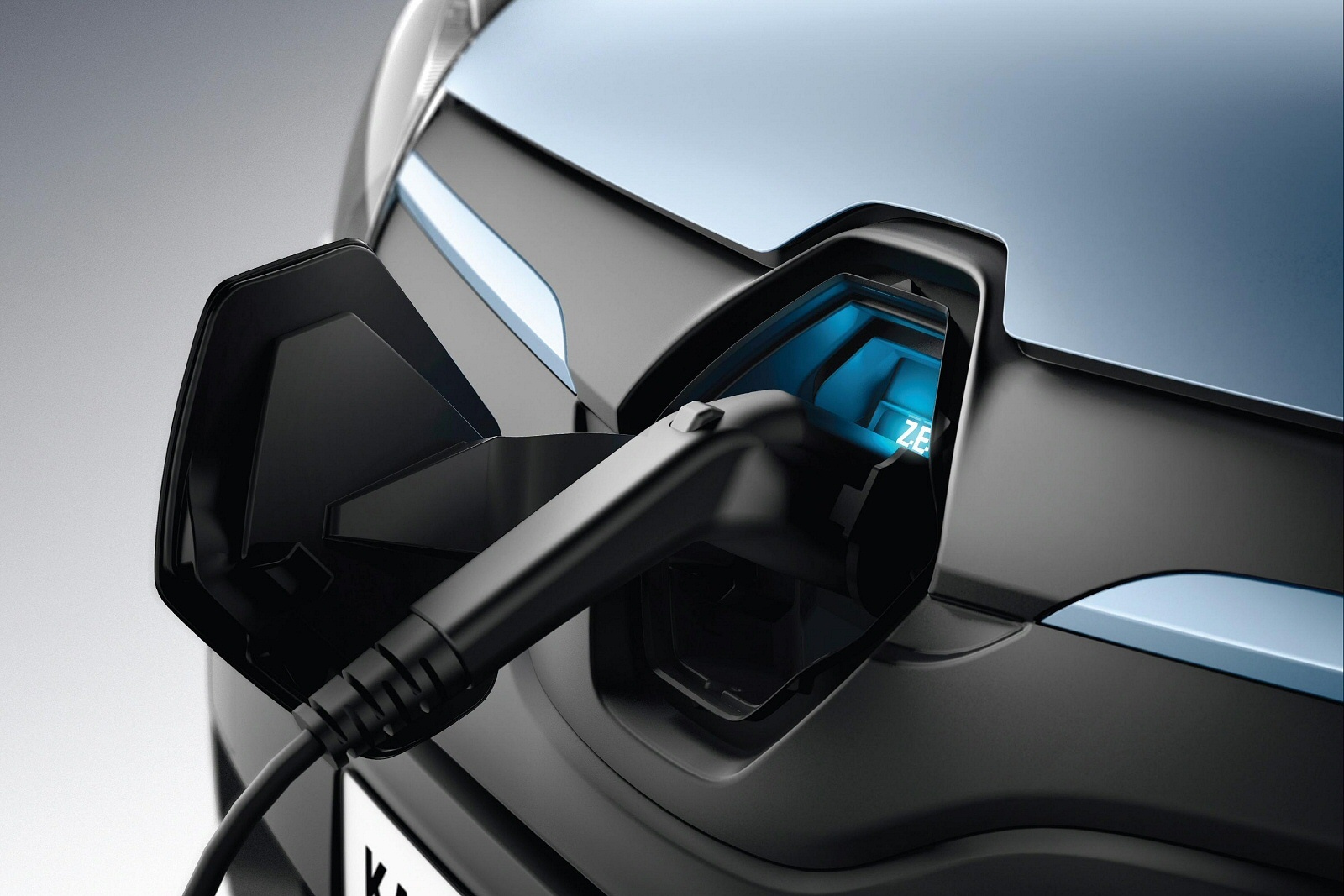 As for running costs, well, you won't need me to tell you that this is a very efficient vehicle indeed. Depending on how you calculate it (and on the price you're paying for your electricity), plugging in this Kangoo will be between five and 10 times cheaper than pouring diesel into it.
The advantage of having your own Wall-Box charging point is that you can choose to charge at off-peak rates. But even if you can't do that all the time, overall, you should be looking at an average outlay of no more than £3 to fully charge this Renault from empty.
Further good news comes in exemption from London congestion charging and, of course, electric vehicles have long been exempt from company car tax. Finally, maintenance costs via a special "programmed maintenance" plan will be about 20% less than they would be for a diesel Kangoo.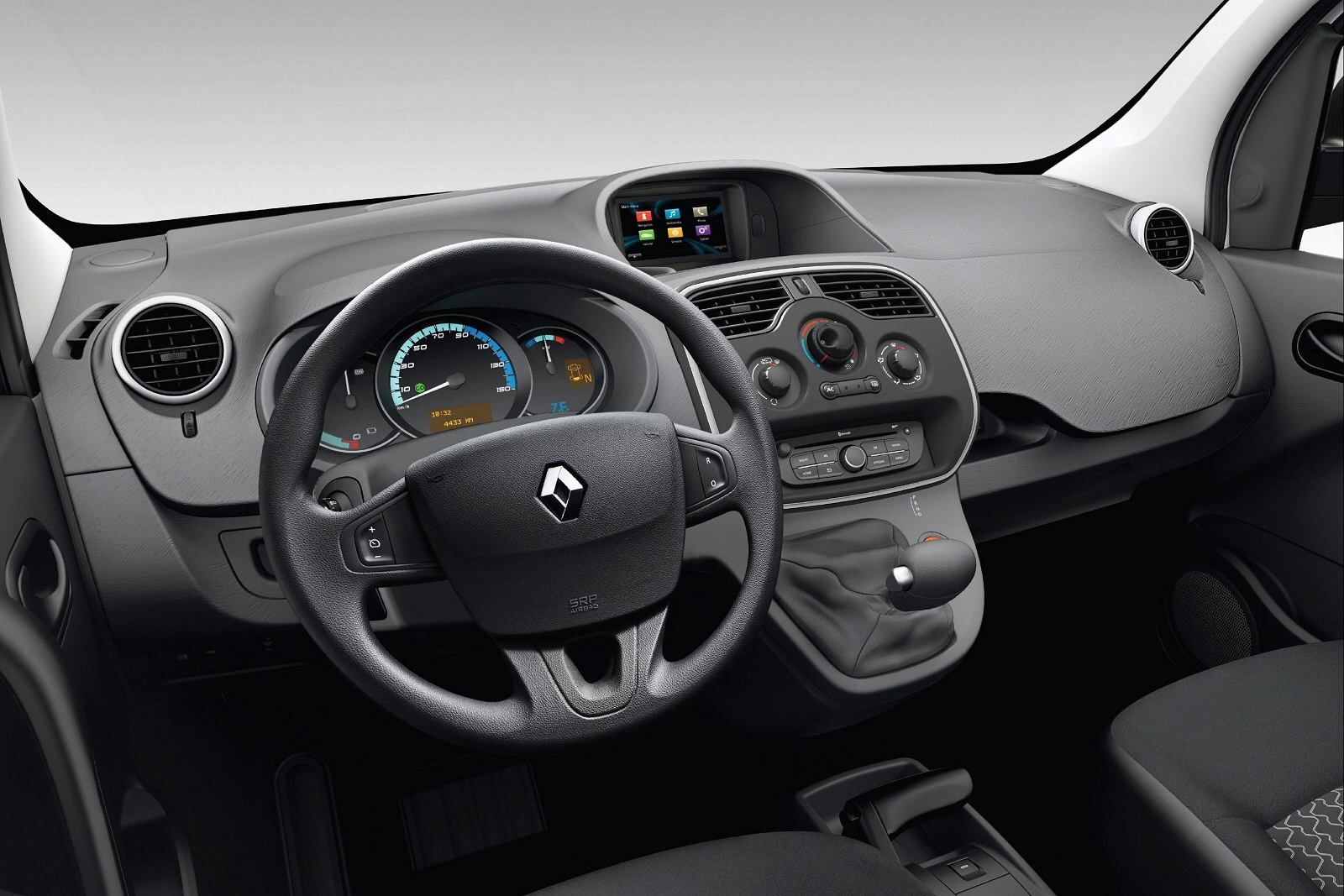 So what do we have here? An electric van that's no longer virtual but reality. Simple, but highly advanced technologically at the same time and incredibly eco-friendly.
This 100% electric Renault lets your business take a different route, lowering your overheads and showing your clients that you're fully committed to doing the really responsible thing. And doing it right.