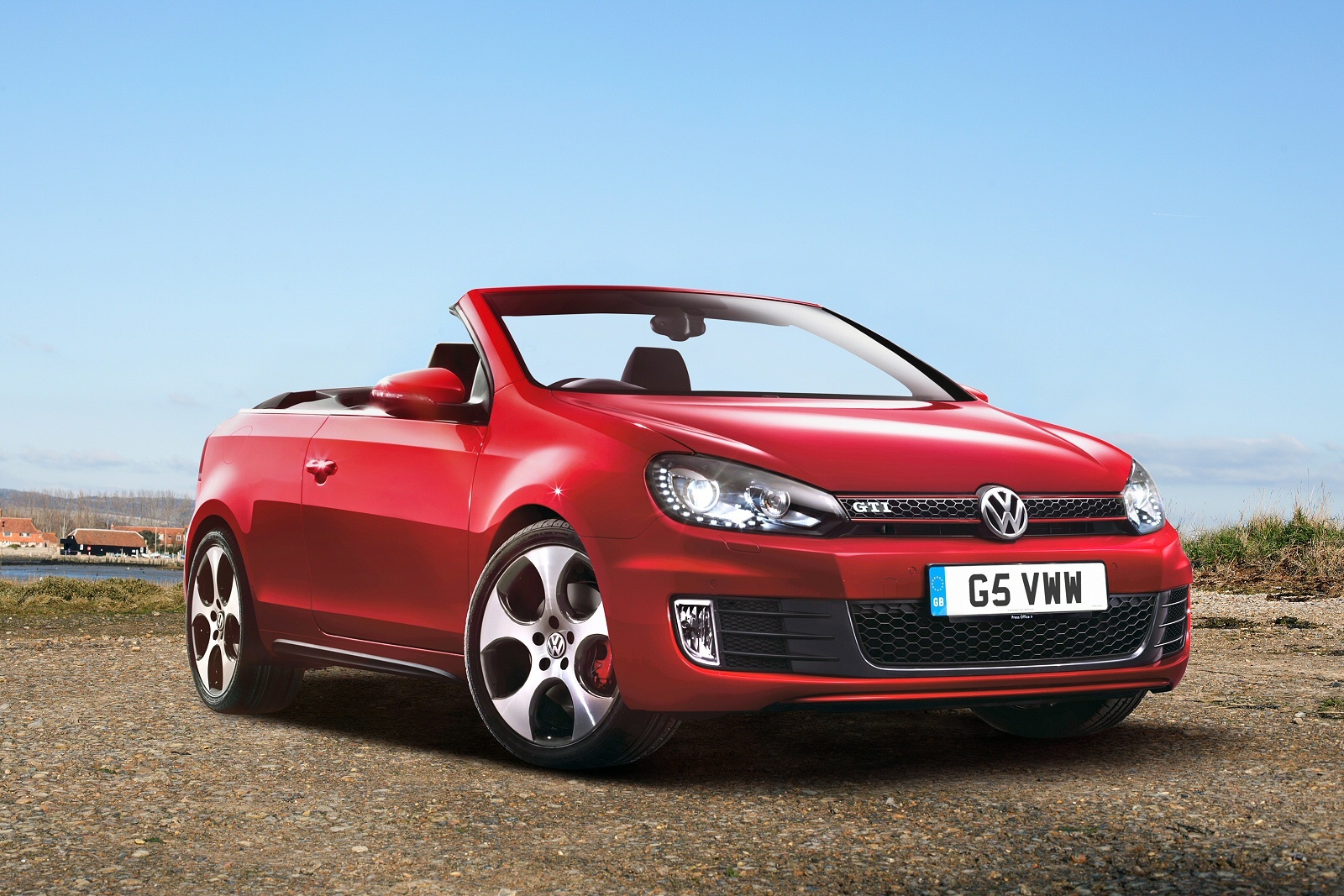 Volkswagen's latest soft-top Golf comes in for the GTI treatment.
It won't come as any great surprise to hear that the engine beneath the bonnet of the Golf GTI cabriolet is the same one that powers the award-winning hatchback.
In case you're not fully up to speed with the ever-changing specification of this engine, it's a 2.0-litre turbocharged four-cylinder petrol unit, available with either a standard six-speed manual gearbox or optional six-speed twin-clutch direct-shift gearbox (DSG) and producing 208bhp.
The benchmark 0-62mph sprint is dispatched in just 7.3 seconds with either transmission, while top speed is 147mph with the manual box, while DSG drivers will have to settle for a paltry 146mph.
The peak torque figure of 206lb/ft is available from just 1,700rpm to 5,300rpm and this broad torque band helps the GTI's driveability.
It's a fact that few hatchback-based cabriolets are good-looking cars. This is a bit of a problem given that most of these cars are bought to be seen in, but the GTI Cabriolet is surprisingly handsome.
It carries its GTI styling cues very well and the basic shape is long enough such that it doesn't look too pram-like.
Just go counting the classic design cues. The radiator grille has a honeycomb structure with red edging and GTI badge, while the front bumper incorporates a honeycomb air dam and beady-eyed fog lights. Side sill extensions help give the GTI a planted stance, while at the back you'll find a bespoke rear diffuser framed by a chrome tailpipe on either side. Smoked LED tail lights and 18in 'Monza Shadow' alloy wheels complete the look.
As customers would expect from any car in the Golf family, the GTI Cabriolet is equipped with some serious safety equipment. This includes an active roll-over protection system, Anti-lock Brakes, Electronic Stability Program, airbags all round and a driver's knee airbag.
Prices are, as you'd expect, quite serious with a standard car rolling out of dealers at just the right side of £30,000 although this can rise quite rapidly if you opt for the DSG or get a bit keen when confronted with an options list.
A 208bhp turbocharged petrol engine doesn't sound the ideal recipe for decent fuel economy, but drive it with a modicum of restraint and it will actually return pretty good fuel figures. Volkswagen quotes a slightly optimistic-sounding 37.2mpg on the combined cycle for a manual car and 36.7mpg for the DSG version. Emissions are pegged at 177g/km for the manual 'box and 180g/km for the DSG version. All Golf GTI models do well in terms of depreciation and this model's looks set to be no exception, if anything bettering the three-year depreciation figure of its hard top sibling.
You'll pay around £1,300 extra for the DSG-equipped car and you'll get most of that back on trade-in as this transmission is something that used buyers value.
How seriously do we take the Volkswagen Golf GTI cabriolet? It mixes one of the most iconic badges in performance circles with a body configuration more readily associated with ladies of a certain age perambulating about shopping centres.
As such, it's a bit of a curiosity. There's little doubt that it boasts an absolutely top-drawer engine, transmission and suspension setup, but will those who hanker after a cabriolet care? I don't think they will.
What buyers in this class might well want, however, is the top of the range model and, well, here it is. They'll have lucked into something quite uncommonly good.
While some may find it surprising that people really do make such low involvement decisions when handing over the thick end of £30,000, it's unreasonable to expect all buyers to be petrolheads. If there's one thing the GTI badge has done, its cross many divides as a result of its success. That's brand recognition that money can't buy.
Facts & figures
Model: Volkswagen Golf GTI Cabriolet
Price: Around £30,000
Engine: 2.0-litre turbocharged four-cylinder petrol unit producing 208bhp and 206lb/ft of torque
Performance: 0-62mph in 7.3 seconds, top speed of 147mph
Economy: 37.2mpg
CO2 rating: 177g/km