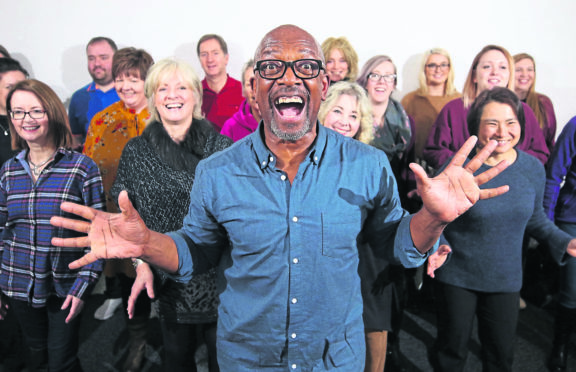 If you happen to be walking past Crown Baptist Church on a Wednesday night, you might hear a chorus of voices rising in song.
Although the church itself is in darkness, if you listen closely on a side street in Aberdeen, you can pick out laughter and the clear notes of a piano.
The music finally fades around 9.30pm before people emerge and resume their daily lives after two-and-a-half hours of choir practice.
Teachers, nurses, university lecturers and even a retired policeman; people from all walks of life make up Aberdeen Orpheus Choir, which is one of the city's oldest choirs after it was first formed in 1956.
There are 46 singing members who travel from across Aberdeen and Aberdeenshire to make it to rehearsal each week, with concerts taking place throughout the year.
From community choirs to groups aimed at people with dementia, the benefits of singing are becoming increasingly well known.
A workout in itself, singing can improve posture and is a natural anti-depressant.
It can even help with sleep and strengthens the immune system.
After an evening spent with Aberdeen Orpheus Choir, it is clear that singing can become a vital part of day to day life.
Members warmly greet each other – many have attended for decades – before pianist Erika Fairhead takes everyone through a warm up.
"Shoulders back, tummies in and knitting away," she says, as everyone rises to their feet.
The group sing a mixture of music from hymns to pop songs, and have recently been rehearsing Remember Me from children's animation film, Coco.
Chairman Moira Downie keeps everyone in check and is also responsible for auditioning potential new members.
"You have to be able carry a tune and read sheet music, but we are a very friendly group," said Moira.
"People come from all over to sing, we're a mixed group of mixed abilities.
"If you don't feel exhausted after a rehearsal then something has gone wrong.
"Singing is very physical, it's like aerobics."
Moira believes that singing has even helped her deal with chronic pain, as she suffers from polymyalgia which causes muscle pain and stiffness.
"Sometimes I come to rehearsal and feel really sore at the start," she said.
"But I come away and feel uplifted.
"When I'm singing, I don't think about polymyalgia at all.
"We all listen to each other and you come away having read all these little dots to make some kind of music.
"You feel like you have achieved something."
Members vary in age with some singers in their 20s, although the majority of members are in their mature years.
"We are certainly not a retirement choir, but many people are retired and can therefore give the commitment which the choir needs," said Moira.
"We take Christmas off and two weeks in the summer so people can go on holiday."
Donna Kincaird certainly isn't a retiree and has been attending the choir for 36 years.
She started singing with Orpheus when she was in her early 20s and the choir has seen her through all of life's ups and downs, including motherhood.
With a sparkling nose stud, lime green shoes and navy tights, Donna's attitude is as bright and bubbly as her clothes.
"I love singing and this choir is like family," she said.
"I have been coming since 1983 but I have been singing since I was in preschool.
"I used to follow my dad to church choir and singing was the thing we did together.
"I can remember singing in this choir when I was pregnant and resting the sheet music on my bump.
"My dad came along as well, right up until he passed away last year at the age of 80."
---
>> Keep up to date with the latest lifestyle features with The P&J Lifestyle newsletter
---
Donna works in the civil service and believes that singing is a brilliant tonic after a long day.
"I can be filled with tiredness after a hard day and by the end of practice, I feel energised," she said.
"I have had depression in the past and the choir always lifts my spirits, it's like taking a legal high.
"Everyone is always here for each other and that's pretty special."
Stella Reid was only 18 years old when she started singing with the choir in 1956, and has rarely missed a rehearsal.
A retired medical secretary, Stella travels from Westhill every week and has previously been chairwoman of the choir.
"When I first started, if you missed a session you were pulled up over it," she said.
"You would get a little note through the door to say your absence had been noted.
"Of course we don't do that anymore.
"I've never really thought about why I have kept coming all these years.
"You just get into it and before you know it, the choir is part of your life."
Albacapella could be seen as Orpheus's younger counterpart, as the choir has only been running for seven years.
It was formed by husband and wife team Fabyianne and Mike Warner, and the group rehearses each week in St Peter's Heritage centre at Peterculter.
Albacapella specialises in barbershop-style singing, where members sing in four-part harmonies.
Yvette Rayner decided to join in a bid to get better at singing.
The mum of two, who works in PR, believes the choir is incredibly diverse and also offers friendship.
"I've been a member for four years; we're strangely close as a group and I think that comes when you sing in harmony," said Yvette.
"We're all listening to each other and trying to get the notes right, but you never get told off if you get it wrong.
"We have members from Poland, Holland, Czech Republic and Germany.
"I've met brilliant people who I wouldn't have met otherwise.
"When I come to rehearsal, I find I forget about everything else because I'm concentrating so hard.
"I originally joined because I have always loved singing in the shower and I wanted to get better."
Yvette has since learned how to hold a note and control her breathing.
The choir won the Barbershop Chorus category at Aberdeen Music Festival last year and take part in the esteemed Eisteddfod competition which takes place in Wales every year.
"There is a wonderful sense of comradeship to the choir, when you meet new people you get a fresh perspective on life."
It would seem that there is something rather addictive about singing, as people are also discovering in Inverness.
The recently formed Highland Voices gospel choir is made up of ordinary people, who find the time to rehearse outside the nine to five.
Led by professional opera singer Tony Henry, the group have been singing together for one year and Tony has also opened a music academy.
Having performed alongside the likes of Josh Groban and Jose Carreras, Tony believes that anyone can sing if given the chance.
"After my family moved to Dingwall from London, singing seemed like an obvious choice when it came to getting to know people," said Tony.
"I was raised with gospel singing and I started the choir with five people.
"We now have 20 members who come from all walks of life.
"There is no such thing as saying that you cannot sing.
"When we speak we all make noise, singing is just another form of noise which needs practice."
The choir rehearses twice a week and has already performed at various concerts.
"There is an extraordinary amount of talent in the Highlands and people have been hungry for a creative outlet such as a choir," said Tony.
"Although I'm not crying out for new members, it would be wonderful to get more men singing.
"I think there is perception that men in Scotland, and particularly in the Highlands, are very butch and singing doesn't fit in with that image.
"I've got no doubt that if people gave it a try they would be amazed at the impact singing can have on your life.
"It's fantastic for good mental health and an excellent stress reliever."
Research shows that music and singing can even unlock memories for people with dementia.
It is becoming a key part of dementia care as music seems to reach parts of the damaged brain in ways other forms of communication cannot.
Foos Yer Doos is a singing group for people with neurological conditions such as multiple sclerosis, motor neurone disease, Parkinson's and dementia. 
The group meets every Thursday at St Mary's Centre in Inverurie and was set up five years ago by a speech therapist.
From Abba to Queen, members get to sing a wide variety of songs and break midway to enjoy a cup of tea and a fine piece.
For Audrey Strohn, the sessions are worth the journey from Huntly and she attends with her daughter, Elizabeth.
"I was apprehensive about coming originally but we both enjoy it immensely," she said.
"Elizabeth is hemiplegic after a childhood illness which happened when she was 13, and she is now 60.
"We always come away in a daft mood and we really feel it when we can't attend sessions.
"I've also noticed the difference it has on members who have dementia.
"They come back to themselves.
"Nobody knows when dementia might impact them and I think the group is also a way of feeling less lonely."
The group receives no official funding but is supported by Parkinson's UK and Chest Heart and Stroke Scotland.
Whether you audition for a performing choir or become part of a small group such as Foos Yer Doos, one thing is resoundingly clear.
Singing is good for the soul, be it a solo in the shower or a sing song after work.
Feel the music and enjoy.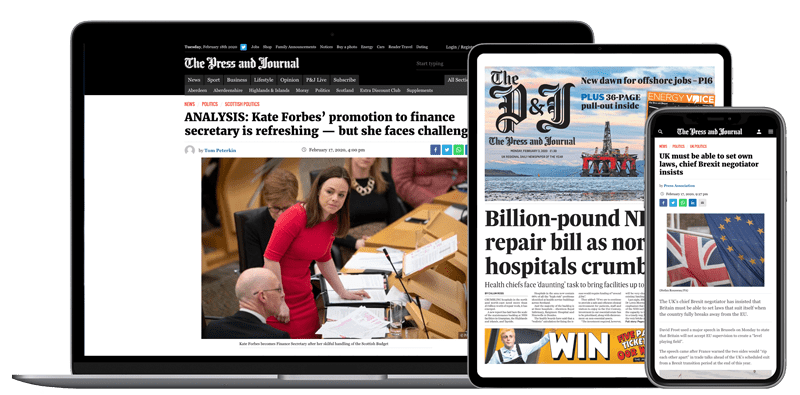 Help support quality local journalism … become a digital subscriber to The Press and Journal
For as little as £5.99 a month you can access all of our content, including Premium articles.
Subscribe