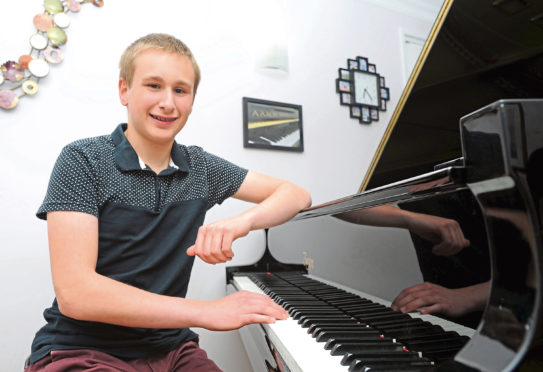 Aaron Magill is softly spoken and hesitates when talking about himself, much like any other teenager.
At 16 years old, he has only recently returned to his studies at Albyn School in Aberdeen.
But that's not to say he spent lockdown playing video games at the family home in Portlethen. Far from it.
He has, in fact, presided over something rather special, which has seen musicians from around the world come together thanks to technology.
Aaron can usually be found at his Boston grand piano, his hands effortlessly flying over the keys to create pure magic.
It is perhaps no surprise that he is a talented musician, for the Magill household is seldom quiet. His 13-year-old sister, Hannah, plays the oboe and his dad, Tim, plays the guitar.
Aaron's love of music perhaps stems from his mum, Shirley, who is a music teacher.
Her son is clearly a remarkable pupil, after she taught him to play piano when he was just seven years old.
But not even Shirley could have envisaged that Aaron's very own piano concerto would go on to be performed by the Scottish Chamber Orchestra (SCO).
And in a poignant tribute, Aaron dedicated the piece to all those who have suffered during the pandemic.
Music has played an extraordinary role during lockdown, and live performances via Zoom have enabled thousands of people to feel connected.
From John Legend singing Stand by Me with Sam Smith, to the soaring notes which echoed from balconies in Italy – music has united us.
Aaron's concerto was originally destined for a school concert in March, which was cancelled due to Covid.
Little did he know that Shirley shared his work with the SCO, who then offered to perform alongside Aaron for a much bigger audience.
The SCO musicians turned their homes in the Scottish Highlands, Aberdeen, Edinburgh and Spain into recording studios, with Aaron leading the way on his piano.
Still a little bemused with all the attention, Aaron's love of music is clear, as is his modesty.
"I come from a musical family, and my mum started teaching me how to play the piano when I was seven," said Aaron.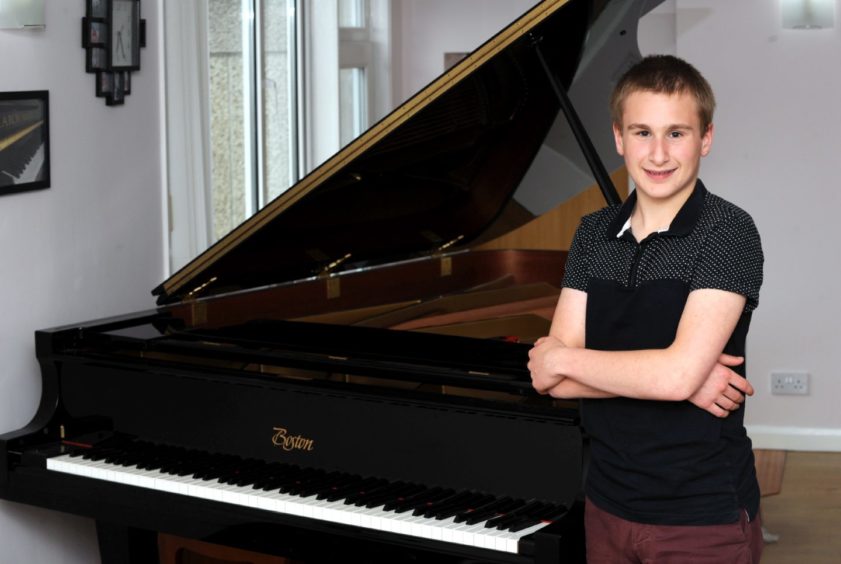 "I also played the violin and cello for a couple of years, and I'm currently working towards my grade eight piano exam."
It may well be a walk in the park, in comparison to hearing your work come to life.
Aaron has also been gifted with perfect pitch, and believes music helps him to switch off from his studies.
"When I play, I don't think about anything else," he said.
"I find it really relaxing and a great way to unwind.
"It's difficult to put into words what I love about music. It can create so much atmosphere."
Aaron's work was destined to make a difference from the very beginning, after he originally composed it for a mental health charity.
Pillar of Kincardine is based in Stonehaven, and Aaron's music was used in a video to demonstrate the importance of seeking help.
He then developed the piece into a concerto, where one or more soloists are accompanied by an orchestra.
The premiere, as it were, was all set for an audience of proud parents, but now has the potential to reach people around the world.
"The concert was cancelled due to Covid, so I decided to upload it to YouTube instead," said Aaron.
"I dedicated it to anyone impacted by the pandemic.
"My biggest hope was that the music might comfort people who came across it during lockdown."
The wheels were already in motion for something on a much bigger scale, after Shirley got in touch with the SCO.
What followed saw professional musicians perform the orchestral part, with Aaron leading the performance.
He may be the youngest member by far, but the end result shows that Aaron is very much at home with the SCO.
"I was so, so happy when I found out, and it was such a huge privilege to have the SCO perform my music," said Aaron.
"We couldn't get together in person, but we all recorded our different bits which were then edited and put together.
"I thought I would be playing at school, I never imagined that I'd be playing with SCO."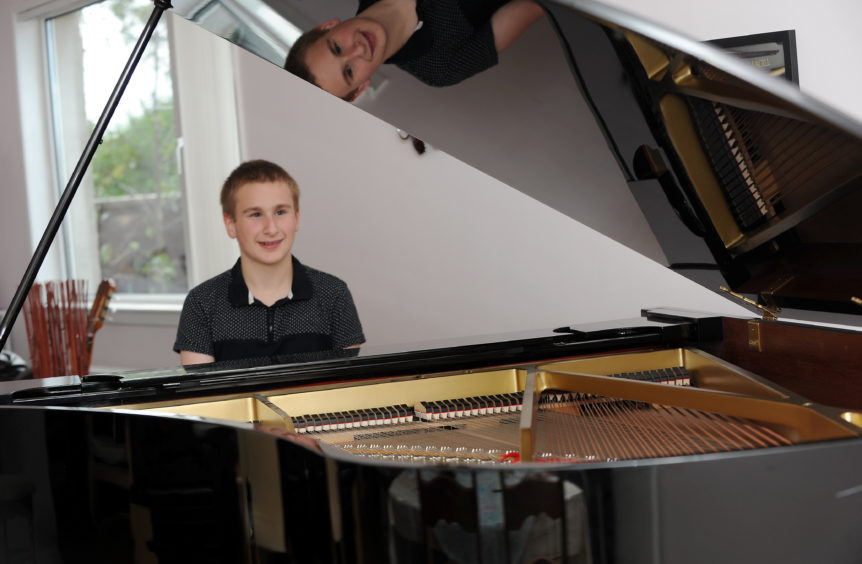 Aaron was joined by André Cebriá on the flute, Kana Kawashima on the violin, Su-a Lee on cello, Nikita Naumov playing double bass and Felix Tanner on the violin.
He took the experience in his stride, and continues to make use of technology with piano lessons via Zoom.
There's no excuse not to put the work in, when your teacher is renowned pianist and professor of piano at the Royal College of Music, Nigel Clayton.
"My lessons with Nigel have been via Zoom, which was really weird to start off with," said Aaron.
"I think there are so many opportunities in Aberdeen in terms of music.
"It does take a lot of commitment, but it's worth it."
So is Aaron hoping to one day join the SCO after his debut performance?
Well, not quite – he's keeping his options open.
"I think music might be my hobby as opposed to a career," he said. "I'd quite like to go on and study engineering, so we'll see."