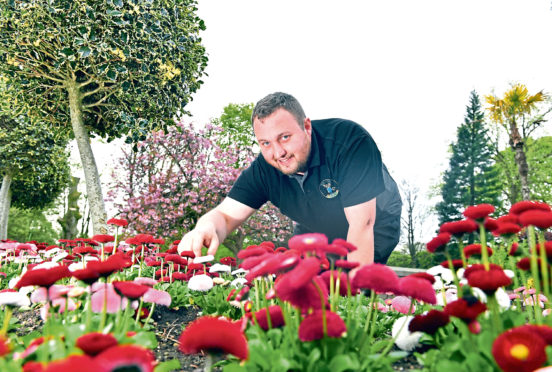 Fresh out of school, 16-year-old Danny Shand was all set for life behind a desk.
Enrolled on a computing course at Aberdeen College beginning in the autumn, his last few months of freedom stretched out in front of him and he planned to make the most of it.
"My parents had other ideas," laughed the now 29-year-old.
"I wanted to chill the whole summer before I had to start my course but my dad was not happy with me lazing about the house.
"I had an interview for a couple of jobs but intentionally messed them up so they wouldn't hire me.
"Anyway, at the time my dad worked for Aberdeen City Council and heard they were hiring gardeners for the summer.
"He got me an interview and I swanned in saying that I knew nothing about gardening thinking that they would be looking for someone with experience.
"I guess you know what comes next? They hired me."
A sullen-faced, slightly reluctant Danny turned up on day one with low expectations; after all, what 16-year-old wants to spend their summer break grafting from dawn till dusk in a city park?
But that first day changed the course of Danny's life.
"The group of guys who worked on the gardens were great," he said.
"They were passionate about what they did and taught me a lot on that first day."
His first day turned into a week, which turned into a month, and after three months Danny was offered a permanent position on the gardening squad.
He decided to opt out of the computing course he had originally had his heart set on and began throwing his all into gardening.
As an apprentice he rotated around all the parks and gardens in Aberdeen, picking up six Royal Horticultural Society (RHS) awards in the process for floral displays around the city.
"I worked on the Duthie Park restoration and also the renovations of the Hazlehead rose garden," he said.
"There was lots going on and I learned an incredible amount in those first few years.
"I was also starting to go out to community groups and schools to teach basic gardening skills to all sorts of people.
"It was strange that all the things I had learned so recently as an apprentice I was now passing on to other people."
But Danny seemed to take to his new, extended role like a duck to water.
"People were so interested in what I had to say I felt like there was room to develop it further," he said.
"And the council wanted to make it sustainable so schools weren't so reliant on me for resources; after all, I could only be in one place at a time.
"That's where the idea of creating a vlog (video log) came from.
"We started out recording me doing instructional videos for basic gardening techniques and posting them on YouTube where they were supplemented by a blog.
"Now it's grown even further, and we have a whole initiative called Project Craster aimed at getting primary school children outdoors and growing vegetables."
Under Project Craster, Danny himself produces packs for schools which include grow bags, seeds, bamboo canes and string, while animated videos of Craster the bear guide the children through the process of planting and growing their own veggies.
Launched in April of this year, the aim was for a quarter of city schools to sign up to the project.
"I was blown away that within a few weeks we had 75% of schools wanting packs," says Danny.
"It's amazing that we are coming full circle again and getting back to the old ways of growing our own food.
"Lots of the kids I've spoken to over the years have no clue where vegetables come from – they think they just magically arrive wrapped in plastic at the supermarket.
"Even older people can be oblivious. One lady asked me what time of year you had to dig sweetcorn out of the ground.
"And you always hear about the use of food banks being on the increase, so having the knowledge to grow your own can only be a good thing in my opinion.
"I'm only one person, but having hundreds of grow bags and seeing whole classrooms of kids engage with Craster the bear really increases our scope."
It's clear Danny loves what he does, though with all his different projects he doesn't spend as much time in the city's gardens and parks as he used to.
In the winter, when the ground is brick hard, this is something of a blessing, but with summer around the corner, Danny is missing long days spent out in nature.
"I'm not a teacher or an office worker," he said, "I'm a gardener.
"But the response we've received is phenomenal, so it's absolutely worth me passing on these skills to children, growing their knowledge if you will," he laughed.
"Is that too cheesy?"
"But my T-shirt tan is going to be really rubbish this year," he chuckled.
For updates on the Council Gardener vlog and news on Project Craster, follow Aberdeen City Council's Facebook page on www.facebook.com/AberdeenCC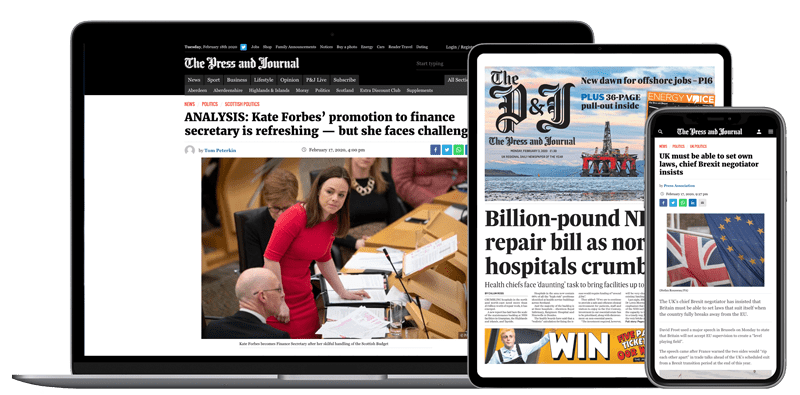 Help support quality local journalism … become a digital subscriber to The Press and Journal
For as little as £5.99 a month you can access all of our content, including Premium articles.
Subscribe