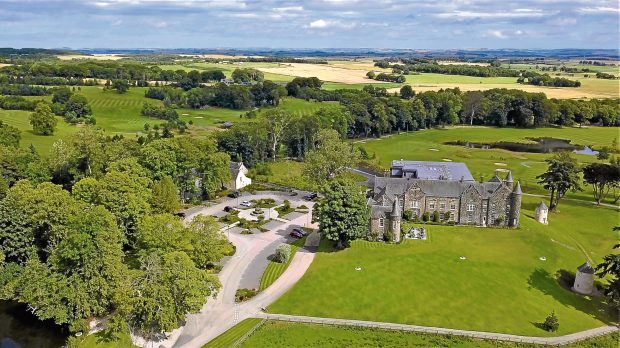 "O wad some Power the giftie gie us, to see oursels as ithers see us!"
That quote sprang to mind as I adjusted my outrageous tartan bunnet, and stepped out to take part in a mini Highland Games at Lochter Activity Centre on the outskirts of Oldmeldrum. My team-mates, all English, asked if, as a Scot, I'd be offended if they donned similar fun hats, faux kilts and tartan scarves.
No offence was taken – and no mercy given – as with Scottish pride coursing through my veins, I set out to show these lovely visitors to the north-east, a few Scottish traditional sporting events.
My hopes of securing a win for Scotland were dashed.
The wellies I threw had a mind of their own, sailing through the air with reckless speed in the wrong direction; I almost broke my own toe shot-putting, but my team did win the tug-of-war. A victory due to excess weight rather than skill I fear…
Overlooked by bonnie Bennachie, incidentally a great place for a walk, our gang had a hoot trying all sorts of activities before heading into the centre's busy conservatory restaurant to enjoy a delicious home-cooked traditional Sunday lunch.
The mini Highland Games were the perfect way to bring to a conclusion what had been an enjoyable weekend discovering some key Aberdeenshire locations which feature in the remake of the much-loved movie Whisky Galore!, starring Scotland's own Gregor Fisher, comedian Eddie Izzard and a host of Aberdeenshire extra.
The film is an adaptation of the old Compton MacKenzie book, and that tale was inspired by the true story of the SS Politician, a ship with a cargo full of whisky, which sank off Eriskay in 1941, but not before some of the islanders managed to relieve her of some of her cargo.
In 1949, Ealing Studios released a film version of the book, which has become a timeless classic and still provides laughs aplenty. The original film was shot entirely in the Outer Hebrides, while the remake was filmed across several Scottish locations including the Aberdeenshire villages of Portsoy and Pennan.
Starting from Meldrum House Hotel, a building that wouldn't look out of place in a film itself, and clutching a VisitScotland downloadable map of Whisky Galore film locations (www.visitscotland.com/see-do/attractions/tv-film), we joined our guide, Alasdair Brodie, and set off for the town of Portsoy – locals take offence if you call it a village as it was granted Burgh status by Mary Queen of Scots.
Driving through beautiful rolling countryside fringed with a dramatic coastline, Alasdair kept us entertained sharing a wealth of stories about the area. Our first stop was a bit of a hidden gem, New Aberdour Beach, where we met David Taylor, location manager for the film.
This beautiful stretch of shingle beach offers fantastic views across the Moray Firth and is home to St Drostan's Well. The saint is said to have landed here in 580AD and the nearby church bears his name.
Along with a memorial to one brave lady, Jane White, who helped rescue the crew of a steamship wrecked here more than 120 years ago, the beach has impressive old red sandstone caves which are great fun to explore, so long as you are wearing the right footwear.
David said: "We shot several scenes here including whisky being unloaded from the truck and being hidden, and it's here Captain Waggett (Eddie Izzard) discovers the whisky which has been plundered from the boat. Filming was dictated by the rising and falling of the tide as here, you can only access the caves at low tide."
According to Alasdair, in days of old, the Aberdeenshire coastline was a regular haunt for smugglers. Boats traded with all the Nordic countries and trading was good, but there was always potential to get contraband, and caves like the ones at New Aberdour Beach made an ideal hiding spot.
At nearby Pennan, the teeny village which had a huge role in another hit movie, Local Hero, we stopped to admire the red phone box which must be the most famous in the world, and enjoyed a warming dram or two at the picturesque harbour.
Several scenes for Whisky Galore! were also filmed here. With its craggy coastline, small harbour and houses huddled together, it's easy to see why it's a favourite with Hollywood.
Portsoy doubled as the fictional Island of Todday in the film and several major scenes were shot in and around the harbour area. The film's release has had a huge, positive impact on the town. Visitor numbers to the caravan site were up 25% this summer, while there was also a big rise in the number of overall visitors.
One popular attraction is the Salmon Bothy, a former working salmon house which has a museum on the ground floor and a community space above. A fantastic building, built by members of the Seafield family, it's now run by Portsoy Community Enterprise (formerly known as the Scottish Traditional Boat Festival) which is also responsible for the town's annual boat festival which celebrates its 25th birthday next year, and regularly attracts more than 16,000 visitors.
The museum is packed with artefacts and information about Portsoy and its harbours, people and history. Admission is free, and as it's run by a dedicated band of volunteers, you can gain access outwith regular hours if you pre-book.
E-mail: contact@salmonbothy.org or visit www.salmonbothy.org
Lunch, a flavour-packed bowl of steaming Cullen Skink soup, was devoured in Beggars Belief Coffee Cove, a quirky wee cafe next to the town's 17th-century harbour. The building once belonged to a merchant and smuggler and it's thought some of his goodies are still hidden within the cafe's deep walls and stone floors.
@bbcoffeecove
Also close to the old harbour is The Boatshed, a purpose-built workshop where volunteers with a passion for boatbuilding – which they're happy to share – are doing some fantastic work teaching youngsters traditional boatbuilding skills. It also offers residential courses where, for example, families can spend a week holidaying in Portsoy while learning basic boatbuilding skills and building their own wee boat which they can take home.
www.portsoyboatshed.org
Guests stay in the Sail Loft, another superb old building which has been tastefully converted into an upmarket bunkhouse, complete with hot tub in the garden, and recently named one of the 20 coolest new bunkhouses in the world by American Express.
www.portsoysailloft.org
Portsoy has a good selection of shops, but one that's not to be missed is Portsoy Ice Cream, a cafe/ice-cream shop run by Alex Murray, which even on cold, wintry days, does a roaring trade thanks to its amazing selection of locally-made sorbets and unusually flavoured ice creams, several of which contain whisky.
www.portsoyicecream.co.uk
As darkness fell, we made our way back to Oldmeldrum and Meldrum House, a luxurious hotel, originally a tower house, with a history which can be traced back to the 13th century and surrounded by beautiful grounds including a golf course.
www.meldrumhouse.com
What's different about this hotel is that it is owned by three independently wealthy businessmen who run it purely for their own pleasure. Most of the staff are local and, like the owners, take great pride in offering guests first-class Scottish hospitality in an elegant, luxurious way.
The accommodation is first class. My bedroom, tastefully decorated with an enormous bed, luxury en suite and comfortable seating area with big windows overlooking the golf course, was the perfect place to chill out before pre-dinner drinks in the Cave Bar.
Housed in a part of the building that's nearly 800 years old, and with four-foot-thick walls, a sense of history surrounds you as you decide which of the many rare and unusual malts kept here to try.
If you feel inclined you can rent a whisky cabinet to store your personal, favourite whiskies. Renters get their own key to the whisky cabinet and you can pop in for a drink any time you like.
Dinner in the hotel's main restaurant was a joy, with staff delivering a masterclass in good service while the head chef showcased a variety of locally-sourced meat, game and seafood that reminded us why this part of the world is often referred to as "Scotland's Larder".
After a peaceful night's sleep, I awoke to the gentle sound of Highland cows mooing and the ping of golf balls being hit on to the immaculate greens. It was the sort of perfect, crisp winter's day that made you feel glad to be alive, with Aberdeenshire pulling out all the stops to show us what a stunning part of Scotland this is, one that's literally on our doorstep and waiting to be explored – with a wee dram of course!
For more information on locations featured in Whisky Galore! visit www.visitscotland.com/films
Whisky Galore is out now on Blu-ray and DVD.