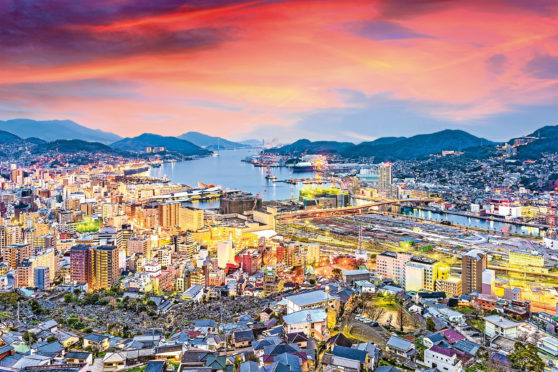 Nagasaki has a surprising variety of things to do and see, and very close connections with Aberdeen. It is unusual in that when you go there you keep discovering more and more things to experience and explore.
Nagasaki, of course, is famous for being on the receiving end of an atom bomb in 1945. There is a Peace Museum and the Peace Park. This contains statues from many countries expressing peace, and a striking huge statue which takes your breath away.
The city (population 429,500) is a sheltered harbour and where Europeans first came to Japan. The Nagasaki prefecture has around half of all Christian churches in Japan. There is a memorial to the 26 Christian martyrs, a museum and church, all on the hill where hundreds of Christians were put to death.
Japan then became a closed country for 200 years. When it did open up to the "west", a church was constructed and it was found that there were still Christians there who had kept the faith alive for all that time, in secret. There are two cathedrals, the building where Franciscan Maximilian Kolbe established a printing press, one of the first in Japan, and just so much more Christian heritage to see.
When Europeans were once again allowed into Japan, one of the first was Thomas Blake Glover, from Aberdeen, in 1859. He was born in Fraserburgh and is remembered there, and his Aberdeen house is currently waiting for money to be spent on it to make it available to the public once again.
It was bought by the mighty Mitsubishi and was visited by the mayor of Nagasaki in 2016. Blake Glover is so revered in Japan, Aberdeen is missing out on attracting tourists by not capitalising on this.
In Nagasaki, hundreds of thousands of tourists every year walk up the hill (past the ANA Crown Plaza hotel where I stayed – a superb hotel) to the Glover Gardens. Here his house has been lovingly preserved as a museum.
Thomas and his brothers, some of whom also went to Japan, were there at a critical time for the country. The old shogunate was dying, he supplied ships and guns to the "rebel" side, as well as to the shogun. When the rebels succeeded and reinstated the emperor, the country was aware that it needed to catch up fast with countries like the UK, the US, France and other western powers.
The Glovers built hundreds of ships, many in Aberdeen, for Japan, plus a graving dock (which was dismantled and shipped across on an Aberdeen-built special ship) and also introduced steam trawlers – built in Aberdeen of course.
From his house, beautifully situated on a hillside, you look out across the water to a dock. This was his dock, and passed on to Mitsubishi who still use it today (they were building high gas tanker ships when I was there) and it has a large hammer head crane, like the one preserved in Glasgow. Their one was built in Scotland, shipped out and erected there, and is still in use today.
Thomas was instrumental in the development of Mitsubishi, which today is one of the world's largest companies. Then there is the view a little further upstream, of the hills rising across the water, to a look-out point and restaurant, connected by cable car to the waterside. The evening view from up here is classified as in the top-three night-time views in the world.
Japan is a country of islands. There are boats, like water buses, shuttling around to and from many of them. One not to miss is Takoshima island. The Japanese had been digging out coal from here by hand. Thomas introduced mechanical plant, pumps, cranes, lifts, railways and vastly increased production of top-quality coal.
Eventually the island became crowded with over 6,000 workers packed into side by side blocks of flats; it was the most densely populated place on Earth ever. The coal was in great demand for the navies of the world, both military and commercial, whose steam ships called in to refuel. It was also exported, bringing in valuable foreign currency, and used to power steam machines in Japan, all greatly accelerating the industrialisation of the country.
Thomas adopted Japan as his country and only returned to Scotland on business. He had affairs there, and "married" a Japanese lady. It is believed that these romantic entanglements gave rise to the story behind the tragic opera Madame Butterfly.
The situation of Japanese ladies living with foreigners at that time was difficult, and any children resulting were shunned by both European and Japanese society. The European population at that time had a disproportionate number of Scots.
When ships came from Scotland, they had a Scots crew, who then stayed for a while to train Japanese sailors to run them. When engineers were needed, for example, to erect the graving dock, a Mr Blaikie from Aberdeen was sent over with the dock and supervised the construction of it.
He subsequently stayed for some time training engineers. When engineers were needed to instal and operate, then train locals, on the steam-operated machinery at the coal mines, again men from the north-east were recruited.
Another north-east man was Henry Brunton, who built the lighthouses around Japan, started the lighthouse service, a civil engineering college and developed Yokohama as a civilised city with roads, lighting and water systems. The lighthouses that you see on the islands and headlands are all based on patterns that you see here.
Apart from the Scottish connections, there is so much else to see here. Nagasaki has a mild climate, its daffodils festival is in January. English is spoken widely, and on the trams and trains the signs and messages are in English as well as Japanese. Shopping is big here too, and prices are generally at or slightly higher than in Aberdeen, although the excellent large covered market has many bargains.
There are restaurants of all types, including the usual McDonald's, KFC, and Starbucks. There are also Italian, French, Chinese and of course no end of top-quality Japanese ones.
Public toilets are everywhere, always free, always immaculately clean. I told them how our council is closing toilets to save money. They waited for the punchline of the joke. I assured them it was true. They looked in amazement: "What do they expect people to do?" they asked. It was like when I was looking for a litter bin to put some paper in. I couldn't see one.
A man asked if he could help me. I explained, he looked puzzled – but surely you take it home with you? he asked. I then realised. There is no litter, so you don't need bins, there is no chewing gum all over the pavements, no graffiti, a constantly declining crime rate, almost zero gun crime, neatness and hygiene prevails everywhere.
Convenience stores are dotted around everywhere, as are vending machines. This includes on trains, in hotel corridors and even on mountain walks. They all work too, and are cheap as well. These machines also sell hot drinks, in plastic bottles – but the hot tea with milk is dreadful. Japanese tea is usually green and available everywhere, an acquired taste; the roasted tea is rather odd, so I'm afraid the best tea is Starbucks.
People are so friendly in Nagasaki; even where there was a language barrier, they helped and bowed and smiled. I got off the tram at the wrong stop, and so asked an elderly lady who was waiting for a tram, where I should go, she pushed me on to the next tram, telling the driver something.
He stood me next to him so I didn't have to pay (it is only 75p per journey anyway) and he put me off at the right stop and indicated where to go. Later in the day, a lady started talking to me in Japanese. I realised it was the lady from the tram stop, she was checking whether I had got to the cathedral OK. Typical friendliness to be found everywhere I went.
I have been to Nagasaki twice now and would love to go again for longer. That's the best recommendation that I can give. It is easy to get there from Scotland. KLM flights from Aberdeen and Inverness connect seamlessly in Amsterdam to the overnight flight to Osaka.
From here it is an easy train journey, or internal flight, down to Nagasaki. Once in Japan, they make everything easy for the tourist – they can show our airports a lot. The railways are superb, too, of course, all the world knows about their "bullet trains" – if only we had them here, Aberdeen to Edinburgh would be one and a half hours maximum, and Edinburgh to London about three – imagine that.
There is much that I have not had space to cover here – the art, music, culture and a north-east of Scotland connection too – so much you will just have to go there yourself.