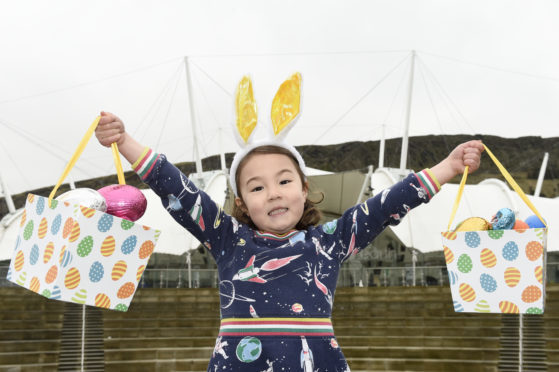 Easter is set to be cracking at Edinburgh's five-star attraction Dynamic Earth this year, with a whole host of fun-filled "egg-speriences" that are both in and out of this world.
Between Saturday, March 31, and Sunday, April 15, a ticket for Dynamic Earth will also include access to a string of exciting activities, which are guaranteed to entertain and inspire.
Eilidh Massie, from Dynamic Earth, said: "We have something for everyone this Easter and we're especially pleased to be offering the brand new Operation Earth programme. It has just the right mix of fun and engaging activities to encourage the whole family to get involved in solving some of the challenges currently facing our planet.
"We're also excited to welcome back the fantastic Double Dome Nights – it really is a cinema experience like no other. They're always incredibly popular, so be sure to book your tickets in advance. We'll have the popcorn ready!"
Special events for the season include Operation Earth (taking place on March 31, April 6, 11, 12 and 13), a tie-up with the Edinburgh International Science Festival, which sees youngsters transformed into doctors of the planet in an interactive family show.
Meet the Expert days (taking place on April 4, 5, 8, 9, 10, 14 and 15), are when scientists at the forefront of Polar research, marine life and forestry will be on hand to share stories of what it's like to live in some of the most hostile environments on Earth, and demonstrate the fascinating technology involved in their jobs; plus, there will be plenty of outdoor activities, ready for the spring weather to finally arrive – including Wonderful Weather (April 9 and 10) where families can learn how to spot changes in nature and the skies to forecast the weather themselves.
If this world is not enough, visitors can move further into the galaxy on April 1 and 2, as the Cosmos Planetarium team will be taking lucky visitors on an amazing voyage of discovery to seek out extra-terrestrial life. Budding astronauts will need to fasten their seatbelts as they blast off from Mars and travel to the very outer reaches of the cosmos.
Each event offers engaging and hands-on activities and workshops, providing fun for all of the family. From taking part in food chain Jenga and becoming a drone pilot with Operation Earth, to exploring the city's local outdoor spaces and looking for wildlife with Nature Detectives (April 2 and 3).
With more taking place than can fit into the day, exclusive "after hours" events will also be on offer over Easter, with Double Dome Nights (April 3, 4, 5, 12 and 13) providing a real full dome cinematic treat. Each night, Dynamic Earth will show a combination of two 30-minute movies from its library of spectacular 360 degree films – with popcorn and refreshments also available – to give an immersive cinema experience.
And visitors to the five-star attraction will find themselves one giant leap closer to observing the Earth from space without ever having to leave their seats, thanks to a generous £80,000 donation.
The venue currently houses an interactive, digital 360° cinema, to tell the story of planet Earth through fun and educational films. Thanks to the donation, the venue has been able to invest in state-of-the-art Uniview software which will transform its cinema into a fully interactive planetarium and space experience.
John Simpson, chief executive at Dynamic Earth, said: "The new equipment will offer visitors an amazing experience within our ShowDome and will inspire even more children and families about Earth and space sciences with an in-house planetarium and a mobile planetarium to reach families all over Scotland."
In addition to the Easter programme, regular Dynamic Earth features include the ever-popular real iceberg, a bone-shaking earthquake and the Deep Time Machine which takes visitors billions of years back in time.
All daytime events are included with admission to the Dynamic Earth exhibition and free for Explorer Pass holders. For certain activities, advanced booking is required.
For more information on events and activities happening at Dynamic Earth, visit the website at www.dynamicearth.co.uk