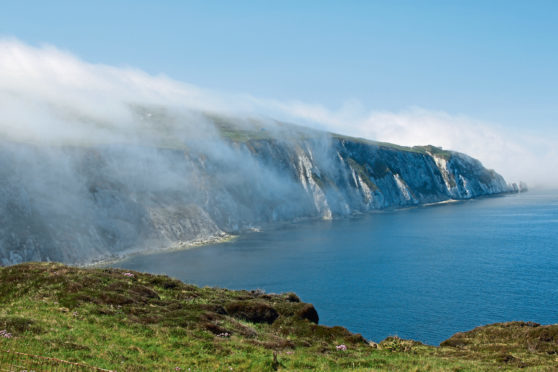 With an entire empire at her feet, Queen Victoria's favourite place to relax and spend time with Albert and her nine children was…the Isle of Wight.
"It is impossible to imagine a prettier spot… we can walk about anywhere by ourselves without being followed or mobbed, which… is delightful", the monarch wrote about her retreat there, Osborne House, in a letter in 1845.
Times have certainly changed since then, yet the island, just a few miles off the Hampshire coast, remains a popular escape for yachties, cyclists, walkers, romantics and the sand-castle crowd.
If it's good enough for an empress, it'll certainly do me, I thought, and so with husband in tow and riding our own light blue metal carriage, we crossed by ferry on a sunny May morning. Once on the island, time immediately seemed to slow down.
Maybe it was the palm trees exuding a semi-tropical flair, the narrow roads lined by feet-high leafy hedges which stopped the foot on the accelerator or the long, fine sandy beaches with waves slowly crashing to shore; the holiday feeling was there in an instant.
Enjoying the view of the manicured gardens at Osborne House and across the Solent to the distant Portsmouth coastline from Queen Victoria's bedroom, I felt like I was transported back in time. Down below on the beach, holidaymakers relaxed on sun loungers or strolled down the Rhododendron Walk to the delightful Swiss Cottage, the royal heirs' summer house.
Princess Beatrice was the child who spent the most time on the Isle of Wight, accompanying her mother in her old age before retreating to Carisbrooke Castle for a good part of her own life later. The historic motte-and-bailey castle comes with sturdy stone walls, earthworks, a medieval gate, a chapel and a well house, complete with two donkeys.
"In earlier times, the animals used to work up to 16 hours a day to get water up for the household, but our resident donkeys Jack and Jill work no more than 3.5 minutes daily, and sometimes they don't feel like working at all," a staff member explained during the donkey wheel demonstration.
Another stop on the new Victoria's Island Trail is the UK's oldest amusement park, Blackgang Chine, which celebrates its 175th birthday this year. It received the royal seal of approval during the Queen's visit in August 1853 when she came to see the skeleton of a whale that had washed up near the Needles and is still on view today. Located on the southern coast of the island, Blackgang Chine is a colourful wonderland with life-sized dinosaurs, rollercoasters and twisted houses. My nearly middle-aged husband loved it and not only because a cheeky extinct bird sang "happy birthday dodo" to us (or so we thought we heard).
Also in 1853, the acclaimed poet Alfred, Lord Tennyson moved into Farringford House close to Freshwater Bay and lived there with his wife Emily for 39 years.
Tennyson was invited by Queen Victoria to Osborne House and a correspondence between the two, who both appreciated and sought the anonymity and remoteness on the Isle of Wight, ensued.
The Gothic house opened again last year to the public after a complete refurbishment. "If you were standing on the scaffolding in 2011, you could look down to the basement," said Matthew Slade, who oversaw the project on behalf of a private owner.
No trip to the Isle of Wight is complete without visiting The Needles, one of the most photographed groups of rocks in the world (though the ensemble shrank from four to three when in 1764 the 120ft chalk rock known as "Lot's Wife" crashed into the sea). When we arrived under blue skies, a spectacle of nature unfolded in front of our eyes. Slowly but powerfully, white fog crept over the distinctive shapes and began covering them in a shrouded cloud. Soon, The Needles were all but covered in mist.
We moved on to check out the famous tradition of filling a glass shape with layers of different coloured sand from Alum Bay.
In 1860, gifts made from the sands were first presented to Queen Victoria, though today visitors are no longer allowed to collect their own soil but can fill their bottles in souvenir stores instead.
For dinner at the intimate The Bistro in Ventnor, we met with Jack Whitewood, artistic director of Ventnor Exchange, a creative hub combining a theatre, record store and craft beer bar. One of the brains behind the award-winning performing arts festival Ventnor Fringe (August 7-12), the Isle of Wight local has seen a lot of change over the last decade. "We really moved away from being just a beach destination and now offer outstanding arts, culture and food, however our biggest asset are our people."
There were many more things I was curious about Britain's second-longest reigning queen and her favourite island, but before long we were back on our way to Portsmouth. Next to us, the iconic hovercraft sped like a flying fish across the water reaching the other shore in less than 10 minutes. For once, I didn't mind taking it a bit slow, hoping to prolong that royal island feeling just a wee bit longer.
Tourist info: www.visitisleofwight.co.uk
Travel: Wightlink run car ferries from Lymington and Portsmouth all year round. www.wightlink.co.uk and hovercrafts take passengers across the Solent – www.hovertravel.co.uk
Stay: The Hambrough is a boutique accommodation with seven guest rooms and waterfront views in Ventnor. www.thehambrough.com
Eat, drink, do: The Bistro – www.thebistroventnor.co.uk; Osborne House/Carisbrooke Castle – www.english-heritage.org.uk; Blackgang Chine – www.blackgangchine.com; Farringford House – www.farringford.co.uk; The Needles – www.theneedles.co.uk; Ventnor Exchange – www.ventnorexchange.co.uk; Isle of Wight Literary Festival – www.isleofwightliteraryfestival.com