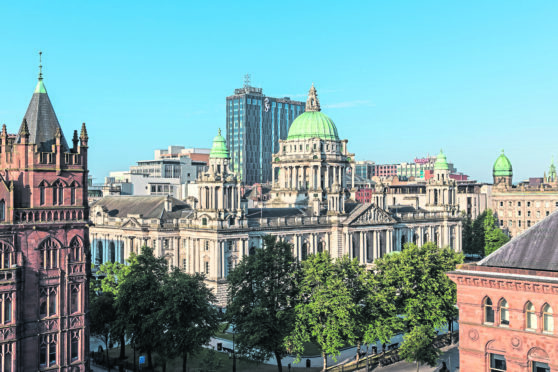 Tattooed muscle men in tight pink shorts. Drag queens in ballgowns and bedazzled bras. A tiny tot in kaleidoscopic fairy wings. Whole families out for a day of fun, cheering on the out-and-proud crowd marching through the streets of Belfast.
If you're looking for a measure of how far this city has come since The Troubles, you could hardly find a better example of acceptance and inclusiveness than the Pride parade.
No one seems concerned about whether you're Protestant or Catholic, loyalist or republican. Never mind orange or green. On this day, at least, everybody embraces the rainbow.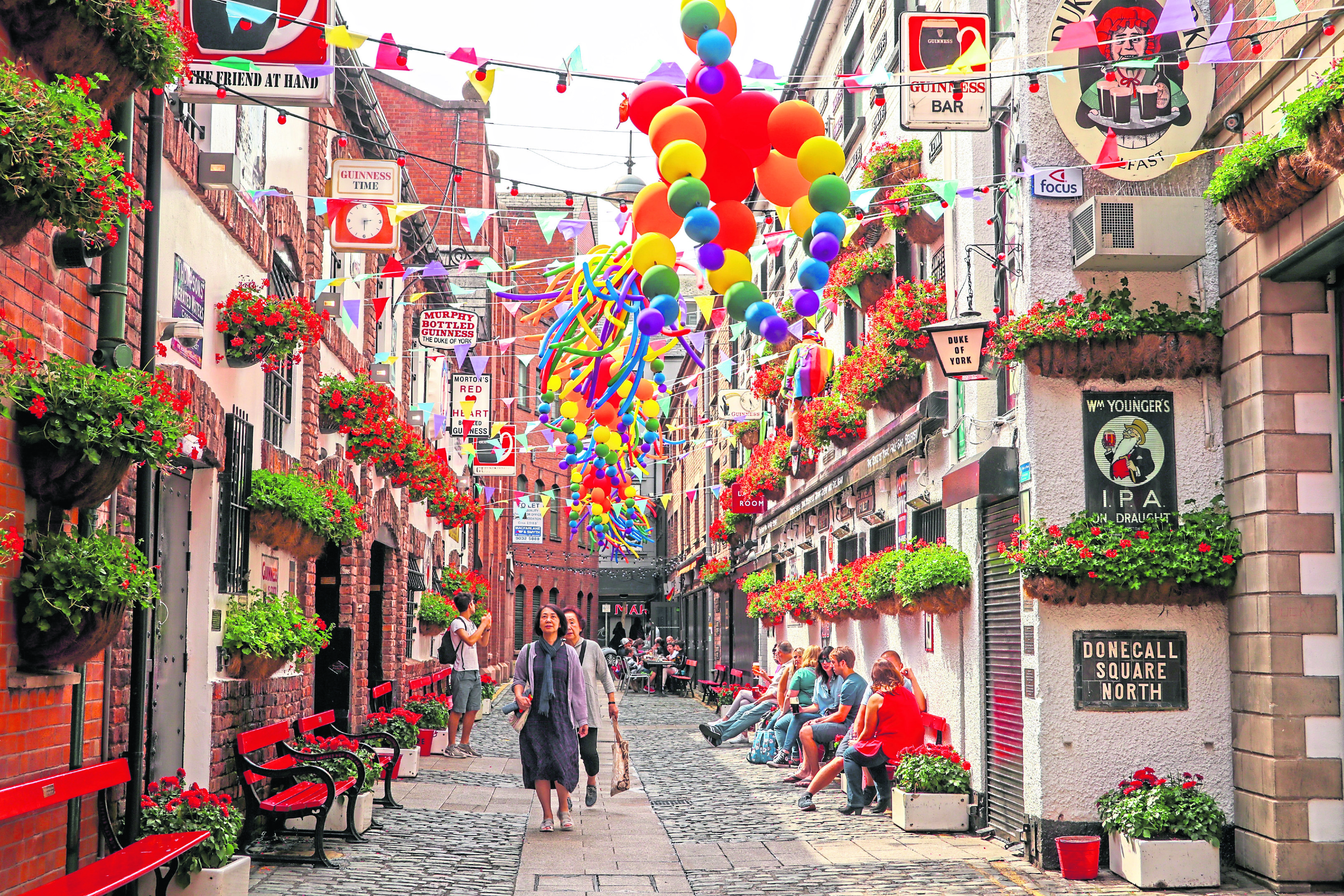 "Trust me, we don't care (about those historic religious and political divisions), as long as you're good looking," jokes Dee Morgan, a tour guide who was born around the onset of the conflict in the late 1960s.
With the Good Friday Agreement of 1998, Morgan insist "The Troubles are done, dusted, never to raise their ugly head again".
In the absence of bombs, tourism has boomed. Visitor numbers have soared since and Lonely Planet has declared Northern Ireland the number one destination to visit in 2018.
Top attractions include Titanic Belfast, a whizz-bang interactive "experience", and film location tours for Game of Thrones, which is mainly shot around Northern Ireland.
Admittedly, some folks still come looking for trouble – or rather, to learn about The Troubles – and plenty of evidence remains.
Morgan shows us some key sites, such as the politically charged murals of the International Wall, and the Peace Wall, where folks pen messages of love and hope.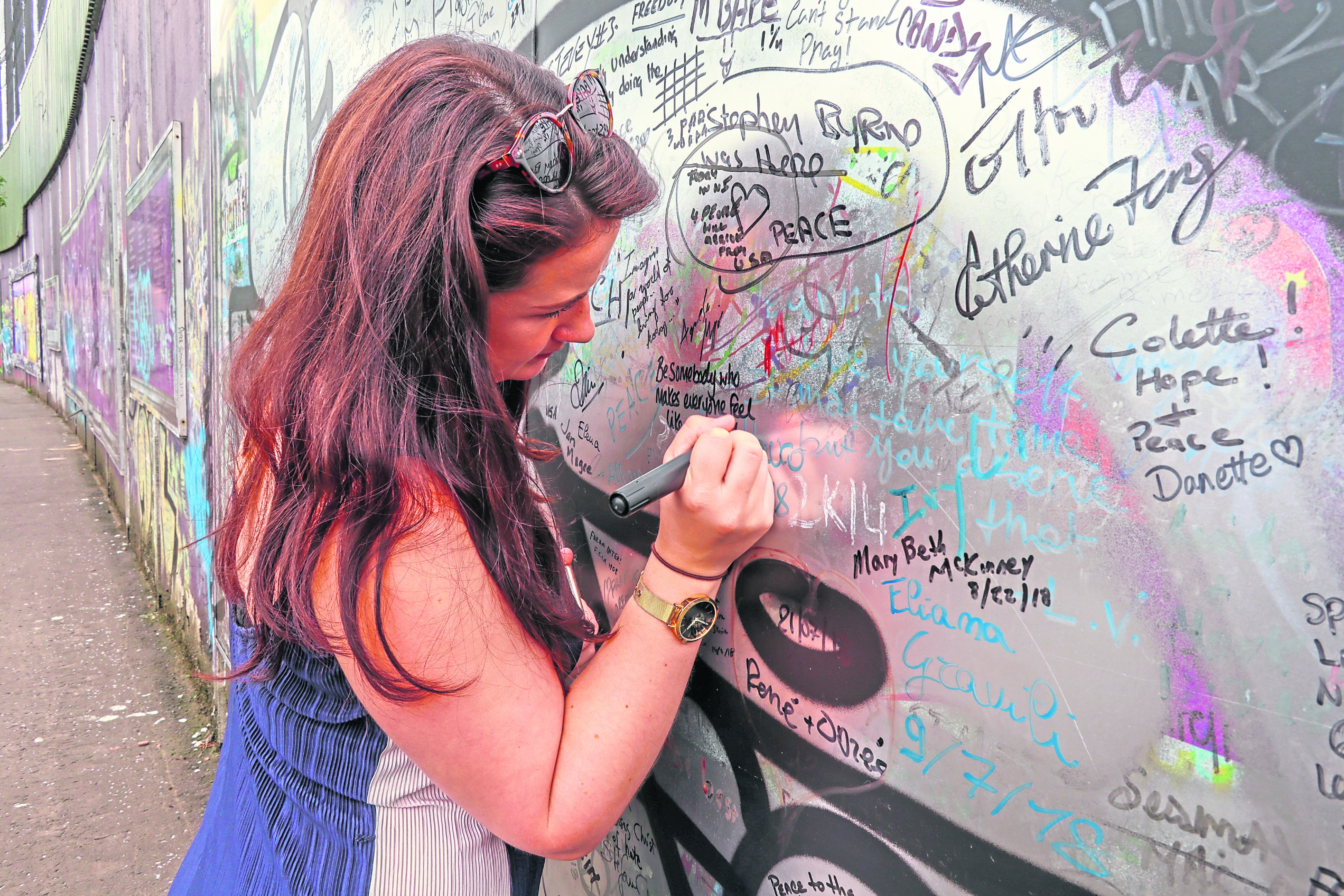 Belfast's graffiti is evolving, as I learn on the Seedhead Arts Street Art Walking Tour through the Cathedral Quarter, the hub of Belfast's nightlife scene.
Guide Adam Turkington, who commissions about 40 to 50 new murals each year for an annual street art festival he founded, views this artform as the visual equivalent of punk rock – a means of filling the space between binary politics and differing faiths.
In Murals Square off Commercial Court, for instance, brick walls are covered in scenes that touch on everything from the Queen and corgis to religion in the Middle East to same-sex relationships.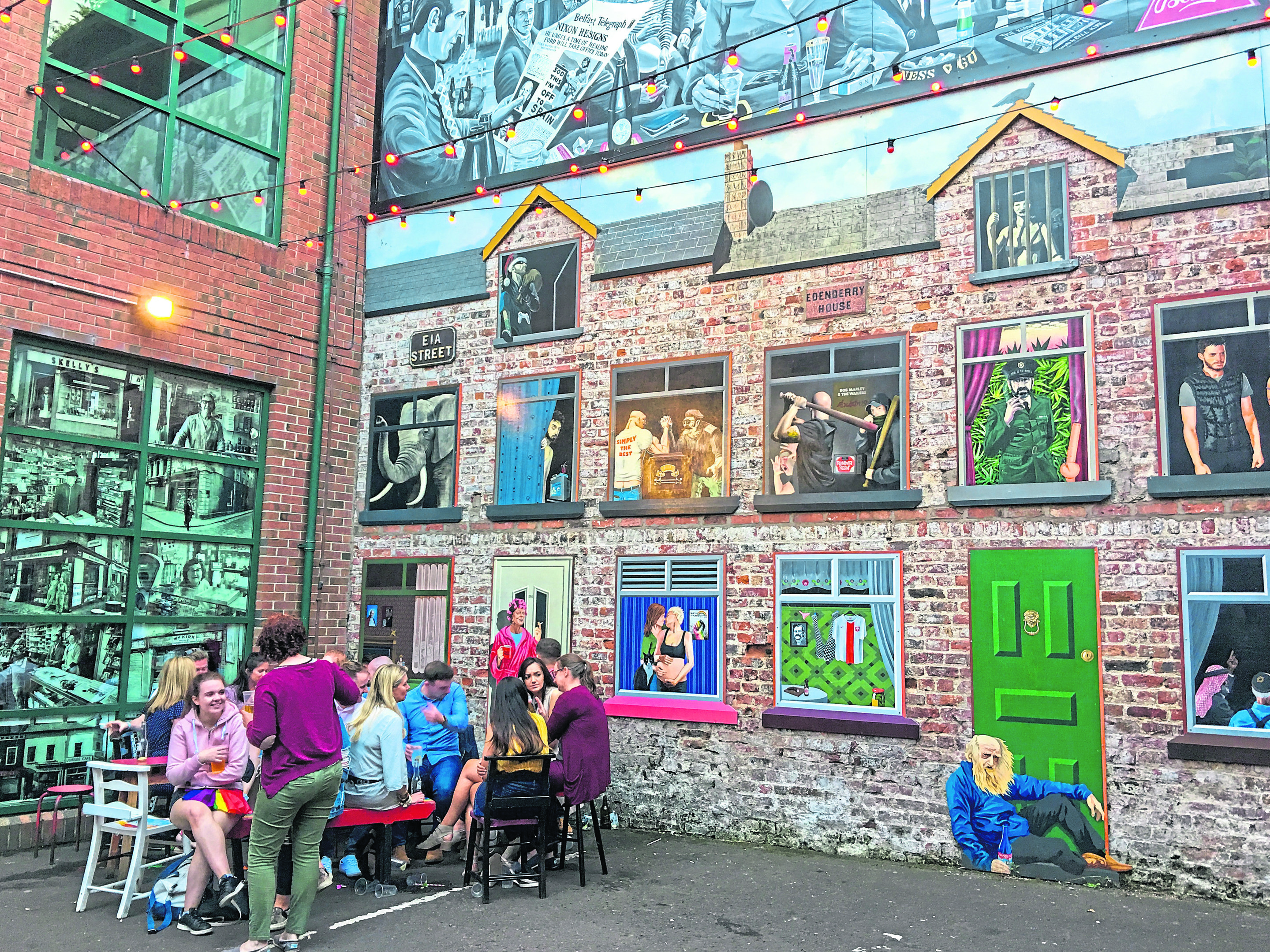 "The owner of the Duke of York and the Harp Bar commissions these to represent a shared future," Turkington explains.
Yet many other works along the tour seem intended only to amuse or intrigue. I'm particularly partial to a flame-haired, Shrek-green goddess with a Frida Kahlo-esque moustache and unibrow proclaiming "Girls Just Want to Have Fun… and …Fun … Damental Rights". You go, girl.
The city has also become a foodie favourite, as evidenced by the eye-opening, mouth-watering Belfast Food Tour, which begins at St George's Market.
Over four hours, I shovel in sausage, soda bread, marshmallow-laden "Fifteens", local cheeses, a hamburger with rum barbecue sauce, and deep-fried pickles, while whetting my whistle with locally produced Jawbox gin, Belfast Blonde beer and MacIvors cider. Best of all are the wee artisan chocolates and steaming cup of hot chocolate we sample at Co Couture.
As owner and chocolatier Deirdre McCanny helpfully points out, pure chocolate is actually a fruit. I say, bring on my five a day.
Perhaps the most visible symbol of Belfast's flourishing fortunes was the opening of the Grand Central Hotel in June, the latest addition to the family-run Hastings Hotels' portfolio.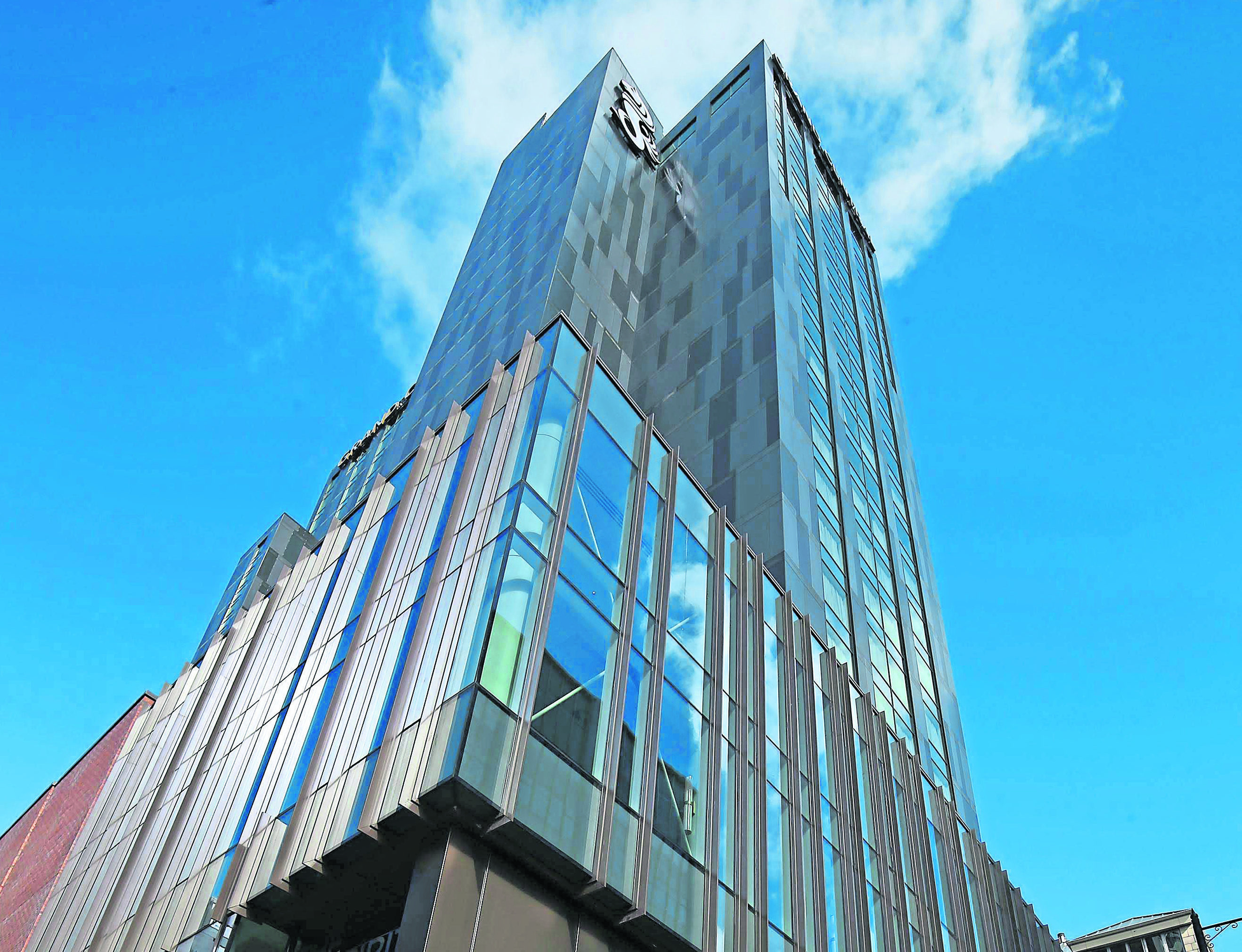 It's less than a five-minute walk from the Europa, once known as "the most bombed hotel in Europe", which the late Sir William Hastings purchased in the early 90s and where US President Bill Clinton bunked while visiting Belfast in 1995.
The new Grand Central, located in a glamorously renovated former office building in the Linen Quarter, is the largest hotel in Northern Ireland with 300 bedrooms. At 23 storeys, it's also the tallest, a glittering glass icon proudly punctuating Belfast's skyline.
You know you've arrived, in every sense of the word, when you're greeted by a doorman in a top hat, standing at attention atop verses from a specially commissioned poem, Hymn to Belfast, by Paul Muldoon, etched upon the pavement outside. The ground and first floors feature double-height ceilings with floor-to-ceiling windows, flooding the contemporary Grand Central Café and the elegant Seahorse Bar and Restaurant above it with light.
Bedrooms are equipped with a pillow-plumped "Cloud bed" and dressed in teal and taupe textiles. Mine even has a bathtub facing a plate glass window, so I can soak up the cityscape as I soak in the bubbles.
You can't beat the bird's eye views – and expertly mixed cocktails – at the Grand Central's 23rd-floor Observatory, the highest bar in Ireland.
Kitted out in a stylish mix of teal blue and orange velvet, with gleaming brass accents and a grand piano to provide the tunes, it's the perfect perch to contemplate Belfast's bright future as you gaze out over the horizon.