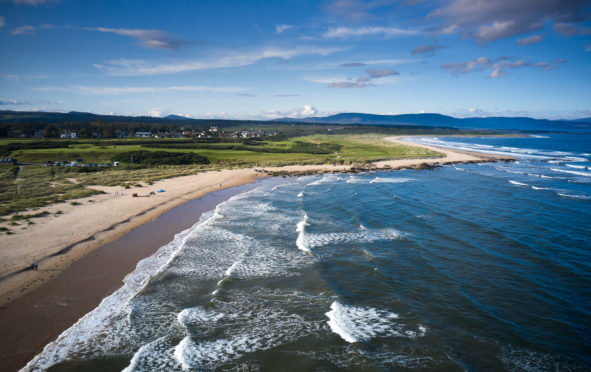 I was brought up in Dornoch many years ago, so this Highland seaside town holds lots of wonderful memories for me.
Everyone used to know everyone, and I cannot remember my parents ever locking their front door. I got married in the 13 Century cathedral well before Madonna put the town on the map when she had her son's christening there.
Dornoch, of course, is synonymous with golf and boasts one of the finest championship courses in Scotland.
It is just under an hour's drive from Inverness over the picturesque Cromarty Firth and then the Dornoch Bridge.
One of my early memories was watching the pipe band play in the square every Saturday, and also watching the lone piper play from a floodlit Castle Hotel at the end of the season. So it was lovely to be able to stay at the hotel which, has the perfect location in the centre of Dornoch.
A glowing log fire greeted us in the cosy bar/reception area while the friendly Laura showed us to our room.
The rooms are split between the modern extension and the main castle and they are all decorated to the same high standard.
Right at the very top of the hotel, The Tower Room was stunning. A large oak-framed four-poster bed dominated the room, which had triple-aspect windows with one overlooking the stunning floodlit cathedral. The room had very traditional decor with thick tartan curtains and ornate wallpaper, but also had some modern touches with a jacuzzi bath and large flat-screen television.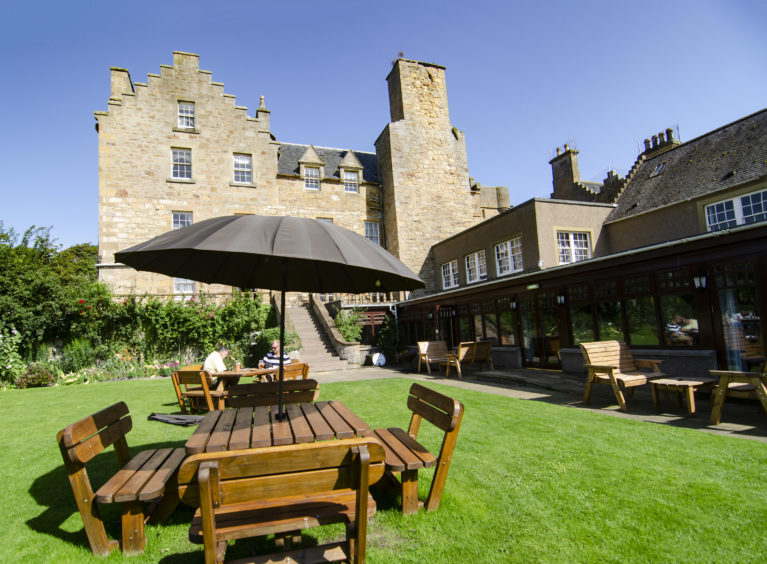 But what made this room stand out was, without doubt, the wood-burner stove, all set up ready to light. By coincidence, we stayed over one of the coldest weekends of the year, so it was lovely to relax in front of the fire, cosying up in the complimentary dressing gowns with a nip of sherry.
Not wishing to venture too far, we dined in the hotel's Garden Restaurant Grant MacNicol at the castle, named after the head chef. The modern dining room was chic and cosy and our friendly Greek waiter was a joy throughout.
To start, we shared mac and cheese nuggets with Applewood smoked cheese, burnt onion puree and truffle. Gooey, warm, smoked cheese with a crispy exterior was demolished in no time.
For our main courses my husband loved his beautifully presented belly of pork with orange glazed carrot, black pudding mash and creamed spinach. Unfortunately, my first choice of Scrabster haddock was all finished, but I was offered the same dish with scallops instead – great customer service indeed. And boy were they good.
Served with courgette, fondant potato and a langoustine bisque sauce, this was a winning combination of flavours that danced on the tongue.
We finished this fine meal with an espresso-spiked chocolate mousse, toasted marshmallow and cinnamon doughnuts – the perfect sweet treat to end our meal.
We relaxed in the award-winning Whisky Bar which stocks a vast selection of rare and unique vintage malts to entice all whisky fans. The bar staff certainly seemed to know their products and were delighted to share their knowledge with my whisky-loving husband. Not forgetting the legions of gin fans, the hotel also has its own micro distillery in the castle grounds and produces Thompson Brothers Organic Gin, which I can vouch is well worth trying.
The next morning we enjoyed a delicious full Scottish breakfast at the hotel overlooking the lovely walled garden. The quality of ingredients shone through as we cleared our plates.
We decided to take a trip to Shin Falls near Lairg for some fresh air and enjoyed even more food in the new Mac & Wild restaurant. The homemade venison and pork sausage roll was worth the journey alone.
We then travelled on to Dunrobin Castle at Golspie, another favourite attraction of mine as a child, and we had a lovely walk around the stunning gardens in the winter sunshine.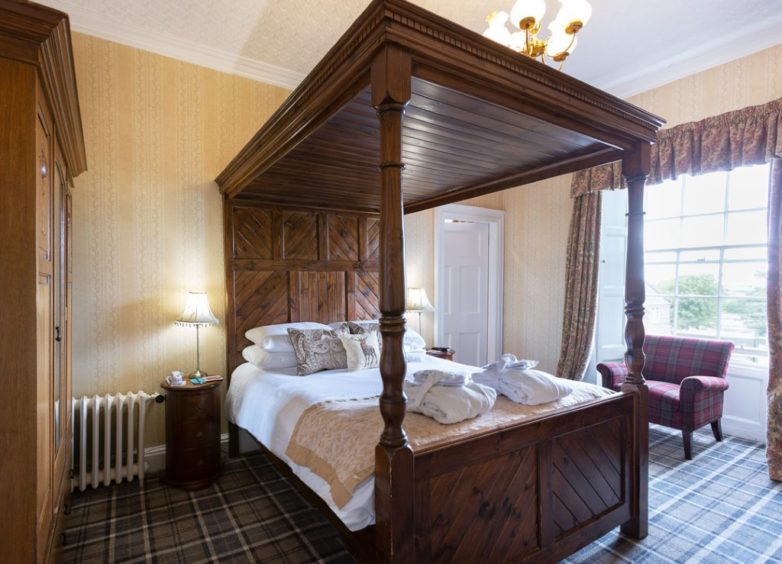 The castle resembles a French chateau and is one of Britain's oldest continuously inhabited houses dating back to the early 1300s, and is home to the Duke of Sutherland.
We were sad to leave our luxurious Highland home and we will definitely be back. Dornoch is a beautiful town with golden beaches, golf courses, historical sites and forest walks, and of course could be an ideal base for the North Coast 500 route.
Even in the winter months it makes for a relaxing break with some divine little gift shops and coffee shops to visit.
I have always said that Highlanders are the friendliest people, and we certainly found this at the hotel and also when we were out and about.
And even if the weather is bad, get yourself comfortable in front of that fire and sample more of those whiskies in the Castle Bar, reading your P&J, of course.
THE HOLIDAY
Dornoch Castle Hotel
Castle Street, Dornoch, Sutherland, IV25 3SD
Telephone 01862 810216
Visit www.dornochcastlehotel.com