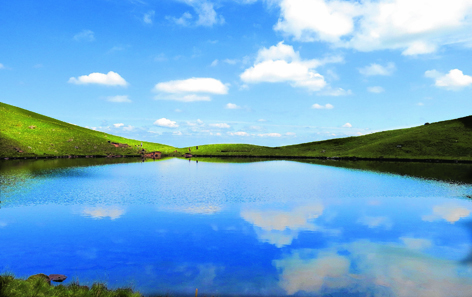 Snap up a photography holiday in the Brecon Beacons
Photography expert Alan Cowderoy has just invited a room full of people to give him the finger. He's not encouraging us to be rude. He's explaining to a group on an HF Holidays photography course how the eye can only focus on one thing at a time (like a finger), and how to capture that effect with our cameras.
I'm itching to get snapping in Brecon Beacons National Park, where we'll be hiking for the next few days. But before my companions and I depart our lodgings at Nythfa House, Cowderoy is determined to free us from the comfortable shackles of "automatic" mode by offering a few tips on aperture and shutter speed.
Aperture, defined by an f-stop or f-number, is the size of the hole through which light travels. Shutter speed is the amount of time the lens admits light.
When you use an f-stop between f/1.4 and f/4, "a certain slice of the photo will be in focus," Cowderoy explains. "In other words, it's me or the finger." This mimics the way the eye actually sees and enables the photographer to draw attention to a specific aspect of the photo. The higher the f-stop, the greater the field of focus. Many landscape photographers prefer f/11 for this reason.
Cowderoy advises that we adjust the aperture to suit our taste, and let the shutter speed define itself. The only time he recommends using an auto-focus mode is when shooting sports or "fast-moving wildlife."
Um, fast-moving wildlife? Personally, I'm hoping that we won't encounter anything zippier than a grazing sheep. (For the record, the biggest predator in the Brecon Beacons is a badger, and while they can bite, it's hard to work up a "Jaws"-like terror of these fuzz balls).
Over the next few days, we find ample opportunity to test our newfound skills in the 520-square-mile Brecon Beacons National Park, with its undulating peaks, verdant river valleys, glacial lakes and gushing waterfalls. Our first test, however, is photographing fuchsia foxglove that are blooming in abundance.
I spend ages fussing about with the f-stop, alternating between focusing on a single stalk and trying to capture the wider scene. Then Cowderoy approaches and gently suggests that I shoot straight up into a stalk at close range. Guess what? Photo Yoda was right. The resulting image reveals the details in the heart of the flower, from tiny polka-dots to delicate, thread-like hairs.
Photographing Sgwd Yr Eira, the "Snow Waterfall," proves a greater trial. I experiment with various f-stops and foregrounds, first focusing on yellow flowers at my feet, and then on the waterfall in the distance. You can also walk behind the cascading falls, which poses the triple challenge of a) protecting the camera from the spray, b) taking a gorgeous shot, and c) not breaking your neck on slippery rocks in the process. I pass the last, and arguably, most important test, although the camera and I emerge moistened and worse for wear, and my images are unlikely to grace the cover of National Geographic anytime soon.
Never mind. More majestic scenery awaits in the form of Sgwd Clun Gwyn (the White Meadow waterfall), which we shoot from a distance, and the moss-laden path beside the glistening Mellte River, which we follow to Porth yr Ogof.
The Mellte flows right into this vast, gaping cavern, whose name translates to something like "Mouth of the Demon." It's just as well I'm not aware of this as I make my way into its dim recesses, aiming my camera towards the sun-dappled trees beyond the opening. With the click of a shutter and a shudder, I'm happy to pick my way back over the river-slick stones towards the light.
The park is full of mythical places, perhaps none more mystical than Llyn Cwm Llwch, a glacial lake nestled between the peaks that cradle Cwm Llwch Valley. According to Kevin Walker, our aptly-named mountain guide and instructor, Llyn Cwm Llwch is linked to a variety of legends.
A pile of rocks at one edge supposedly holds a door to the land of the fairies. It was open to all comers every May Day until a thief attempted to smuggle some fairy fruit back to the "real" world, and the furious queen closed the portal forever. (Bummer).
Another story alleges that a cache of Celtic gold lies at the bottom of the lake. Unfortunately, Walker warns, "It's also full of leeches." I opt not to test either theory, although I am lured to the edge as I attempt to capture the reflection of swift-moving clouds rippling across its mirror-like surface.
Rejoining my group after my exertions, I notice a woman sitting on a rock, serenely soaking up the sun and the beauty of the scene, and (gasp), she's not even holding a camera.
Perhaps there's a lesson to be learned by her example. It's all fine and dandy to photograph the roses, but don't forget to take time to smell them, as well. I only wish I'd taken a picture of her to show you.
THE HOLIDAY
Readers booking their first trip with HF Holidays can receive up to £100 discount on any UK Country House holiday (£50 discount on a short break). Quote 1BN. Four-night photography break in the Brecon Beacons from £389. Three-night Guided Walking weekend from £289. Three-night Independent Stay weekend from £219. Prices include Full Board en-suite accommodation and first time discount. The next photography courses in the Brecon Beacons are scheduled for May and October 2015, but HF Holidays are hosting photography breaks at several other locations around the UK this autumn. www.hfholidays.co.uk. Phone 0345 470 7558. Brecon Beacons National Park: http://www.breconbeacons.org/. Kevin Walker Mountain Activities: For mountaineering instruction and guided hikes to some of the Brecon Beacons most spectacular scenery http://www.mountain-activities.com/. Felin Fach Griffin Inn: Feast on locally, sustainably produced fare at this fabulous country inn. http://www.eatdrinksleep.ltd.uk/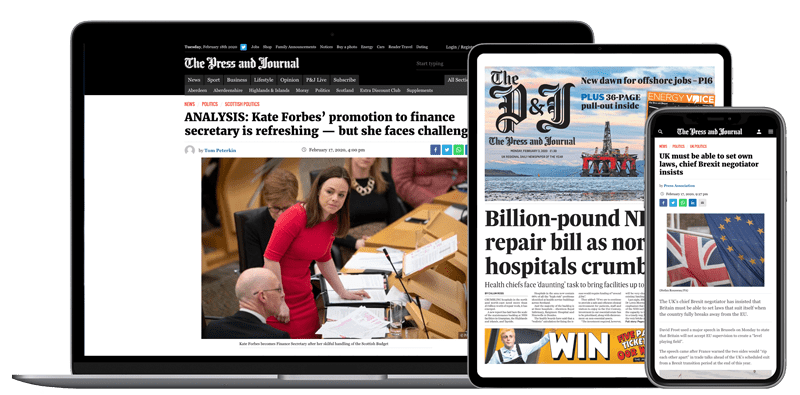 Help support quality local journalism … become a digital subscriber to The Press and Journal
For as little as £5.99 a month you can access all of our content, including Premium articles.
Subscribe