Timeless attractions still exist alongside 21st-century resorts, writes Amy Laughinghouse
Before I set foot on Corfu, which kicks out into the Ionian Sea like the leg of a great muscled beast, I felt I already knew it. A few months earlier, I had fallen in love with this green Greek isle as I laughed my way through My Family and Other Animals, Gerald Durrell's hilarious account of his Corfiot childhood.
Intertwined with tales of the wild things he tamed and the larger-than-life siblings he didn't (including his famous brother Lawrence) Durrell penned poetic descriptions of the island's gnarled olive groves, its rocky peaks, and the ever-changing nature of the azure sea that nibbles at its beach-fringed coast.
He also wrote of Corfu's colourful characters, from taciturn shepherds to a blustering bull of a man named Spiros, who began as the Durrell family's taxi driver and became one of their greatest friends.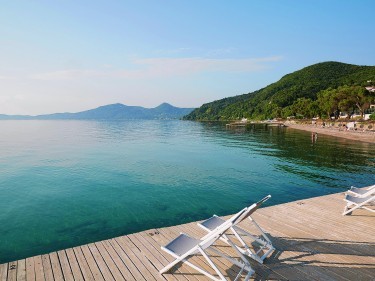 While Durrell's book is set in the 1930s, it's apparent from the moment my husband and I exit the airport that some things haven't changed. One of the first people we meet is, in fact, a taxi driver named Spiros, who whisks us to our resort. "A short, barrel-bodied individual, with ham-like hands," he could've been the great-great-great grandson of the Durrells' old mate. "I go more faster," "our" Spiros says proudly, hitting the gas with gusto to beat a less enthusiastic driver to the roundabout.
We head south along the east coast, catching tantalising glimpses of the mirror-like sea and the hazy hump of mainland Greece beyond. Forty-five minutes later, we bid Spiros goodbye with a hearty handshake in front of our home for the next five days, the MarBella Corfu in Agios Ioannis Peristeron.
Carved into a lush hill extending upwards from the private beach, the resort is like a compact, gleaming white city, with 384 recently renovated rooms, six restaurants, four bars, seawater and freshwater pools, a kids' club, spa, and evening entertainment ranging from traditional Greek dancers to sultry torch singers.
I fear we'll lose the will to ever leave, especially when we're shown to our junior suite, where a huge outdoor whirlpool tub occupies a spacious terrace overlooking the water.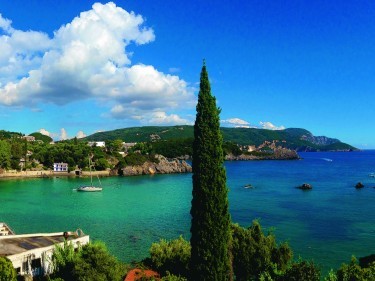 IMPRESSIONIST'S MASTERPIECE
Cracking open a bottle of red Corfiot wine, we toast our spectacularly framed view of the sunset, which is unlike any I've ever seen before. It's as subtle as a whiff of perfume, descending like a misty veil in gauzy shades of pink and purple. Eschewing the bold Technicolor strokes of Van Gogh, its an Impressionist's masterpiece, rendered in pastel perfection.
We awaken the next morning to a blindingly bright sky, and while we're sorely tempted to beach ourselves on a sun lounger, the desire to see Durrell's world wins out. Fortunately, we can rent a car right there at the resort, and we spend two days darting around the island, traversing it from north to south.
We wander for hours around Kerkira, the capital, nestled between a pair of centuries-old forts. Kerkira's labyrinthine streets are flanked with cafes and shops stuffed with olive wood sculptures, jewellery, textiles and ceramics, housed within sunny-hued structures erected by the Venetians during their long occupation.
We pay a visit to Agios Spyridon Cathedral, where the remains of Corfu's patron saint, Spyridon, rest in a silver casket, and stroll past the colonnaded buildings of the Liston overlooking the grassy Esplanade.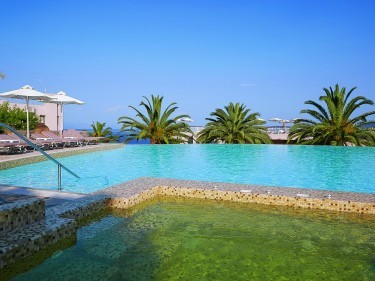 Along the coast, seaside resorts lure travellers with tavernas, touristy shops and rainbow-coloured umbrellas which sprout like mushrooms above beaches composed of pebbles or sand. In Kalami, we take a break to assuage rumbling tummies on the vine-draped restaurant terrace of The White House, one of the homes once occupied by the Durrells, as evidenced by the family photos hanging on a central pillar. The seafood couldn't be fresher, as guests are welcome to choose their own lobster from the submerged cages beside a floating dock.
Continuing on past Kassiopi and Sidari, both popular playgrounds for UK visitors, with shops, clubs and pubs where football matches fill big-screen TVs, we pause at Logas Beach to take in dramatic views of what I've dubbed "the Seven Sisters of Corfu."
SPECTACULAR WHITE CLIFFS
These spectacular white cliffs rise straight up out of the sea, with a glass-bottomed platform extending over a strip of golden sand far, far below. At 7th Heaven Café, perched atop the cliffs, you can watch the sunset while sipping a drink in a swing.
More panoramic views await in Lakones, overlooking the multiple coves of Paleokastritsa, one of Corfu's most beautiful resort towns. After perusing the menu at two different restaurants in Lakones, both with lovely terraces, we're ultimately wooed by the friendly, gap-toothed grin of a diminutive waiter at the Golden Fox, which boasts the added attraction of a pool. Gorging on chicken souvlaki, stuffed grape leaves and feta cheese chili dip, we find we've chosen well.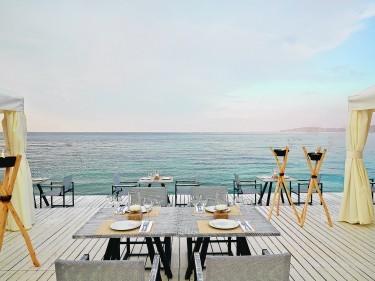 Beyond all of Corfu's typical touristic attractions, one of my favourite experiences is motoring along its back roads, threading among shady olive groves and tiny towns where the stone houses haven't seen a lick of paint in years. Here, I see the sort of folks Durrell would've recognised, from the white-bearded Greek Orthodox priest in his flowing black robes to the wrinkled old woman bent double over her cane, a black kerchief knotted around a face as brown and wizened as an apple core.
For a real taste of historic Corfu, head to Old Perithia, a 14th-century village that has been virtually abandoned on the slopes of Mount Pantocrator, Corfu's highest peak. It's gradually coming to life again, though, with the opening of the Merchant's House B&B and five tavernas frequented by Corfiots and tourists alike.
Just as Durrell wrote all those years ago, "the magic of the island settled over us as gently and clingingly as pollen. Each day had a tranquility, a timelessness about it, so that you wished it would never end".
Classic Collection Holidays offers seven nights at MarBella Corfu from £659 per person. Price based on two adults sharing a garden view room on a half-board basis and includes return flights from Glasgow to Corfu and private transfers. Includes early booking discount of £123 per couple (book before 10pm on January 31), departs May 4.
Classic Collection Holidays also offers seven nights at MarBella Corfu, with return flights from Aberdeen, from £949 per person, based on two adults sharing a garden view room on half board, with private transfers. Price includes early booking discount, guaranteed complimentary room upgrade to sea view room saving £182 per couple per week, and a resort credit of 100euros per room to spend at the hotel (book before February 1). Departs May 1.