ADJ clutches a pair of headphones to his ear, while cueing up the next track on his state-of-the-art mixing deck. The noise of the crowd almost drowns out the pulsing house tune he's playing, as Singapore's "it" crowd enjoy a Saturday night on the town.
I'm at Ku de Ta, the hottest new rooftop bar in Singapore, and part of the Marina Bay Sands Resort, where tourists and high-flying locals can dance, drink cocktails and literally reach for the stars.
The view of the glittering skyline and bustling port sends a tingle up my spine as I get set for my glamorous south-east Asian city break.
An important transport hub, former fishing village Singapore is a melting pot of different cultures. It was originally named Singapura, meaning "Lion City", and the iconic Merlion statue of a lion's head and fish's body which overlooks the Singapore River is a reminder of this sovereign state's humble origins.
Today, Singapore is home to 5.1million people and, thanks to a thriving economy, there's a real sense of prosperity in the air. Tourists pass through here on their way to more far-flung destinations, but with a host of architectural wonders, historical treasures, nature reserves and a Grand Prix circuit, there's plenty to keep them here. And there's the excellent restaurant and shopping scene to consider. In Singapore, enjoying yourself is a national pastime.
But anyone planning on doing some sightseeing should take note: by day, a folding fan, umbrella and a pair of rubber flats are a girl's best friend. One degree north of the equator, the constant heat (31 degrees is average), intense humidity and short, sharp tropical showers are a minor irritant when moving around the island.
Fortunately, most attractions are within easy reach of my base, the Ritz-Carlton Millenia, which is located in the downtown Colonial District.
I'm a short taxi ride from the designer stores that line Orchard Road and the narrow streets of Chinatown, Little India and Kampong Glam.
As I enter the Buddha Tooth Relic Temple in Chinatown, I'm greeted by the strong smell of incense. Inspired by the architecture of the Tang Dynasty, this building houses a sacred tooth among its treasures and was completed and gilded in 2007.
Beyond the shopping districts lies the Singapore Flyer, one of the world's largest observation wheels, and the Helix Bridge, which spirals across the bay and lights up like a Christmas tree at night.
Light, air, mirrors and moving water are some of the feng shui elements reflected in the 32-storey Ritz-Carlton, which is framed by a seven-acre garden oasis, and its Greenhouse restaurant serves one of the best Sunday brunches I've ever indulged in.
Locals book weeks in advance to put on their designer Sunday best and enjoy a constant flow of Moet & Chandon vintage 2004 rose and brut champagne, while feasting on tiger prawns, oysters, sushi, sashimi, lobster, charcuterie, foie gras, traditional roasts, pasta, a choice of more than 50 cheeses and a pantry of fine pastries and desserts.
Eating out is a real adventure in Singapore, and some of the best experiences can be enjoyed in the cheapest places on the street. I sample all sorts of weird and wonderful dishes at Makansutra Gluttons Bay, a famous waterfront hawker centre filled with street vendors.
Sitting down on wooden benches, we eat chilli crab, spicy fried noodles and satay, all washed down with cold beer, as rollerbladers whizz along the quay.
Afterwards, we head up 63 floors to 1-Altitude, the world's highest alfresco bar where the air is refreshingly cool and the vibe relaxed.
Another great night-time illumination can be found at the Gardens By The Bay. Here, vertical plant displays known as Supertrees pave the way to a giant Flower Dome and Cloud Forest.
We visit during the day, exploring two air-conditioned conservatories where you can learn about the wonders of the plant world, marvel at exotic orchid displays and enjoy all-day dining at nine different venues.
For a taste of residential life, Dempsey Hill evokes old-world charm and was once the site of the British Army barracks in colonial times. Most of the population live in public-housing tower blocks but there are also some beautiful homes close to Orchard Road.
But to truly experience Singapore's glamorous and colonial heritage, I make the pilgrimage to Raffles Singapore for a Singapore Sling in the Long Bar.
We sit at the bar, kicking aside peanut shells (apparently it's perfectly acceptable to drop them on the floor) and order an 1887 sling. Created to celebrate the hotel's 125th anniversary last year, the drink features Billecart-Salmon Brut champagne in place of the pineapple juice used in the original recipe.
While savouring this delicious cocktail, we spy, among the Asian antiquities, a model of a Beefeater on the bar. It's a reminder that Brits have always felt at home in Singapore, attracted no doubt by the island's irrepressible sense of fun.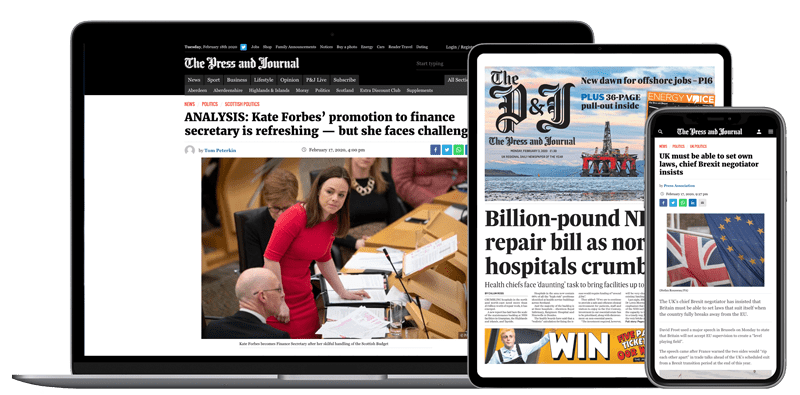 Help support quality local journalism … become a digital subscriber to The Press and Journal
For as little as £5.99 a month you can access all of our content, including Premium articles.
Subscribe