Opened in 1971, the Blair Castle caravan park is now multiple rated, having secured the 2015 Certificate of Excellence from TripAdvisor recently, a direct result of consistently strong reviews from TripAdvisor users, as well as a Gold Pennant Award from the AA.
The 50-acre park, which has 18 holiday homes as well as woodland lodges and pitches for tents and tourers, is a vital part of the working estate of Blair Castle. All profits are ploughed straight back into the estate, to help fund other projects such as affordable housing and environmental improvements, as well as continually improving and upgrading the park.
Says Andrew Bruce Wootton, general manager at Atholl Estates: "To celebrate our latest accolades at Blair Castle Caravan Park, we decided to unearth some of the many old photographs we have on file of the park and its guests over the years. We even have some pictures of the official opening of the park by the 10th Duke of Atholl in 1971.
"We are going to display these old pictures at our reception at the park and if any guests would like to view them they can. Or, indeed, if they would like to donate any old pictures of the park and their holidays here with us since 1971, that would also be greatly welcomed. We would like to build up this archive even further.
"The park has always been a valued asset for us. Over the decades, it has offered people from all over the world the opportunity to visit and
stay in this wonderful area. But it is very much a commercial enterprise which provides us with valuable income.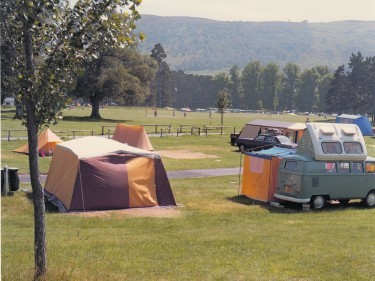 "These pictures demonstrate just how much caravanning has changed over the last four decades. Today's customers have far higher expectations, They are looking for facilities like Wi-Fi, which we of course provide, for holiday homes with up-to-the-minute facilities and all mod cons and for "add on" facilities such as the hair and beauty salon, the modern reception and shop. But our main asset remains as important now as it was at the beginning – breathtaking scenery and friendly, local hospitality."
Andrew explained that, earlier in the season, new carpeting and flooring was fitted to a number of the holiday homes and a new skittle alley had been added to the list of family-friendly attractions.
He said: "We are now into the busiest season here on the park, but preparation begins at the very start of the year. We use the winter to look at what we can do on the park to keep honing our offer and attract fresh guests, and to encourage past customers to return."
Jim Clarkson, VisitScotland regional director, said: "I'm delighted to hear that Blair Castle Caravan Park has added further feathers to its impressive cap in the form of a 2015 Certificate of Excellence from TripAdvisor and the AA Gold Pennant. Having secured a four-star Quality Assurance grading from VisitScotland already, it is clear that the park is continuously working hard to ensure that guests experience a truly memorable stay. What is particularly pleasing is that this latest award is the result of reviews andopinions from visitors to the TripAdvisor website. A customer's happiness is the benchmark of success, so it is fitting that they play a role in recognising excellent customer service."
For further details check out www.atholl-estates.co.uk