Sonja Cox visits Lausanne, a magical avant-garde city
beside the glistening waters of Lake Geneva, whose
secrets are well kept
Gaping with wonder at the delightful art déco and neo-baroque Beau-Rivage Palace hotel, I will admit, I was drooling.
We were en route to Lausanne's Olympic Museum, and little did I know I was walking in the footsteps of Victor Hugo, Charlie Chaplin, Coco Chanel, Gary Cooper, Hirohito, Nelson Mandela . . . all of whom walked the marble and velvet of the Beau-Rivage.
Coco Chanel, in her later life, preferred the cooler climes of Lausanne to her native Paris. In fact, so in love was Coco with the Beau-Rivage that when her beloved dog died, she had him buried on the property. Her own tomb resides in Bois-de-Vaux cemetery where it is decorated with five lions. She came, fell in love with the place and never left, like so many of Lausanne's inhabitants.
Another famous name, father of the modern Olympic Games, Baron Pierre de Coubertin arrived here in 1906, preferring the excellent micro-climate for his sick child.
Coubertin, who founded the International Olympic Committee (IOC), aspired to peace through sport and Switzerland seemed perfect; neutrality at the heart of Europe. He coined the phrase: "The most important thing is not winning but taking part; the essential thing in life is not conquering but fighting well."
Now the IOC is celebrating its presence in Lausanne with news that the Youth Olympic Games will be organised here in 2020.
Getting to this ancient city from Scotland was not an Olympic feat, in fact it was easy. After a short flight from Edinburgh, a swish double-deck train from Geneva whisked us here in just 38 minutes, while we enjoyed our first glimpses of the beautiful snow-capped Alps.
We got off the train at the very station in Lausanne where Coubertin had first arrived. It was then on to the city's superb subway, which is just two carriages popping in and out of Lausanne's hillside like something out of a cuckoo clock, making their way down to the lake, packed with holidaymakers and commuters. The subway used to be the funicular railway, and is an extremely efficient way of getting around this hilly city.
It wasn't long before we were watching swans gliding on the pristine waters of Ouchy harbour, with its stunning views of the French Alps across the lake. This is where the well-heeled commuters from Evian in France catch their boats home – Lausanne's transport system works like clockwork – and where our lovely hotel, Château d'Ouchy, was located.
Lausanne's lakeside promenade in Ouchy has more than enough to offer families, with a shallow pool and fountains for children to splash around in, an adventure playpark and pretty carousel. There are pedal boats with slides for hire, and the water is sparklingly clean for a swim.
There is so much to see and do in this Olympic Capital, so we put aside a few hours to visit the fantastic Olympic Museum (www.olympic.org/museum), a must-see for the whole family. Its extraordinarily rich collections include items from all over the world, spanning from ancient times to the present day.
A cruise on Lake Geneva on board a paddle steamer is a must, so we boarded the Belle Epoque from Ouchy to Lutry. The views of castles, vineyards and the snow-covered peaks of the Swiss and Savoy Alps are unforgettable.
In mediaeval Lutry we dined at Café de la Poste where we discovered the local delicacy, perch fillets, while soaking up wonderful mountain views. People come from miles around to lap up these tasty morsels. After lunch we toured the nearby vineyards on the open-air Lavaux Express train, stopping halfway for a taste of the delicious local wine these man-made terraces produce. A Unesco World Heritage Site, Lavaux can be traced back to the 11th century, when Benedictine and Cistercian monasteries controlled the area.
The next day we visited Fondation de l'Hermitage which shows temporary exhibitions of paintings and sculptures created from 1850 to 1920, focusing on impressionism and French art. The works are seen in the preserved atmosphere of a 19th century home. Lunch was delicious in the next door L'Esquisse restaurant.
Lausanne Tourisme had organised a guided tour for us, including a visit to the old city, the beautiful 13th century Gothic Cathedral, and the city hall dating back to the 16th century. This was a great way of learning some fascinating facts about the city, as well as discovering the best designer shops and cafes.
Our short break came to an end too soon, but I managed to grab an exquisite souvenir from a shop across the road from our hotel. Back home in Aberdeen we are reminded on the hour, every hour, of this chic little city in Switzerland.
---
WHERE TO STAY
Château d'Ouchy – Landri de Durnes, Bishop of Lausanne, had the tower of the current Château built in 1170. A century later, the work was reconstructed, then converted into a walled residence for the bishops. Now a beautiful hotel, this treasure trove contains just 50 rooms of outstanding character. The bar's refined design plays on contrasting fine materials and creates the ideal setting for you to enjoy a cocktail or two, while the creative dishes of Chef Edgard Bovier are offered in the nautical setting of the popular restaurant and its terrace. Set under trees, the outdoor pool is ideal for a cool down before going to relax in the spa. In front of the hotel is a clock counting down the days to Rio 2016.
A Superior Room at Château d'Ouchy starts from Chf 330 for two people sharing.
Place du Port 2 1006 Lausanne. Tel. +41/21 331 32 32 info@chateaudouchy.ch or visit www.chateaudouchy.ch
The sister hotel is where the current IOC chairman resides as his permanent home; it is a wonderful belle epoque grand dame in the best possible taste.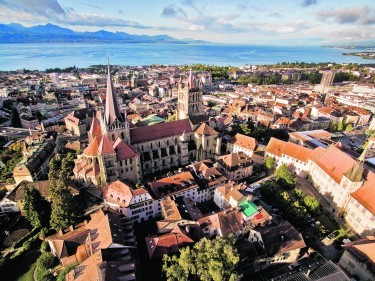 ---
WHERE TO EAT
Across the road from our hotel, Le Pirate is a laid-back brasserie with a road-side terrace serving seasonal/local specialities from their comprehensive menu. Part of Hotel Aulac, it has great service and views. Le Pirate, Place de la Navigation 4, 1006 Lausanne. Tel : +41 21 613 15 00 / www.aulac.ch
Very trendy Brasserie de Montbenon offers alluring a la carte menus with loads of fresh, local produce. The views from the terrace are wonderful. The website says "the meats are all from Switzerland except the duck. He is French." www.brasseriedemontbenon.ch
Café du Grütli is situated across from the town hall on a steep hill; you can sit outside and watch local life pass by while enjoying the lovely cuisine prepared by the affable Austrian owner and his family, who came to Lausanne decades previous and never left. www.cafedugruetli.ch
Chalet des Enfants is a little out of town but worth a visit if you have a hire car. Typical Swiss dishes (excellent white wine fondue) and beautiful walks nearby to work them off. www.chaletdesenfants.ch
Café de Grancy is a popular spot with locals and in days of old often populated by now famous artists. Not much English is spoken but food is very good. www.cafedegrancy.ch
---
GETTING ABOUT
A Lausanne Transport Card gives free use of all public transport to every visitor staying in a hotel in Lausanne and offers substantial discounts on the boat crossing between Lausanne-Ouchy and Evian, souvenirs and the admission price to various municipal and private museums. www.lausanne-tourisme.ch/lausanne-transport-card
Swiss Travel System represents trains, buses and boats throughout Switzerland. www.swisstravelsystem.com
Excursion in the vineyards with the Lavaux Express www.lavauxexpress.ch/en/
---
HOW TO GET THERE
EasyJet flies to Geneva from Edinburgh, and over the winter months from Aberdeen.
---
WHAT TO DO
Lausanne is the perfect place for a culturally-rich city break at any time of year. This autumn is no exception, bringing with it a variety of cultural events, expressionist exhibitions and authentic experiences. Highlights include:
Gourmet summer food festival – running until September 30 is Switzerland's largest foodie event, Lausanne à Table. This gastronomic festival showcases all-things-foodie, celebrating local talent and inspiring passion. Lausanne à Table honours carefully selected local produce, local dining establishments and creative flair within the Lausanne area. www.lausanneatable.ch/event-food-list/
Underground Film & Music Festival – A popular event in Lausanne and surrounding areas – for the past 13 years, this quirky underground festival offers nothing but original, off-the-wall line-ups. Fusing music and film through innovative one-off creations, Switzerland will host a wide range of avant-garde artists October 14 to 18. www.luff.ch
October 25: Lausanne Marathon – this annual marathon along the shores of Lake Geneva is the perfect challenge – and a fantastic opportunity to get involved in one of the city's famous sporting activities. www.fr.lausanne-marathon.com
Collection de l'Art Brut – Hosting self-taught creator Guy Brunet, this exciting exhibition – open until October 4 – will demonstrate one individuals wide range of artistic talent from drawings and paintings, storytelling and screenplays to three-dimensional design and film production. Come along, get involved and unleash your own creative side. www.artbrut.ch
La Nuit des Musées – for 15 years this evening has been a recognised as a major event in both Lausanne and Pully. Attracting 15,000 people – from near and far – this cultural affair celebrates the region's museums and will re-open today. Don't miss out on the chance to become a part of Switzerland's artistic history. www.lanuitdesmusees.ch
Fête des Vandages de Lutry – possibly the only festival which sets its own dates, this harvest spectacular falls on a weekend which is dictated entirely by local produce; the grapes and their ripeness. Bringing together a near 20,000 people to feast on some of the finest food and drink – the festival includes a procession of nearly 600 children – of which this year's theme is 'join the dance'.
With all of this going on – and much, much more – two days is not enough, so why not take advantage of Lausanne's 'three nights for the price of two' offer. Available at a selection of luxurious hotels throughout the city http://www.lausanne-tourisme.ch/en/hebergement/offres-speciales-forfaits/3-pour-2.html
For more information, please visit www.lausanne-tourisme.ch