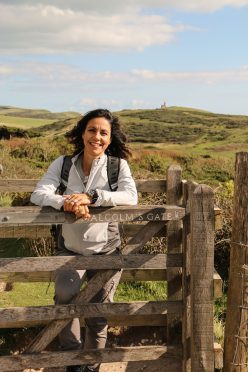 Former Countryfile presenter Julia Bradbury is back with a new show exploring the best walks with a view in Britain. She tells Ella Walker about skinny dippers, her love for the great outdoors and how life has changed since she gave birth to her twin daughters last year
Walking is a very personal thing for Julia Bradbury.
Best known for presenting Watchdog and Countryfile alongside Matt Baker, she's been venturing into the great outdoors since she could toddle, and her new series, Best Walks With A View, features eight picturesque walks across the British countryside, starting in Dorset and finishing up in the Peak District ("They've all got a good pub involved as well").
The Peak District ramble is the Derbyshire lass' favourite. "It's where I started walking with my dad as a little girl," she explains. "I went to school in Sheffield and my dad started taking me for walks in the Peak District when I was about six years old, and in this particular walk in the series, I meet up with my dad again, who has actually been on-screen with me a couple of times (Railway Walks, Countryfile), and he tells me all about the Peak District and our early walking days together, and it's just a very lovely, personal walk. And it also happens to be a fantastic walk because the Peak District is just one of the most wonderful places to walk in this country."
On previous walking series, aside from her dad, she and the crew have encountered a number of skinny dippers, but not this time – apologies.
"No skinny dippers! I'm quite sad about that," says Bradbury with a chuckle.
"I had a very lovely moment at the top of Kinder Scout though," she adds. "Kinder Scout, if you're a walker, is a bit of a Mecca because it was the beginning of walking when we were all allowed to roam free, and I met a guy up there. He was a very tall fellow, and I came down, and he went: 'It's you – it's Julia Bradbury! I can't believe I've seen you on a walk' – bless him, he was absolutely star struck.
"It was really sweet."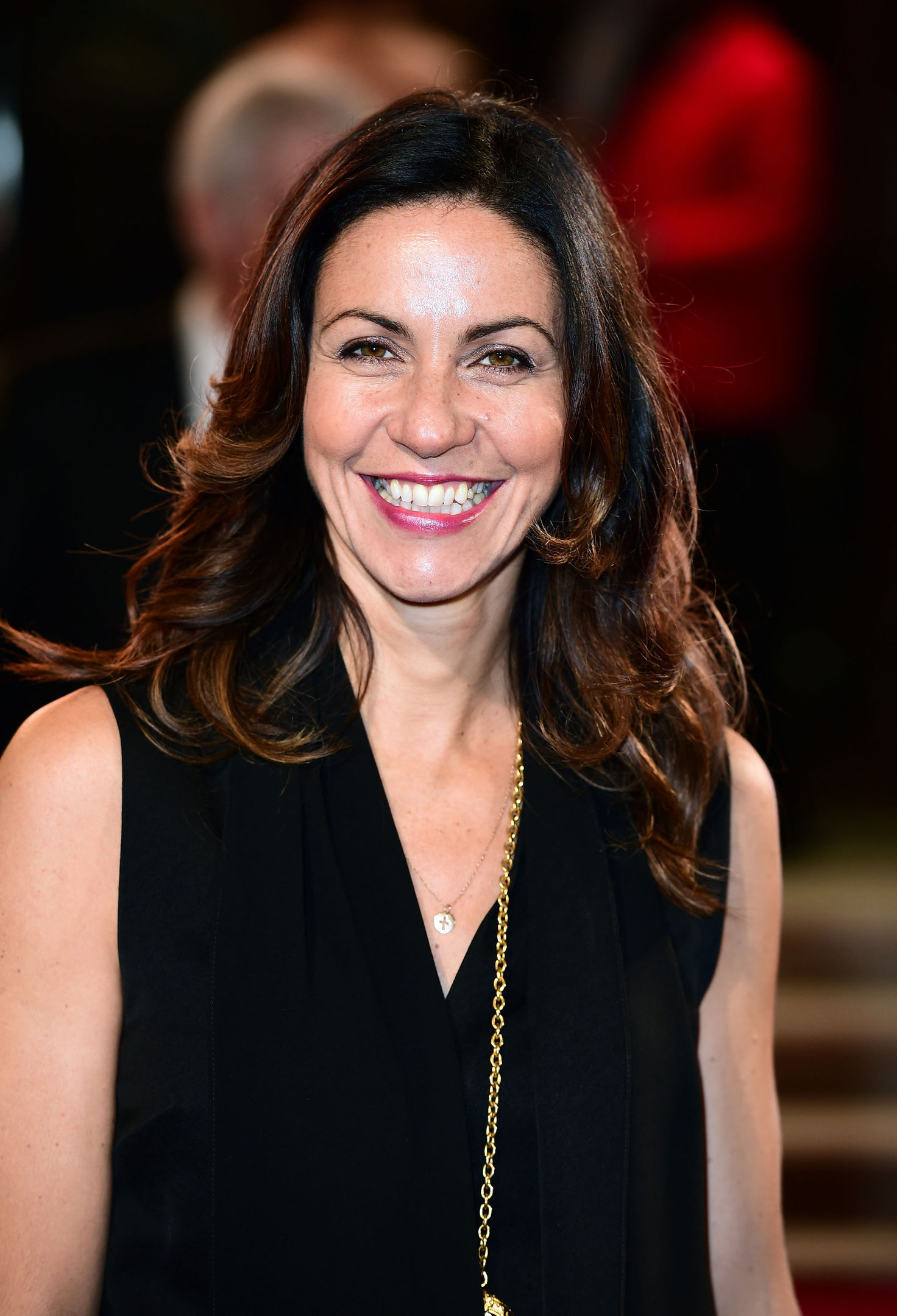 The 45-year-old, who left school after her O-levels at 16, is as obsessed with walking at home as on the telly – her house is littered with pedometers. "I try and make 5,000 steps a day," she says, and also trains at home using TRX bands. "I don't really like the gym; I prefer to do it myself."
However, she's also clocked up a huge amount of effort on the more extreme end of the exercise spectrum. "The toughest thing that I've done physically, in terms of pulling myself together and really having to focus and learn something new and do it, was learning to rock climb," she says, recalling BBC documentary, Ultimate Rock Climb, for which she climbed the Old Man Of Stoer, a craggy sea stack in Scotland that juts out of the ocean.
"It looks like a tall Lego tower or a Jenga tower that's about to fall down, and I had never rock climbed before…"
Over several months Bradbury was taught to climb from scratch, with the challenge of Stoer glinting on the horizon ("My final bit of the jigsaw puzzle").
"It would be regarded as the kind of climb only a very experienced rock climber would do after years and years, and that's what I had to do after 12 weeks!" she says, still amazed she braved it. "I was petrified throughout the whole thing, it took seven hours because it's a big climb, and you're faced with exposure and you can hear the sea crashing down beneath you, there are birds flying around you as well, so it's a proper full-on experience."
But of course, she made it to the top. "That was a moment; the most physically exhausting and emotionally exhausting thing that I had to get through."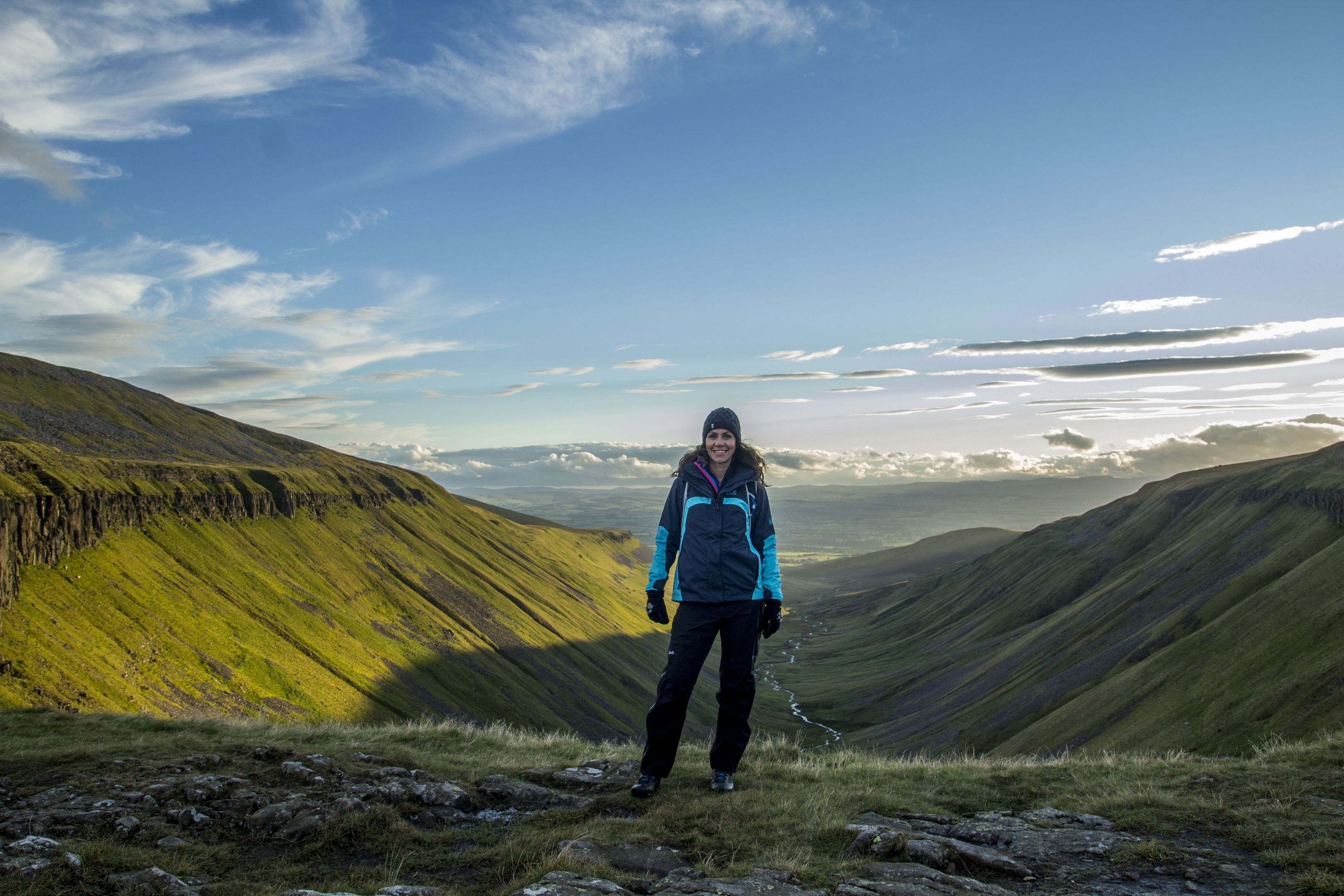 Does she ever just veg out with a takeaway? "I slob out all the time! I don't want people to think I don't!" she shouts. "I like slobbing out on the sofa just watching Grey's Anatomy and The Affair."
She spends quite a bit of time on Twitter too – Bradbury was recently chatting about the £SmearForSmear campaign which hopes to raise awareness of how important it is that women attend cervical cancer screenings.
"I was in the car and I was heading to an appointment – it's not something I've been involved in personally, it was me being a listener to Radio 4. One of the experts said that the cervix is 'a very busy place'; I thought, what a great way to put it," she explains. "The whole cervical smear campaign is quite a complex situation and I'm all for being open and discussing female issues as much as possible, because if you don't, then that's when things can go wrong."
Bradbury has suffered her own "issues" and has been open about her struggles with womb tissue condition, endometriosis, as well as the 33-hour labour and early onset pre-eclampsia she experienced before giving birth to her "miracle" son Zephyrus in 2011, when she was 40.
Last year she and her property developer husband Gerard Cunningham also welcomed twin girls – Xanthe and Zena – following a round of IVF.
"They're still a little bit small, but I can't wait!" buzzes Bradbury, looking forward to when they'll all be big enough to go on long family walks together. "My eldest is only four and a half and walking him to school and walking to the park is a bit of a challenge at the moment, but you know, I'm working him up to it, and my lovely girls are still only 10 months old – although one of them has just started climbing the stairs, so I have high hopes for her! She's quite ahead of the game."
Bradbury adds with a laugh: "Zeph was up at the top of Malham Cove in Yorkshire when we was three months old and he did a poop – I've got a great photo – but the girls, they've made it to the park so far."
How is Zeph getting on with his two new siblings so far?
"They are getting on very, very well, they adore him," she says happily. "Every time he walks into their room, their eyes are stuck to him and they look at him adoringly. He's slightly more suspicious of them!"
Between the three of them, the new show and the accompanying book, Unforgettable Walks, Bradbury's busier than ever.
"I gave myself six months off, did this project and I've got a couple of months off before the next project," she says. "I've been so busy that now I'm going to enjoy the girls a little bit."
:: Unforgettable Walks by Julia Bradbury is published by Quercus, priced £16.99. Available February 18
:: Best Walks With A View will air on ITV on Friday, February 19 at 8pm