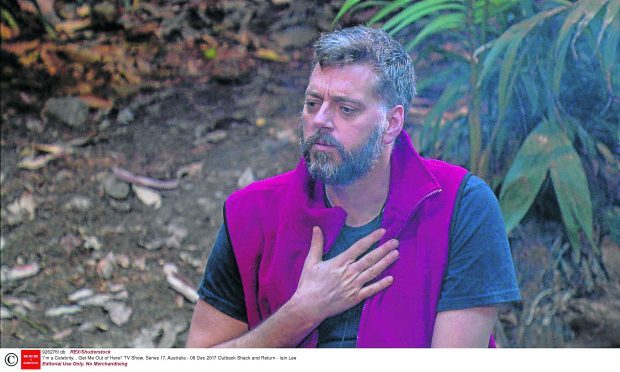 The sister of a reality TV star yesterday slammed social media users for criticising her older brother amid concerns over his mental health.
Aberdeen bar supervisor Frances Rougvie has defended her sibling Iain Lee, the comedian and broadcaster currently camping out in the Australian jungle as a contestant in this year's edition of I'm A Celebrity, Get Me Out Of Here.
Mr Lee, a former presenter of Channel 4's the 11 O'Clock Show and current TalkRAdio host, has attracted criticism from columnists and online commentators for wearing his emotions on his sleeve, and having difficulty with Bushtucker trials – special challenges which task celebrities with digging through fish guts and drinking animal offal for prizes.
Show insiders have revealed that producers have specialist staff such as psychologists on standby due to fears he could be struggling to cope with life in the jungle.
Ms Rougvie, 24, took to Facebook to urge others to respect his personal issues.
In her post, she explained that as a celebrity taking part in a reality television show, she feels her brother has been under too much scrutiny, and appealed for viewers of I'm A Celebrity, Get Me Out Of Here to be more supportive.
She explained many comments on the internet had been "over the line".
She said: "Anyone close to me will know my family situation and they will also know that Iain Lee, currently in I'm a Celebrity on television, is my oldest brother.
"Irrespective of whether he is my relative or not, some of the comments made have been pretty over the line.
"Nobody knows the battles anybody faces, and being cruel about anyone, mental health issues or not, is not a way to live.
"In the difficult world we live in, we should all be supporting each other and working hard to spread love.
"That said, there have been many people that have commented upon the positive reaction Iain has had since going into the jungle.
"Bringing a dialogue about mental health into the public eye cannot possibly be a bad thing.
"So many of us have our own demons.
"Battling them in the public eye is admirable.
"Nobody knows Iain's backstory, nor does anybody need to.
"All we should do is focus on being kind."