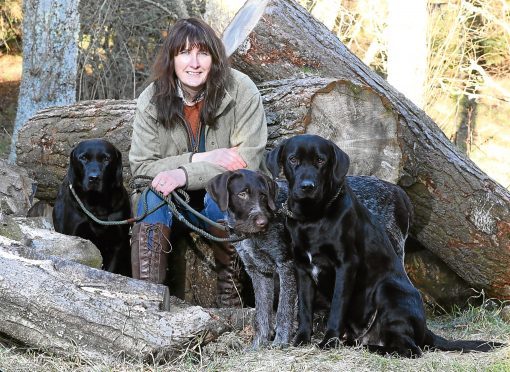 The Scottish Highlands is renowned for its natural beauty, indeed the image of a stag stood amid the heather is almost iconic.
But while we may marvel at the wilderness, few people appreciate or understand the reality of rural life on Scotland's country estates.
From changes in land management to diversification, not to mention the many challenges represented by modern life, what really happens high up on the moorlands, and what does the future hold for practices steeped in tradition?
Beating, shooting and predator control is probably happening only a few miles from your front door.
But for those unfamiliar with the ways of the countryside, it can seem an alien and even barbaric way of earning a living.
As thousands of people head to work in Inverness with coffee and laptop in hand, Jenny McCallum pulls on her boots and heads for the hills.
Her office is a beautiful hamlet of Errogie, south of Loch Ness.
She heads up Loch Ness Rural Communities and Tomatin Moorland Group, representing 20 estates in the surrounding area.
Jenny became involved in promoting information about estate sports, thus enabling people to see the "bigger picture" of country life following the launch of the Gift of Grouse campaign.
The campaign aims to give the general public a better understanding of grouse shooting and its place in the rural landscape and economy.
Jenny believes that since its conception two years ago, it is slowly and surely making an impact.
Many "ordinary" people go grouse shooting or take part through beating and picking up with their dogs.
Builders, plumbers and even an ex-banker have become involved through Gift of Grouse.
But Jenny believes there is still plenty of work to be done.
Her aim for the year ahead is to get game served up on dinner plates in Inverness.
She believes dozens of restaurants in the Highland capital are woefully inadequate in putting what is essentially ingredients from nature's larder on the menu.
She is also hoping to educate people about practices such as fox hunting, and wants to shake off the perception of "rich toffs on horses" for good.
Jenny only started shooting five years ago and believes anyone can become involved.
"A lot of what you would call average working people go shooting," she said.
"I think there is this perception that shooting is an elitist sport, and estate life is only for the rich.
"It becomes far easier to decry it if you see it that way.
"It's easier to attack if you see shooting as an entitlement of the upper class.
"There is a complete misconception as to who actually shoots, and why they do it.
"Estates in the Loch Ness area alone are significant employers for the local economy, contributing £1.2million in wages every year.
Many of those employed have young families and spouses or partners also working in the local area.
Jenny believes it is their vitality which can keep a rural community alive.
But for those living only a few miles away in Inverness, life in the country can be a mystery.
"It might be hard to believe, but there are youngsters living in Inverness who have only ever walked on a pavement," said Jenny.
"I nearly fell off my seat when I was first told that.
"That's what we're up against; people not going beyond the limits of the city.
"They don't understand what is involved in the management of countryside at all.
"That's something I want to change."
Some of the people Jenny shoots with are in their seventies and have been involved with the sport for decades; others are new to the game.
They all have one thing in common though: a love of the great outdoors and the friendship which activities such as grouse shooting naturally offer.
"There is a huge social aspect to shooting which is important to many, especially those who have retired," said Jenny.
"Stomping about the hills, you get chatting and it's a brilliant way to keep fit.
"With the use of social media, more people are becoming aware.
"People are getting involved now who perhaps wouldn't have before.
"It may be deemed old fashioned, but everyone involved in a shoot day is courteous, well mannered and immaculately turned out. It's nice to see young people like that in today's society.
As well as reaching out to others, Jenny has the restaurants of Inverness firmly in her sights.
"It's a strange story, but this is honestly how it happened," she said.
"You can go to London for the day from Inverness which is fantastic.
"I found myself having lunch in Islington, and game was on the menu.
"Game includes anything hunted for food such as grouse, venison, pheasant, partridge, rabbit, hare, duck or goose.
"The game on the menu in Trullo that Sunday was all sourced from Dunmaglass Estate," said Jenny.
"My dogs could have picked up the grouse the week before on a hill nearly 600 miles away, it was slightly surreal.
"I doubt I could go to Inverness and do the same thing.
"There is very little game on the Highland menu, which is madness.
"We need to see what we can do to encourage better promotion of this resource on our doorstep that is tasty and healthy"
Perhaps Jenny's biggest bugbear is the misconception surrounding predator control, which estates undertake on a regular basis.
With lambing season fast approaching, many land owners will be on the lookout for rogue foxes.
Unlike vixens who will take a lamb to feed their young, a rogue fox will kill purely for sheer pleasure.
Farmers can be greeted with gruesome scenes, whereby lambs have been ripped limb by limb and simply abandoned.
With lambs fetching on average £80 each, it's an expensive scenario to fall victim to.
"Predator control is a natural part of estate life," said Jenny.
"A rogue fox will eat one lamb and kill six more, just for fun.
"Fox hunting has this image of toffs in red coats and it isn't like that at all.
"We don't have a mounted hunt, we have a foot pack of hounds and they cover the whole area.
"Their job is to flush the fox out, it will then run towards a line of keepers who will shoot it.
"This is a quick, painless and necessary death.
"I often hear the remark that country folk need to do something a little less bloodthirsty.
"We don't chase the fox around and it's not OK to have a rogue fox ripping the head off a lamb.
"People filter out what they don't want to hear, they're blinkered."
Jenny is part of a wide group of female shooters and women have become increasingly prevalent in the sport in recent years.
Their involvement can be traced back to the Victorian period, and even the Queen is well known for her love of deer stalking when visiting Balmoral.
Tim Baynes, from the Gift of Grouse Campaign, is currently trying to encourage more women to take up the sport.
He believes the remote nature of estate sports means geography alone can produce an "us and them" attitude to estate life.
"A lot of grouse shooting naturally happens on remote hilltops," he said.
"This means people have no idea that it's even happening so they can't understand what shooting is all about."
Gift of Grouse was set up by the Scottish Moorland Group in 2015.
The group represents all land owners in Scotland – and the campaign promotes what Tim believes is a unique bird.
"We want to get people thinking about grouse from all angles and improve the accessibility of grouse shooting," said Tim.
"It's not just something that a few rich people do occasionally.
"There is no doubt that shooting is an expensive sport but you don't have to go for big days out to enjoy it"
The shooting season starts on August 12 and finishes on December 10, with the best period considered to be from late summer to early autumn.
As well as an ongoing effort to control foxes and crows, those who work on estates will also burn the heather over winter in preparation for the next season.
By late autumn it is increasingly difficult to shoot due to weather conditions, but Tim believes the challenge is all part of the fun.
"You can have absolutely glorious weather or it can be gruelling, you just don't know," he said.
"Getting out on the hills is a major thrill of shooting but it is also the tradition it represents.
"The land doesn't change and there's something wonderful about that.
"You still have the ponies bringing the deer down, but there is a new generation of keepers who can be found wearing camouflage rather than tweed.
"Chances are, they'll be on a quad bike."
In recent years, game keeping courses have become increasingly popular for those who didn't necessarily grow up on an estate.
"I think in some ways, young keepers are the most keen because estate life is their future," said Tim.
"They use social media and are therefore reaching out to a far wider audience.
"That can only be a good thing for a way of life which is changing rapidly."