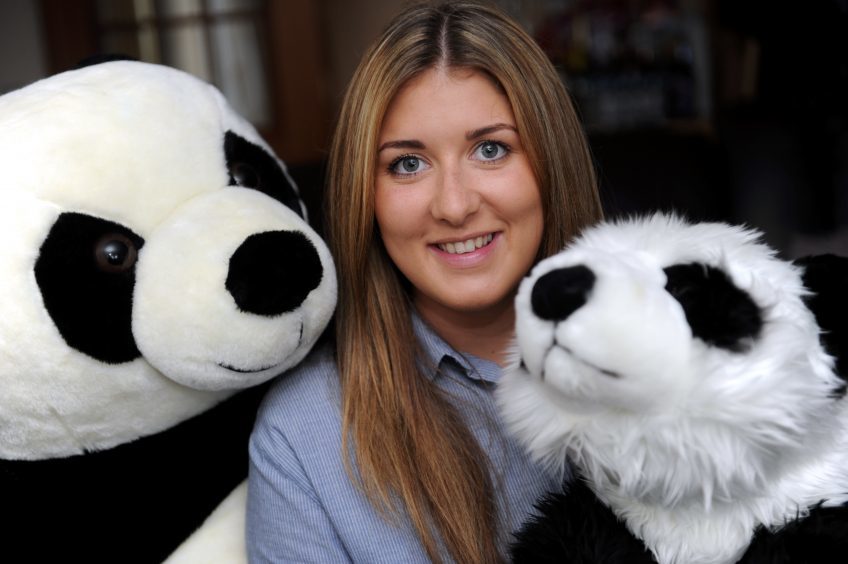 A Moray animal enthusiast will embark on the trip of a lifetime as she jets off to China to help breed pandas.
Chelsea Riddoch, from Newmill, is preparing to take a break from her job at a Dufftown engineering plant to spend three weeks at a conservation centre in the Bifeng Valley area.
The 20-year-old is devoted to her three Lhasa Apso dogs – named Missy, Lucky and TJ – but at the end of the month she will swap them for the altogether more exotic creatures.
She has been learning basic Chinese for the past few weeks, in anticipation of her arrival.
Miss Riddoch will travel abroad by herself for the first time when she sets off on Friday, September 30.
The apprentice mechanical engineer at Diageo's Glendullan Engineering Centre said she decided to do some voluntary work while she was still young.
And while searching online, she happened upon the volunteer scheme that would take her to the far east to help preserve the world's panda population.
Miss Riddoch said: "I really like pandas, and I know that a lot of people are doing everything they can to bring their numbers up.
"I knew I would love spending time with them, and helping out while doing that.
"It's a breeding centre, so there will be rooms with cubs and I will be able to play with them and help the scientists carry out their research."
Miss Riddoch said the centre's giant pandas are kept in cages, but that her responsibilities will include cleaning those enclosures and ensuring that they are safely fed.
She added: "My family are nervous because I've never been travelling by myself before, but we are all excited for it too."
Though she has managed to cover most of the £2,000 cost of the trip from her savings, Miss Riddoch is staging a coffee morning at Newmill Village Hall on Saturday from 10am to noon to boost her funds.
The former Keith Grammar School pupil added: "If I can raise just a little bit towards the total that would be great."
Earlier this week, wildlife fans celebrated the announcement that giant pandas are no longer an endangered species, following a population rebound in China.