George Smith, 81, was brought up in Aberdeenshire. He lived and worked on many farms in the area in his youth. This is the second part of a letter he wrote about the places where he lived in his younger days.
After a couple of years we moved to another farm called Tillycorthy, and from there we went to a school called Cultercullen. I remember we used slate boards at school. They were quite handy if you made a mistake as you just wiped it clean and started again.
Those days most boys wore boots to school. When they were getting a bit worn, our father used to buy a piece of leather and mend them for us. This was to save the cost of a shoemaker.

When I needed a haircut my father used his own clippers. He used to put one big hand on top of my head and clip with the other. What he didn't clip, he pulled. I was always glad when he finished.
My father always kept a few hens, so we were okay for eggs. My older brother and I had our jobs to do, such as cut the kindling for the fire in the morning and take in a pail of coal, as well as doing our homework.
In the cotter houses there was a room with a box bed and on it we had a large eiderdown. My father would open one end of it and fill it with chaff after the thrashing mill had been. It was like lying on top of a cliff, for a while until the chaff settled down, but it was nice and soft to lie on.
After a few months we were on the move again, to a farm near Inverurie, called Kiltswells, beside Rothienorman. From there we went to a school at Fisherford and it was another good distance to walk. We lived in one half of a farm house and the grieve lived in the other half.
The farmer there employed a few German and Italian prisoners of war. They lived in the bothy and worked on the harvest and the tattie gathering. They were quite nice men and a couple of my mates would go over to the bothy at night to see them. They would tell us some stories and show us pictures of their families back home.
In the harvest time the farmer would hire a couple of lorries from a firm called Marshall, in Inverurie. They would cart the stocks from the field to the farmyard to be built into stacks.
At the weekends we would get a lift in the cab from the driver. It was good fun then. We would get a few weeks off school, to help with the tattie lifting. We were paid eight shillings a day, with a tea break mid afternoon. We had to give our wages to our mothers so as to help.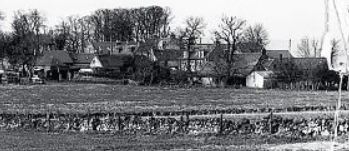 The men didn't get many holidays on the farms in those days. We usually got a new shirt and a pair of sandals, then off for a visit to granny for a couple of days.
We were on the move again, but only a few miles away. The farm was called the Mains of Williamson and this time my father was employed as the cattleman. We were only a few miles from Insch.
At the weekends we would have to help my father with the feeding and sorting of the cattle. There were quite a lot of calves running about in the mens and we used to have some fun with the older ones. We would climb on their backs and race around the pens. It was fun, so long as father didn't catch on to us.
We went to a school called Culsalmond, which was another few miles to walk to. I never understood why my father always got a job so far from the school. I don't think he bothered, so long as the job and the wages were alright.
The teacher at this school was a very strict man. He would walk around the classroom with the strap rolled up into his pocket. Other times it would be in his desk, so if we did anything wrong he would tell us to fetch it and we would get a few belts from it.
On a Friday, just as school was getting out, there would be a baker with a horse and cart going around the houses. I would sometimes get a lift home on the top of it. The baker was named Mennie and he came from Premnay, near Insch.
We moved to another farm, called Lumquart, which was near a village called Daviot. This time my father was a horseman. From there we went to Daviot school. I remember there was a bakers right on the corner on the way to school. We could get a big bag of broken biscuits for a few coppers.
My second oldest brother left school and got a job with a travelling mill and baler. We moved again, this time to a farm called South Leylodge, which was a few miles from Kintore. Again my father was employed as a horseman. My sister and I went to Kintore school, which was another good three miles to walk.
There was this one chap at my school, who was in my sister's class. Well, the next time I saw him was on a troopship coming back from Korea. We stopped in Hong Kong and he came aboard there. He was in the military police and he had been stationed there for a couple of years. He recognised me, so we had a good blether.
During the next few years I got another two brothers and two sisters, so there was quite a family of us again. We moved to a farm near Stonehaven, and I could hardly believe what I was seeing. The playground was joined to our garden.
But that didn't last long, as I was getting bigger and had to go to school in Stonehaven.
The farmer there used to like a drink. He would take the bus to the village every few days or so. He always came back about the same time. The boy next door and I would go down to meet him off the bus and saw that he got home okay.
He would give us any loose change that he had in his pockets. He would always have two or three bottles of beer left but would never take them into the house.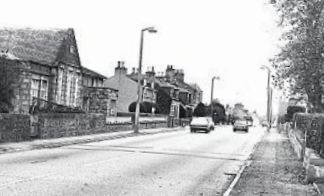 Instead, he would hide them around the farm for the next day. My friend and I would watch where he hid them, and then we would tell the men on the farm. They would then drink them and leave the empty bottles. They would have a laugh when they saw their boss looking for his bottles of beer.
After being there for quite a while we moved to a big farm near Laurencekirk. In fact, the farmer had three farms all beside each other. The one we moved into was called Mains of Kair. My father drove a caterpillar tractor there. We were quite near a village called Fordoun.
That same year we had a really bad winter and the roads were blocked for quite a while. My father used to take the tractor and a sledge and go cross country to the village for the workers' wives' messages.
The railway from Aberdeen going south wasn't too far from our house. It was on a bit of a slope, so some of the coal for the engine would fall off and sometimes my father and I could fill a couple of sacks with them. My father would then cart them home on a Monday night.
To be continued…..
Why not share your memories with the YL readers? Contact Natasha on 01224 343382, send her a message at natasha.mckim@ajl.co.uk or write to YL magazine, Lang Stracht, Aberdeen, AB15 6DF