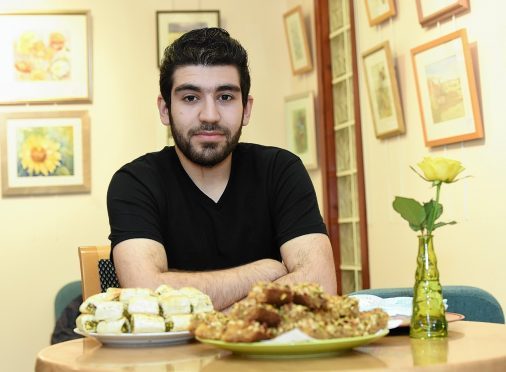 In a church hall in Inverurie something extraordinary is taking place, as both the old and young come together over coffee and traditional Arabic food.
The tables are stacked with plates of sweet treats and children race around, their faces flushed with excitement.
But they could have faced a very different future having fled from war-torn Syria almost a year ago.
Their home cities of Damascus, Aleppo and Homs are thousands of miles away from the Aberdeenshire town of Inverurie, where they had no choice but to make a new life in just the clothes they stood up in.
There are 70 refugees living in Inverurie, Westhill and Kintore, and they are determined to give something back to the communities who have helped them.
A group called Amal which fittingly translates as Hope is doing just that, and it has built a bridge between people who have lived in Inverurie for decades and refugees who have recently resettled there.
Founded by 21-year-old Muhammad Dured, the group plans to host coffee mornings and other events in the hope of bringing people together, especially over the winter months.
This will be Muhammad's first Christmas in Aberdeen with his four siblings, and in broken English he explained why Amal has come to mean so much to him.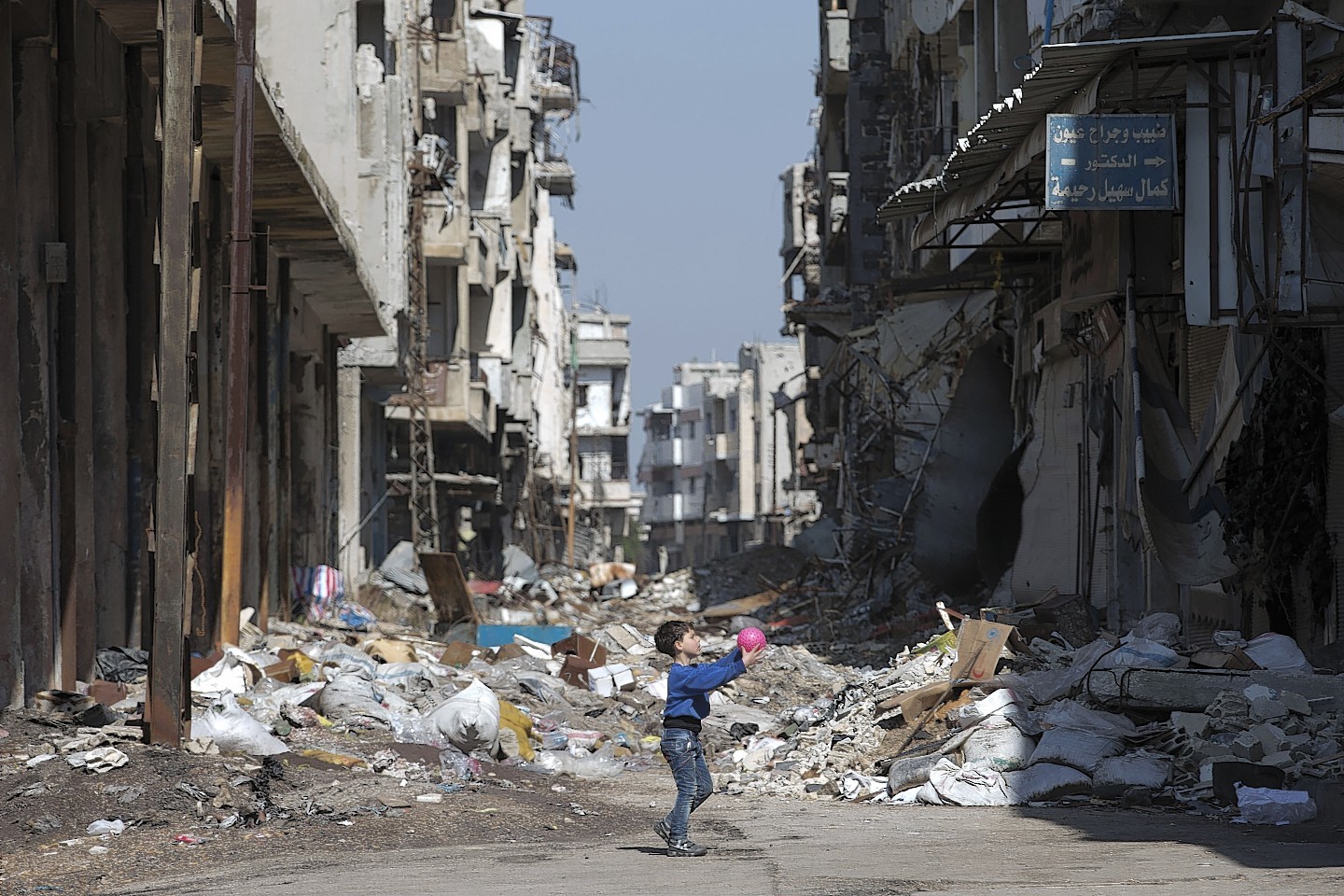 He was previously a student living in Homs and the beautiful city has changed beyond all recognition after four years of war.
It is the third largest city in Syria and yet nearly every building has been destroyed.
It was previously known as the capital of the revolution and thrived with busy markets and businesses.
Muhammad is dressed just like any other young man, and smiles at his perhaps foolhardy decision to wear a short sleeved T-shirt during a Scottish winter.
He carefully considers each word and listens intently, clearly eager to understand despite the fact that English is his second language.
"I was 16 when it all changed. I don't know the words to explain what life was like before the war," he said.
"I'm the second oldest in my family. I was just a normal student in Homs.
"I went to school except on Friday and Saturday because those are Holy days and I played football.
"My life, it was everything."
Such a simple sentiment is enough to express the sheer bewilderment Muhammad must have felt after watching his favourite childhood haunts turn to rubble.
He falls silent when asked about his time spent living in a city under siege and his expressive brown eyes fill with tears.
"I cannot begin to say what it was like, but here I feel safe," he said.
"It was very dangerous there, I don't know what happened to my home or the people we left behind there."
Muhammad will never forget his home country but one thing is remarkably clear. He wants to move forward in his new life.
He is learning English and is desperate to work.
Amal has become a way of channelling his optimism for the future.
"The community has been so kind and so helpful, we were made to feel welcome here," he said.
"It's much colder here, I'm still getting used to that.
"We want to do something good, we want to do more days like this."
The gathering is loud and cheerful, with the men dishing out food while women run a mini market.
Muhammad's brother, Abdul, who is 17, is on duty at the door to greet people.
It is a chance for him to practice his fledgling English which he has been learning at Inverurie Academy.
He was only 13 when war broke out, and does not want to talk about his previous life.
"I've started going swimming here and I play football with my friends, I'm happy," he said.
"Life is good – different but good."
For local adviser Elizabeth Barrow, Amal demonstrates how far people like Muhammad and Abdul have come, and how integral they are becoming to the community of Inverurie.
"They chose the name Amal. It says it all really and the families have done incredibly well," she said.
"Many of the people arrived and kept a low profile, they don't mention Syria much and we don't push them.
"These are people who used to be supermarket owners, tailors, they had jobs and lives.
"There was once a time when Christians and Muslims co-existed peacefully in Syria and we want to try and recreate that in our Inverurie community.
"We run a Friday call to prayer, and it's lovely to see everything that has been achieved so far.
"I can't emphasise enough how keen they all are to get jobs, so if anyone wants to take on an apprentice or thinks they can help, I would urge them to come forward."
Syrian housing officer Liz Percival has been responsible for ensuring the new members of the community have a roof over their head, and has witnessed the many challenges they have faced first-hand.
"We don't like to refer to them as refugees, but as new Syrian Scots," she said.
"We cannot begin to imagine what they have been through, they are inspirational.
"The language barrier has been the main problem but they have been determined to learn English.
"Our aim was to help people live completely independently. Many of them are now able to book their own doctor's appointments and are getting by with less and less help."
To start a new life with little grasp of the language is inconceivable to those of us who have lived in complete security, but for refugees it is the price they must pay for safety.
A strategy set up by the Scottish government hopes to see refugees not just settled, but integrated into their new community.
Employment, welfare, housing, education and health are all covered as part of an action plan which stretches into next year.
The Highlands has also done its bit to rehome refugees, and Highland Council pledged to rehome 30 families over the course of 2016.
Residents were asked to come forward with offers of accommodation, and a social media group called The Highlands Support Refugees has more than 2,000 members.
Councillor Richard Laird, of Inverness, said the Highlands will continue to give support where needed.
"I understand the resettlement has gone well," he said.
"The Highland community has welcomed our newest members with open arms and should we need to, we are ready to welcome some more."
Refugees have even been re-housed on the island of Bute which is accessible only by ferry.
Roughly 15 families were made to feel welcome by the 6,500 strong population, and refugees recently held a thank you dinner for the community.
Scotland welcomed its 1,000th Syrian refugee in September, and has roughly taken a third of the total number of Syrian refugees who have come to the UK since last October.
The UK government has committed to resettle 20,000 people from refugee camps on the Syrian border in the next five years, while First Minister Nicola Sturgeon has previously said that Scotland should accept 1,000 refugees "as a starting point for a meaningful discussion".
What began as a peaceful uprising against Syria's President Bashar al-Assad is now a full-scale civil war that has left more than 250,000 people dead, devastated the country and drawn in global powers.
Syrians previously complained about high unemployment, widespread corruption, and state repression under President's Bashar al-Assad's regime.
Violence rapidly escalated following demonstrations in March, 2011. The country descended into civil war with rebel brigades formed to battle government forces for control of the country.
The UN says 250,000 people have been killed in the past five years. However, the organisation stopped updating its figures in August 2015.
More than 4.8million people have fled Syria, most of them women and children.
Neighbouring Lebanon, Jordan and Turkey have struggled to cope with one of the largest refugee exoduses in recent history.
Aleppo is a key battleground where tens of thousands of people are suffering serious food and fuel shortages.
Basic infrastructure and healthcare has been obliterated and, at one point in November, all hospitals in eastern Aleppo were virtually out of action as a result of air strikes.
More than 300 civilians, including dozens of children, have been killed in east Aleppo since last month.
The Sheikh Saeed borders are the last remaining sections of Aleppo still in rebel hands as thousands seek refuge from intense fighting.