When you think of the hottest, most cutting-edge tech, your mind might not immediately jump to Polaroid cameras.
However, the heritage company is hoping to change all this with the Polaroid
Pop.
Their newest camera was debuted at the Las Vegas technology trade show CES 2017, marking the company's 80th birthday.
The Polaroid Pop is an instant digital camera which prints off your snaps
automatically – great news for the impatient among us (which, let's face it, is
all of us). So far, so classic – but it's much snazzier than the original
camera. It's also digital, meaning it has a 3.97-inch touchscreen LCD for
framing shots and scrolling through the camera's menu.
The camera itself is pretty great quality at 20-megapixels, but perhaps the best thing is that your shots aren't lost as soon as you've printed them out.
Instead, all your snaps and videos are stored automatically on a micro SD card.
Pictures are printed in the classic 3×4″ format in under a minute, using the
ink-free ZINK Zero Ink Printing technology the company has developed. This means that it's water, smudge and tear-resistant (good news, because we don't know about you but this is how many of our childhood snaps met their demise).
There's an adhesive back which means it can also be made into a sticker, because who doesn't love stickers?
President and CEO of Polaroid Scott W Hardy says: "Perfectly blending nostalgia with modern design and functionality, the Polaroid Pop embodies the brand's 80-year history."
And don't worry: it's easy to take selfies on this camera. They really have made it 2017-appropriate, haven't they?
Polaroid Pop will hit the shelves towards the end of 2017.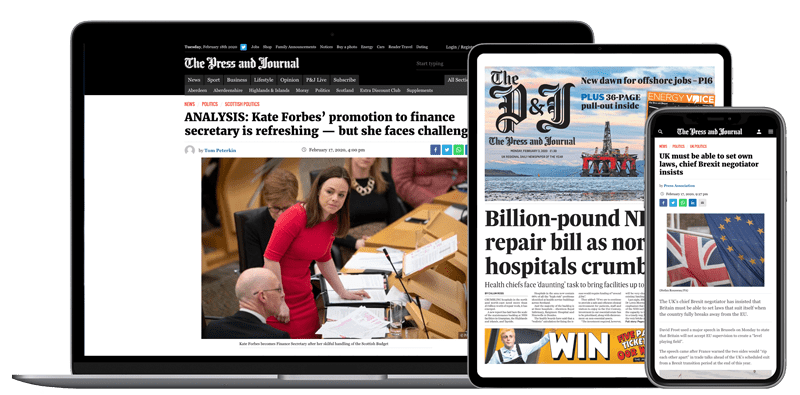 Help support quality local journalism … become a digital subscriber to The Press and Journal
For as little as £5.99 a month you can access all of our content, including Premium articles.
Subscribe