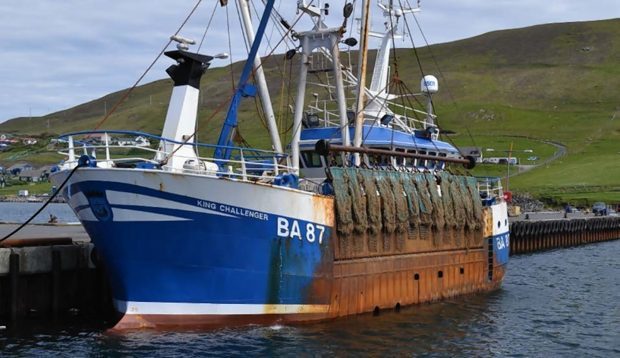 A fisherman who drowned after falling overboard from a scallop dredger would "likely" have survived if he had been wearing a life jacket.
The report by the Marine Accident Investigation Branch into the man overboard accident at the Shetland Isles is published today.
Scott Rennie, a deckhand on King Challenger, fell overboard from a scallop tipping door on June 23.
The vessel was 12 nautical miles south-west of Scalloway.
Mr Rennie, aged 31, was recovered back on board in less than 10 minutes. He was unconscious and showed no signs of life.
One of the deckhands, described in the report as "heroic", donned a lifejacket, inflated it and, with the reluctant permission of the skipper, jumped into the water holding the Moby lifeline.
He managed to put the harness around Mr Rennie.
The crew were unable to resuscitate him and, despite quick evacuation by air to a nearby hospital, he did not survive.
Following the accident, King Challenger's owners West Coast Sea Products prohibited all their vessels' crews from climbing on the tipping doors at any time, unless they were wearing a lifeline.
The report states that Mr Rennie's chances of survival in the cold water were severely diminished because he was not wearing a lifejacket.
It says: "Having lost consciousness due to the debilitating effect of the cold water, the remaining crewmen's attempts to recover him back on board were ad-hoc and unpractised. However, Scott was recovered back on board the vessel after less than 10 minutes, but despite the crew's best efforts and a very quick air evacuation, he could not be resuscitated.
"Scott was a strong swimmer, and initially was able to swim towards the vessel. However, after only four minutes in the cold water, he lost the ability to keep hold of the harness and, soon afterwards, became unresponsive."
The report continues: "Given the speed with which Scott was recovered from the water, it is likely that he would have been recovered alive had he been wearing a lifejacket."
The investigation found that the vessel's risk assessment should have recognised that the practise of walking on the tipping doors was unsafe and identified safe alternative working practices.
The boat's owners has now instructed all its skippers to conduct man-overboard drills on a monthly basis.
Specialist equipment has been purchased and fleet-wide procedures implemented for the recovery of an unconscious casualty from the water.