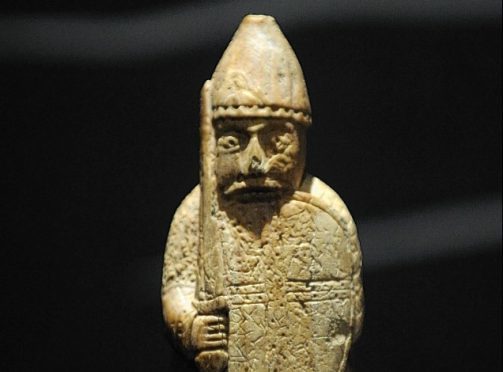 The SNP are still keen to see the world's most famous chess pieces held by the British Museum in London returned to Scotland.
After officially opening the £19.5m "beautiful restoration" of Lews Castle at Stornoway which houses six of the chess pieces, First Minister Nicola Sturgeon described the loan of the Viking arefacts as a "real step in the right direction."
Former First Minister Alex Salmond, ex-Culture Minister Linda Fabiani and Western Isles MP Angus MacNeil have all previously called on the British Museum to "repatriate" the collection north of the border.
The British Museum is forbidden by law from giving away or selling its assets and say that the majority being London means they can be seen by millions of international visitors every year
It was after protracted negotiations that six of the London museum's collection were loaned long term to the Western Isles museum.
They have already drawn over 34,000 visitors.
Supporters believe if the entire collection was based on the island, it would make tourism soar even more.
After opening the Stornoway facility on Monday, Ms Sturgeon was asked by reporters if she would like to see all the pieces returned.
"I think it's a real step in the right direction that we have six of the Lewis chessmen here on long term loan in this wonderful museum and archive," she said.
"Real credit to the British Museum for making that happen. I think it's wonderful to see the Lewis chessmen wherever they happen to be situated, but this is extra special for me to see them in the context of the place where they were discovered."
MP Mr MacNeil, who played a crucial part in securing the loan, said negotiations had at first been "tense opening moves."
"The long term aim would be to have them all on Lewis – including the ones in Edinburgh. It would boost tourism massively," he said.
"It is like a game of chess – and it's a bit of stalemate at the moment.
"But I'm delighted we have got six and I praise the British Museum – they have done as much as they are allowed to. I think it will be pretty impossible for the museum to take the six back again.
"Though their origins are uncertain – I believe they probably were made in Iceland – the one thing we can be certain about is that they were abandoned and found here and this is their home as a result."