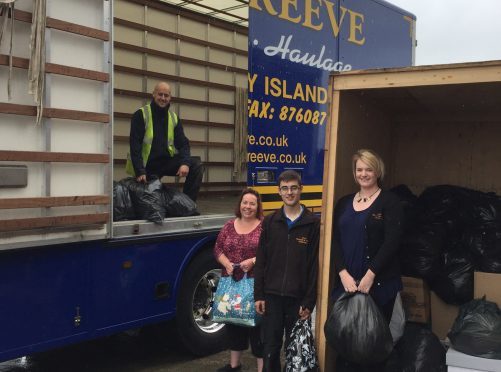 A removals company based in Orkney is sending a lorry-load of donations to help people made homeless by the London tower block tragedy.
At least 12 people have been killed and many more injured following the devastating blaze at Grenfell Tower.
The high-rise block of flats was built in 1974 and housed low-income families in Latimer Road, North Kensington.
Now islanders from the opposite end of the UK are rallying to the aid of the people down south.
McAdie and Reeve Removals, based at Hatston Industrial Estate in Kirkwall, is organising the mercy run to London and has sent out an online plea for donations to help people left with no possessions.
Office manager Inga Scholes, said: "We thought we would try to help out. We heard about the tragedy and a removal company we are associated with in England is going to London with donations. We thought we would do our bit too.
"I shared a request for help on Facebook and we got an instant reaction from people saying they will be up to drop things off. They are donating clothes, toys, all different kinds of things.
"It does seem to have taken off. People in Orkney are so protected in a way. We don't have anything like the high rise flats they have down there. We have heard about people in community halls standing there with nothing."
A lorry will leave Orkney for London on Monday June 26. Pentland Ferries has donated its crossing to Wick for free.
Donations are also being collected at Advantage Storage on Seafield Road, Inverness.
Miss Scholes said: "People have been dropping off all sorts of things, we have had nappies, clothes, toys, shoes. It has been a complete variety."