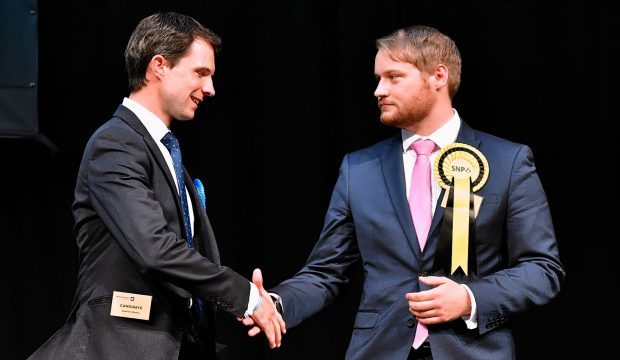 Ousted north-east MP Stuart Donaldson today vowed to return to politics in the future, declaring: "It's in my blood".
The 25-year-old, who was one of the youngest to be elected to the Commons in 2015, described losing his West Aberdeenshire and Kincardine seat as "just the end of the beginning".
He was toppled by Conservative Andrew Bowie, who won 47.9% of the vote, securing a majority of 7,950.
Mr Donaldson is the son of Maureen Watt, Scottish mental health minister, and grandson of Hamish Watt, a former Banff MP.
He denied this had made the pressure to succeed any greater, but rather prepared him for the "reality of politics" and enabled him to take defeat in his stride.
He said: "I grew up watching my mum stand in elections and not being successful.
"I think that has probably given me a bit of a thicker skin in terms of realising politics is not fair."
He said his mum's attitude was "pick yourself up and get on with it", adding: "That's really what I have done.
"You can sit and mope around but it's not going to change anything. So you know, you just move forward and look to the future.
"I'll definitely be back. There's probably no point in denying it. Politics is in my blood."
Meanwhile, he is taking time to think about what's next in the immediate term and working out what a "normal 25-year-old" does, but hopes to help more young people get involved in democracy.
While contemplating his own fate on election night, Mr Donaldson said his main focus was on his mentors who also lost – Angus Robertson, Alex Salmond, Eilidh Whiteford and Mike Weir – as well as his support team.
He said: "To see people who have been there for a long, long time go probably made mine easier if that's the right word.
"Seeing them go was probably more painful for me than losing my seat because they were people who I have looked up to and who have given me so much advice over the past two years."
Asked how he felt in the following days, he admitted being "a bit annoyed" as "normally you get five years to do it".
But he added: "It's kind of a double-think process throughout the campaign – you are going into it fully wanting and expecting to win although at the same time you realise there's every possibility you are going to lose.
"That's the reality of politics … so you write your concession speech and then you go up on stage and you do it. You wish your successor all the best."
He said he hoped Mr Bowie would do a good job of representing all his constituents, not just those who voted for him, and conceded the Tories' message about stopping another independence referendum had been one factor in his defeat.