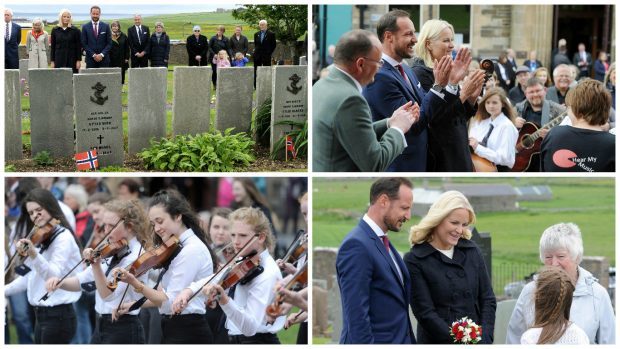 The centuries old connection between Orkney and Norway has been celebrated as the heir to the throne of the Scandinavian country visited the islands.
Crown Prince Haakon and his wife Crown Princess Mette-Marit are in the northern isles to help mark the 900th anniversary of the death of St Magnus, the patron saint of Orkney.
The prince used the visit to call for people to embrace St Magnus's message of peace and "spirit of gentleness".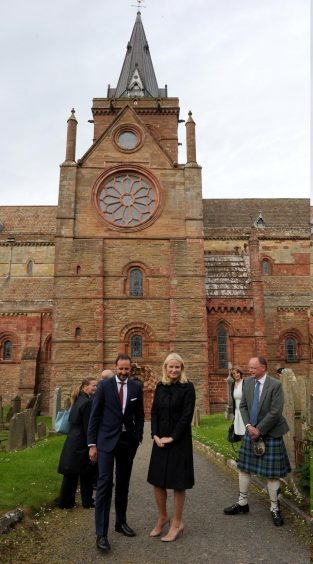 The royal couple laid wreathes at the graves of Norwegian sailors at St Olaf's Cemetery in Kirkwall before touring St Magnus Cathedral, receiving a rapturous welcome from a large crowd of locals welcoming them outside.
They returned to the cathedral in the evening to attend the opening night of the St Magnus Festival, a joint production between Scottish and Norwegian performers.
Orkney Island Council convener Harvey Johnston greeted the royal couple off their plane at Kirkwall Airport and then hosted them at a lunchtime reception.
He said: "It's a huge thing for the people of Orkney to have the Norwegian royals here.
"We have a long, long association with Norway going back 1,200 years and a lot of Norwegian royals have visited over that time.
"It reinforces the links between Orkney and Norway."
Mr Johnston said many in the islands put their Orkney heritage before their Scottish identity.
He said: "A lot of Orcadians do not feel particularly Scottish at all and wearing a kilt is not really an Orkney thing.
"Orkney is different, it is a distinct entity to the rest of Scotland."
The crown prince last visited Orkney in 2001 – while it was first visit to the county for the crown princess.
He addressed gathered dignitaries at a lunch in Kirkwall Town Hall.
He said: "We are struck of course by the rough beauty of your islands.
"The history, the cultural heritage, the landscape and the sagas of the Orkney Islands have made an impression on us."
He paid tribute to the memory of St Magnus who was Earl of Norway until his death in 1118.
He was was renowned for his gentleness and refused to fight a battle in Wales because of his religious convictions, instead remaining aboard his ship singing psalms.
The crown prince said: "Celebrating the life of St Magnus gives us an opportunity to value the character of this man – and maybe try to learn something from him.
"Unfortunately – in Magnus' case – there was no earthly pay back for his gentleness, as he ended up being murdered on his cousin and rival Haakon's command – who was the other earl of Orkney.
"Still – the saga of St Magnus is an inspiration to acknowledge that we always have a choice."