Animal charities across the region have united in their determination not to allow two thugs, who killed a child's pet gecko by placing it in a blender, to volunteer with them.
From family-run rescue centres to the SSPCA, those who care for mistreated and injured animals 24 hours a day have criticised a sheriff who said the two men should volunteer with an animal charity to avoid prison.
Calls for Daniel Innes, 20, and Jordan McIssac, 18, to receive a custodial sentence have reached a peak this week, with north-east charities vowing to block any attempt by Innes and McIssac to volunteer.
Gecko killers could be hauled back before a court after job lie
The case, described as "chillingly evil" by Sheriff Philip Mann at Banff Sheriff Court, has raised questions as to whether punishment for animal cruelty is tough enough, and what can be done to educate young people against animal mistreatment.
For Gecko owner Amanda Bibby, the incident which took place at her family home last March has completely destroyed any semblance of normality for her two children – including her 11-year-old daughter who witnessed the gruesome aftermath.
Amanda believes the sentencing has opened the flood gates for animal cruelty to go unpunished.
Meanwhile, animal charities, many of which rely completely on donations, continue to pick up the pieces from animal cruelty, and are calling for more education which will target children of a young age.
MY FAITH IN THE JUSTICE SYSTEM HAS BEEN DESTROYED
Amanda was away from home with her daughter when Innes and McIssac trashed her house in Aberchirder, before brutally killing the family's two lizards.
One was dropped on the floor where it died, the other was stuffed in a food
processor.
Amanda had no choice but to clean up the mess, and still struggles to go in her kitchen.
"This has been hanging over us for so long now. The gecko's belonged to my son and daughter," she said.
"My daughter is having counselling because of this and she has been targeted at school.
"The kids follow her around chanting gecko, they just don't understand how much they're tormenting her.
"People seem to think that because they are geckos it doesn't matter as much. But they were still animals and family pets, it doesn't matter whether it's a horse or a hamster. The same principle should still apply.
"I wanted a jail sentence but wasn't particularly hopeful. Asking them to volunteer at an animal charity is just ridiculous though, I can't explain how angry I am.
"I hate cooking in the kitchen, I've been put on iron tablets because it's so difficult to go in there and cook food anymore.
"I keep thinking what would have happened if I had left my three dogs behind at the house.
"This is how killers start, the manner in which the geckos were killed is just beyond sick.
"I feel like the sheriff has his head in the clouds, he said they were evil and then he gave no punishment. I tried to have some faith in the justice system but it has failed me."
Amanda's sentiments were shared by Keith and Pauline Marley, who set up The New Arc Sanctuary (The North East Wildlife and Animal Rescue Centre) near Ellon 12 years ago.
They deal with the aftermath of animal cruelty day in, day out, and currently have 352 animals in their care.
The couple employ one full-time member of staff and have only taken three days off in since opening the centre.
Living in wellies, they are passionate about caring for animals and even stay up through the night to care for hungry newborns.
Pauline's Somerset accent is still intact as she happily tramps past a flock of ducks, greeting each bird like an old friend.
Keith has a permanent smile on his face but does not mince his words.
"The onus of responsibility has been placed on animal charities, which is incredibly unfair and very naive," he said during a rare break in the day's feeding routine.
He pauses mid-sentence to take a phone call from a worried member of the public concerning a gull – the load never eases at New Arc.
"We're seeing a lot of baby gulls kicked about like footballs at the moment, it's disgusting," he said.
"I don't think animal cruelty has got worse over the years, but it certainly hasn't got any better. I don't know of a single charity who would take on those men, I wouldn't let them over the threshold.
"I don't see how they can't get a custodial sentence. We're not talking about children here, who can be educated about taking care of animals. These are grown men who know right from wrong. No sane rescue centre will take them on, you'd have to be watching them all the time."
New Arc cares for reptiles, and Pauline believes many people are ignorant as to how to look after them properly.
"People think it's cool to own a snake or a lizard but they quickly get bored, we live in a throw-away society," said Pauline.
"Quite often when it comes to dealing with animal neglect, it's not entirely intentional. There's some sort of family drama and animals are the first to get forgotten about. We never turn animals away but it's very frustrating and upsetting when cases don't end in prosecution."
The centre's main aim is to rehabilitate animals before releasing them into the wild.
Currently in Pauline and Keith's care are otters Dee and Don, who came in last year after their mother was found dead. Pauline recently released a stoat who was found unconscious after being hit by a car, and she is also nursing a rabbit back to health after it was caught by a dog.
"Releasing animals is what we strive to do, the success stories are what we live for," she said.
"We said from the very beginning that we are not a vets, but we can provide aftercare.
"Reading about horrific animal cruelty cases pushes us on, sadly we'll always be needed."
VIOLENT LINK
Last year, the SSPCA delivered 74 prosecutions following investigations into animal cruelty and neglect.
The charity has refused to take on Innes and McIssac, and revealed that they come into contact with people who abuse animals to a horrific extent – with some animals even being found hanged.
Gilly Mendes Ferreira, head of education and policy, also emphasised that those who are cruel to animals could stand as a risk to people.
"The Scottish SPCA firmly believes there is a link between abuse of animals and cruel, violent, abusive behaviour towards human beings as there is a great deal of evidence to support this theory," she said.
"Research has demonstrated that there is a link between cruelty to animals and violence towards humans, particularly among children and young people.
"There is also an increased risk of domestic abuse in a household in which an animal has been deliberately harmed.
"Our inspectors encounter cases where animals are deliberately deprived of food, water, socialisation or veterinary care.
"Scottish SPCA inspectors meet some very violent people.
"They meet people who maliciously torture, maim, mutilate and kill animals. People who kick, beat, stab, strangle, burn and hang animals."
Gilly added: "Instances such as this, where an animal appears to have been maliciously attacked, are very worrying and it's vital that we prevent these crimes.
"The society aims to educate all primary school children through our free Prevention through Education programme as we believe that education may hold the key to preventing animal cruelty.
"We actively encourage and promote positive pet care behaviour as we know that by encouraging children to take an active caring role for pets we can promote child wellbeing and animal welfare."
"We actively encourage and promote positive pet care behaviour through our ground-breaking free education programme in Scottish primary schools which last year spoke to around 300,000 children.
"In the last five years we've seen a 382% increase in the number of calls to our animal helpline from children reporting injured wildlife or cases of
neglect."
To contact The New Arc, call 0796 225 3867 or visit www.thenew
arc.org
To contact the SSPCA, call 0300 099 9999 or visit www.scottishspca.org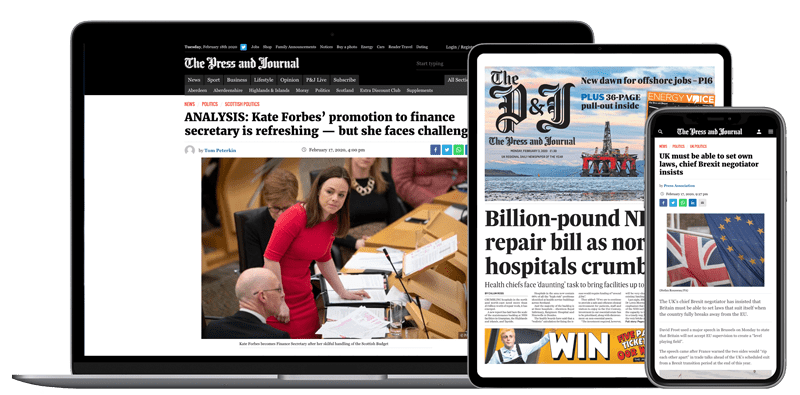 Help support quality local journalism … become a digital subscriber to The Press and Journal
For as little as £5.99 a month you can access all of our content, including Premium articles.
Subscribe