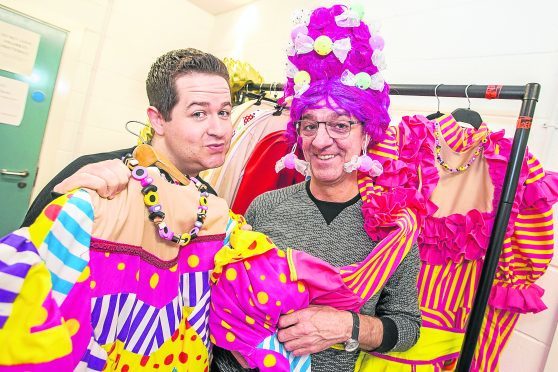 Oh yes, they are.
Headlining cast members from this year's pantomime in Inverness are gearing up to emtertain Inverness for the next month.
The annual festive show – Snow White this year – is finally hitting the stage at Eden Court, promising a fun-filled evening for all the family.
Organisers hope the show stopping production will sell more than 36,000 tickets during its run from this week through to January 7 next year.
Director Steve Wren, playing Dolly Mixture in this year's production, says he wanted to create a panto that was not only entertaining but portrayed a captivating story. He said: "I want to create memories for eight and nine year olds now. I am about telling a story. I want the kids to feel things emotionally. I am trying to create pantomimes that are big and showy and fabulous big musical numbers, because I want it to be a huge entertainment show but it's a morality tale as well."
The production is made up of 10 musical numbers stretched across 17 scenes. Mr Wren's character shares several scenes with his co-star Ross Allan, who plays Jingles the Jester.
The comedy duo believe their off screen chemistry helps their characters flourish onstage, a quality they say comes down to trust.
Mr Allen said: "Being on stage together at any point, in terms of comedy, comes out when you are with someone else that is there for the same reason."
Mr Wren added: "When you work as a comedy double with someone, there is a trust, an understanding, a chemistry, there is a sense of timing. For us we got really lucky because we leave room for each other and help each other out. We play together. It's a lovely working relationship."
With this year's production being described as 'fun for all the family' Mr Allan hopes the children in the audience will leave the theatre wanting more.
Mr Allan added: "Panto is one of the only things a whole family can go to see together. For many kids this is their first experience of going to the theatre. I hope that they leave with a smile on their face and they might consider that going to the theatre is really good. The building here is great, everyone is really nice and lovely but the theatre in general needs audiences so you want them to go away thinking I will come back."