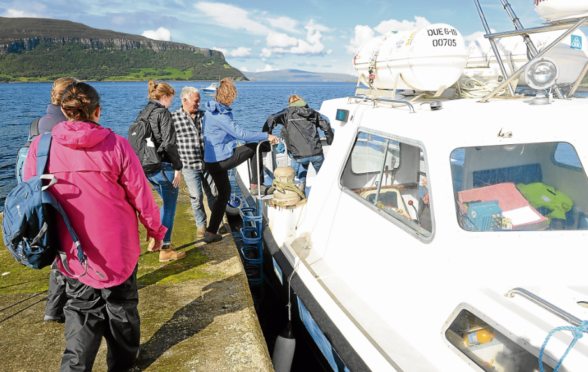 Two of Skye's most popular tourist attractions are to share almost half a million pounds in investment to ease congestion caused by visitor numbers.
The Fairy Pools and the Quiraing on the Trotternish peninsula will get better parking and access just weeks after fears for the island's infrastructure.
Last year, the Fairy Pools alone attracted over 100,000 visitors – triggering congestion as some of the crowds were forced to park at the side of the road.
Now, it has emerged that the Skye Local Area Partnership is committing £200,000 of Highland LEADER funding to expand the 35-space car park.
After work is complete there will be space to accommodate more than 100 cars and approximately 20 mini-buses and campervans.
The Quiraing also suffered for its success with tourists as it too saw serious tailbacks and visitor management issues.
It will get £100,000 from the Scottish Government Rural Payments and Inspections Directorate (SGRPID) for a new 60-space car park.
The Highland Council is to contribute £100,000 to the Fairy Pools project and a further £90,000 at the Quiraing site.
David Richardson, Development Manager at the Federation of Small Businesses, welcomed the move but said it did not go far enough.
He said: "If we look after our visitors they will look after us, and it is essential that we invest more money in this sort of project.
"If we really want to maximise the economic and social benefits that tourism brings, we must ensure that every Scottish tourism hotspot is supported by modern, fit-for-purpose infrastructure."
"Deep concerns about the inadequacy of parking at natural attractions were raised forcibly in a survey of Skye businesses that we conducted in August 2016, and we have been beating the drum for urgent investment at key pressure points ever since."
MSP Kate Forbes said: "I am hopeful that this is not the last release of funding for tourist sites in Skye."
"This is a significant step forward for Skye. I am pleased that we are finally seeing tangible funding to improve parking at the Fairy Pools and the Quiraing.
"Last summer, local people raised their frustrations with me about the infrastructure on the island."