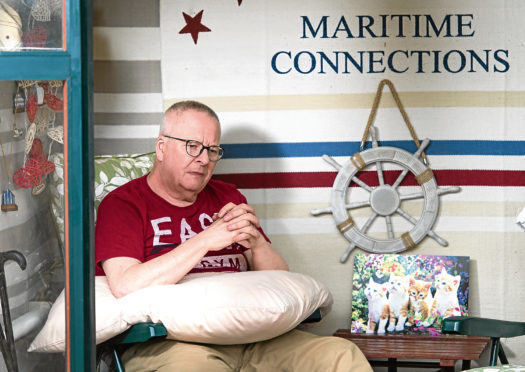 You slowly become conscious, drifting into that dreamlike state somewhere between sleep and wakefulness.
Then, like an electricity-laden bolt of lightning, the stabbing pain hits you.
Snatching you out of a doze, some mornings the pain is enough to take your breath away.
You don't want to move but you must – you need to swallow your morning pills, all 16 of them.
This is the daily reality for 58-year-old Chris Bridgeford, who suffers from a chronic pain-inducing condition known as Complex Regional Pain Syndrome (CRPS).
Chronic pain is usually defined as any pain lasting more than 12 weeks, and can stem from a number of different causes.
Whereas acute pain is a normal sensation that alerts us to possible injury, chronic pain is very different, persisting often for months or even longer.
"I haven't had a restful night's sleep in nearly 30 years," said Chris.
"I just can't get comfortable, and tend to sleep at most about two hours at a time.
"It's certainly not a restorative sleep by any means."
Chris' relatively rare condition means he is in constant and severe pain.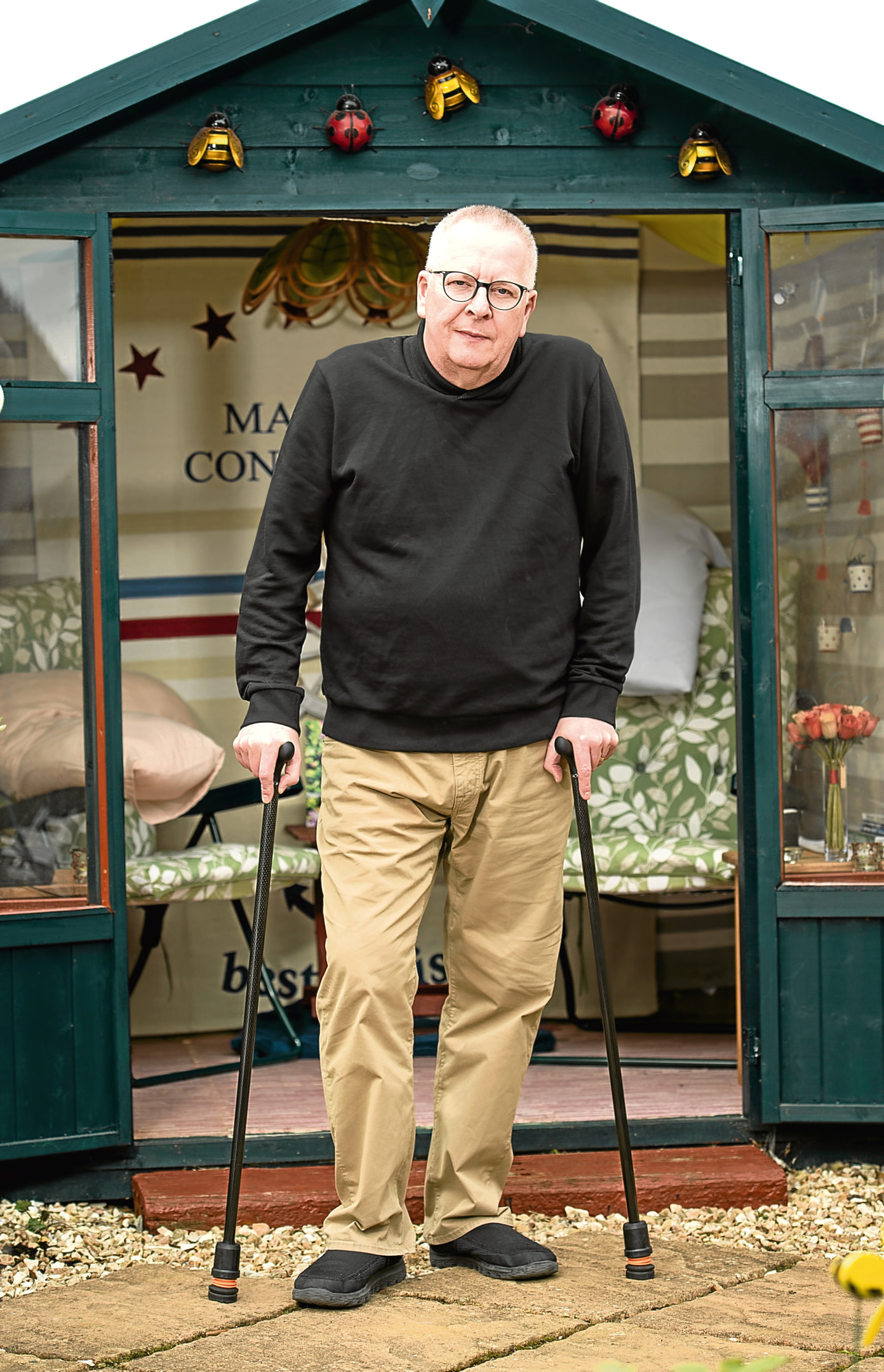 His wellbeing fluctuates day to day, with some mornings offering enough respite to leave the house and complete basic errands.
There are weeks at a time, however, when Chris has been virtually housebound, with worsening pain spasms which, in his own words, begin twisting at his sanity.
Most days fall somewhere in between; the unrelenting pain not quite allowing him to relax but medication dulls its sharpness just enough for Chris to maintain some quality of life.
However, the Forres resident hasn't always been this way.
Up until the mid-1970s, Chris described himself as a normal guy who held down various jobs and was popular with friends and family.
A nagging pain in his lower back saw him diagnosed with a spinal inflammatory condition in 1978, but Chris felt his symptoms never quite matched the criteria.
Over the years, the pain both worsened and spread, yet it was a struggle to get a diagnosis for his increasing discomfort.
"For many years I was told I was 'putting it on'," said Chris.
"That was one of the main issues.
"There was nothing to see – no spots or rashes to look at and nothing which X-rays could pick up.
"I was repeatedly told that the pain was all in my head and was a psychological issue.
"It began to destroy me because I was in severe pain and no one was recognising it."
By 1995, Chris was off work for extended periods of time and found his career progression had halted.
Circulatory problems led to a serious operation to save his legs, and Chris found himself at one of the lowest points of his life.
"The pain had a huge mental impact on me," he said.
"I would step out of the back door on a frosty day and would be in severe pain as any change in the weather would hurt.
"I was afraid to tell people because with no diagnosis and no physical signs they wouldn't believe me.
"I had a mental breakdown around this time and had virtually stopped going out."
Chris was granted early retirement on medical grounds, but it would be nearly 10 years before his symptoms were recognised as CRPS.
"It was in 2004 that I got diagnosed," Chris said.
"I felt total relief, like I'd been exonerated.
"The pain was real and I wasn't imagining it."
Yet the next stage in Chris' journey was just beginning, as he joined the extensive waiting list for chronic pain sufferers in the north-east to receive treatment.
"Waiting lists have me waiting 40 to 45 weeks to be seen," he said.
"My GP put me in for an appointment last June and I've just got the letter through saying they've set a date at the end of April.
"I have to take about 30 pills a day now to keep my various pains from getting too bad.
"Morphine doesn't even touch the pain anymore.
"It felt like I was the only one who was like this, and I was so isolated I never went out to see anyone.
"That's when I founded Affa Sair.
"Essentially it's just a closed Facebook group where chronic pain sufferers can chat about their experiences.
"We also hold monthly meetings at Moray College UHI.
"In its first year there were just 80 members but now it's grown to about 400."
One of those members is 47-year-old Alison Riddoch, who can identify with Chris' frustrations after experiencing a road traffic accident 13 years ago.
"I live in Buckie and was travelling back home from Inverness with my two boys in the car," she said.
"The car in front of me stopped unexpectedly and I managed to brake in time, but the two cars behind me didn't.
"I was tensed up when the first car ploughed into the back of us, then I turned round to check the kids were OK and the second car hit.
"It felt like an elastic band had snapped inside my neck, and it was a burning pain.
"I was treated for whiplash and was put on a waiting list to get physiotherapy, but the pain was so intense and didn't subside so I knew something was seriously wrong.
"I tried to tell people about it but they told me the pain was in my head and that I was imagining it.
"My whole posture was affected and I started walking hunched over.
"Then the entire right side of my body started being painful and my right arm felt like it was full of cement.
"I had lots of consultations and even MRI scans but doctors couldn't see anything wrong.
"I stopped going out because I was in so much pain and went into a bad state of depression.
"Before the accident I had just started my own business selling healthy snacks to schools and giving presentations.
"I continued with it for a little while but had to fold the business after 16 months because the pain was too severe to continue.
"Finally I broke down to my husband.
"It took three years to be diagnosed with CRPS which was brought on by the accident.
"From there I got new medication and painkiller injections which really helped.
"The injections are meant to be available three times a year and last for up to 12 weeks each time.
"But for me they barely last eight weeks, and each time they get further apart.
"Now I'm waiting up to 18 months to get one."
Yet while Alison waits for the medication, life goes on around her.
"I know it's hard for my family and friends to understand," she said.
"I've had to cancel plans so often it's got to the point where they don't bother inviting me anymore.
"If I do go out I can't go to anywhere busy or noisy like a pub as the slightest vibrations set me off and make the whole right side of my body shake and go into spasms.
"Strangers stare at me and it has made me extremely self-conscious.
"But the hardest thing is missing out on doing things with my kids.
"I felt so guilty that I couldn't help them to do things like learn to ride a bike."
Despite her struggles, Alison isn't looking for sympathy.
She is keen, however, to show the reality of living with chronic pain.
The condition is thought to affect up to one in 20 people throughout Scotland, which is roughly equivalent to instances of heart disease, diabetes and other long-term illnesses.
Christine Leith, unit operation manager for theatre and aesthetics, is heavily involved in the Grampian pain service and knows exactly how widespread it is.
"It can be described as a multifactorial condition," she said.
"It can occur as a result of post-surgery complications, nerve damage, neuropathic disorders, musculoskeletal injuries and many other issues.
"The huge variety of causes makes diagnosis very difficult and the patients themselves very complex.
"Often they suffer for many years before they see us or their GP.
"One of the main issues is that there is no set treatment programme that will work for everyone.
"And there is certainly no magic pill which will take the pain away.
"We have to tell patients that we are not here to cure the pain, but instead to help them manage it more effectively.
"Chronic pain treatments are part of long term care programmes, but unfortunately we are measured under blunt instruments such as waiting times.
"Managing pain is not as obvious as replacing a heart valve or even amputating a limb.
"There are many shades of grey, and unfortunately patients are left trying to fit into a clunky treatment system which doesn't work for them.
"We have been trying to secure more resources for a long time, and are hopeful that investing in different ways to diagnose and treat chronic pain will result in better services in the future."
Yet for those suffering now, there are major concerns that the debilitating nature of the condition means patients are left waiting for change silently in the shadows.
"I call it the invisible illness," said Alison.
And with waiting lists through the roof, accusations of the pain being imaginary and drawn-out diagnoses often lasting years, it's easy to see why.