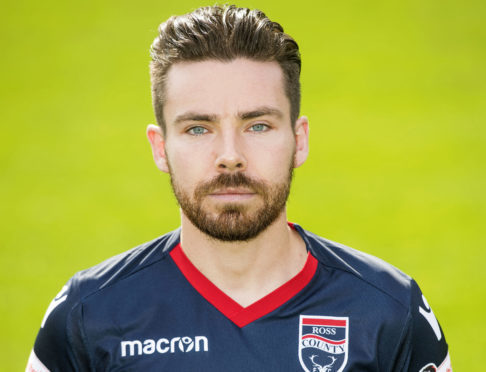 Ryan Dow hopes he can rediscover the pleasure of playing football with a smile on his face as he prepares to make his home debut for Peterhead today against Berwick Rangers.
The Ross County striker has joined the Blue Toon on an emergency loan until January and made his first appearance for the club when he came off the bench in the 4-2 win at Cowdenbeath last weekend.
Dow will split his time between Championship title contenders County and League 2 title favourites Peterhead but the former Dundee United forward is determined to enjoy the feeling of walking on to a pitch at 3pm every Saturday again.
Dow said: "I will still be training full-time with Ross County through the week and with the players at Peterhead when they train too and I'm really just desperate to get going.
"I know a couple of the lads from playing against them at other clubs but I'm sure I'll get to know them all better in the next few weeks.
"It's a strong squad here and I'm looking forward to it but really I just want to get back to enjoying myself on a pitch again.
"I sat about a lot last year and while I wouldn't say I fell out of love with football I wasn't enjoying it; no player enjoys not playing.
"The reason nothing has happened until now is down to me taking time to make a decision on what I wanted to do after the window closed three weeks ago. I knew then League 1 or 2 were the options for me from that point as it would be an emergency loan but I wanted to go out as I want to play games.
"I spoke to the managers at Ross County and they said they couldn't guarantee me more game time so it was a case of sitting around until January or going somewhere else to play football and I want to play."
Dow could have played at a higher level after clubs in League 1 made their interest known but once he decided to leave Vitoria Park he insists Balmoor was his preferred destination.
The 27-year-old is Peterhead manager Jim McInally's son-in-law, but he says the family ties were not a factor in his decision.
Dow said: "Jim didn't put any pressure on me at all but I did say if I go out I wanted to go to Peterhead.
"He said he'd love to have me there and as soon as I made my mind up to go out it was all done and dusted pretty quickly.
"I had a number of teams calling me but I know Jim and how he goes about his work and I thought Peterhead would be a good fit for me."